MLB.com Columnist
Lyle Spencer
Spring growth: Puig a more poised presence
Dodgers star outfielder studying at Rollins' school of experience and professionalism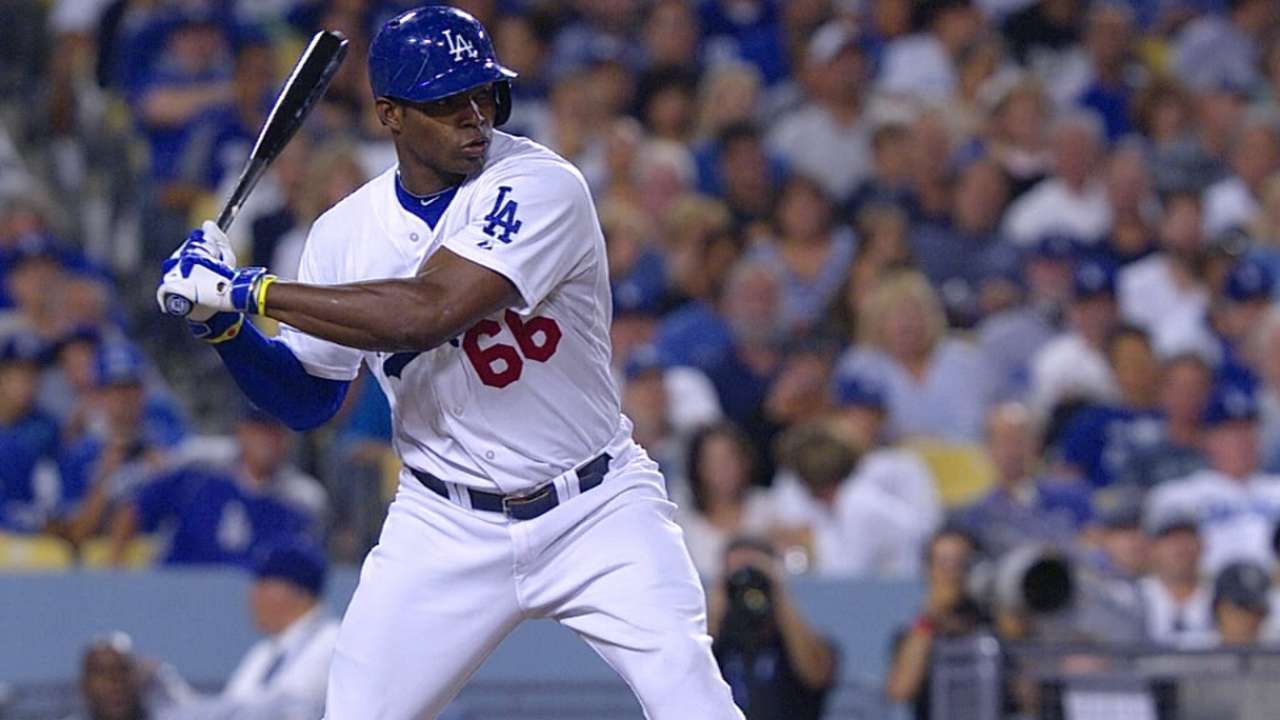 PHOENIX -- There is something distinctly different this spring about Yasiel Puig. The Dodgers right fielder is more relaxed and composed, more professional in bearing. He isn't drawing attention to himself, whether he's on the field, in the clubhouse or in the team dining room, interacting with club personnel.
There will be skeptics, not without justification based on past behaviors. But Puig, in actions and words, appears committed to reshaping his image as a conscientious pro driven to take full advantage of his wondrous gifts after two spectacularly unpredictable Major League seasons.
"I try every day to be better," Puig said, speaking English primarily in an MLB.com interview with a little Spanish thrown in for clarification. "This year I will be better than last year. I come in early -- more practice, more respect for my teammates."
One of those teammates -- Jimmy Rollins -- has joined the cast with a reputation as a leader. The 2007 National League Most Valuable Player Award winner and 2008 World Series champion, Rollins is a quality shortstop and leadoff catalyst and much more. He is the kind of unifying presence every clubhouse needs -- especially one known for its fragmentation.
Rollins and Puig are often seen in conversation in camp, the veteran who has seen it all offering the kinds of insights beneficial to any young player. A lightning rod from the day he arrived with an unforgettable Dodger Stadium debut on June 3, 2013, Puig appreciates the interest Rollins has taken in him.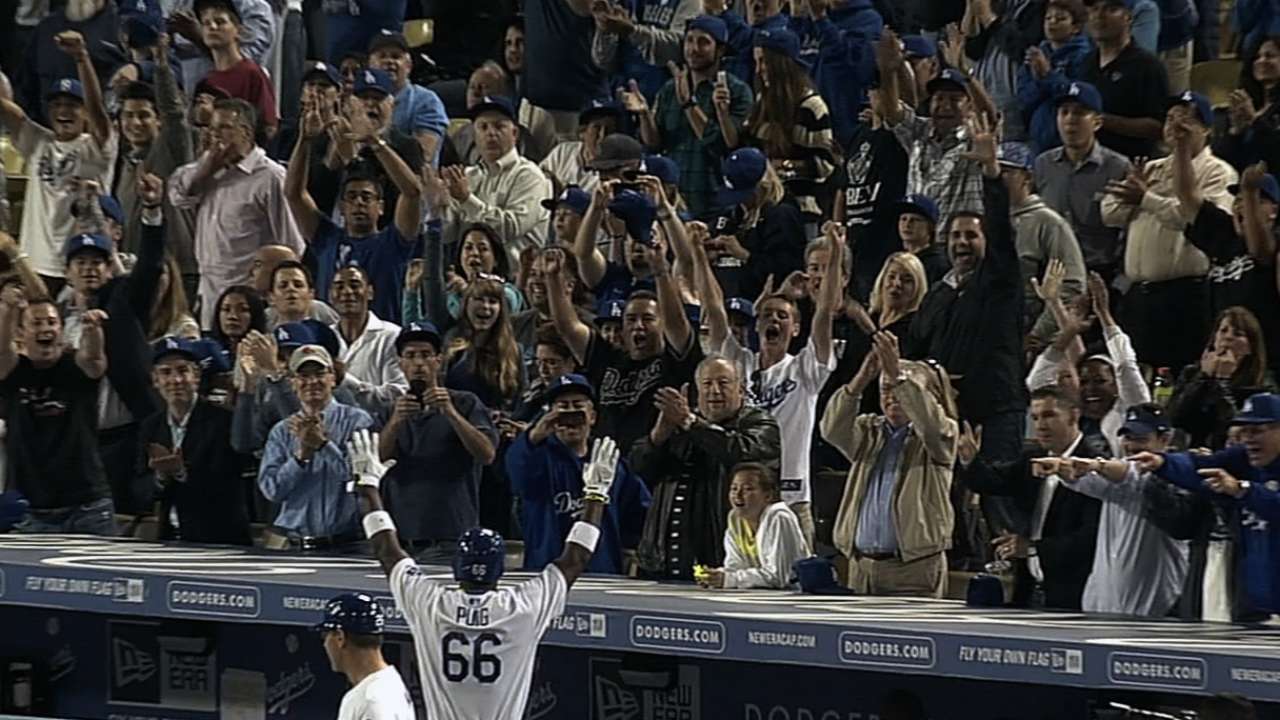 "I like Jimmy," Puig said. "He's a good teammate. Every day he talks to me: 'What do you need? What can I help you with today?' He talks to me about hitting the ball to right field, center field. He always wants to help me get better."
Rollins, 36, has produced 2,306 hits in 2,090 regular-season games and 46 more in the postseason for the Phillies. He played in back-to-back World Series, winning it all against the Rays in 2008 and falling to the Yankees the following October.
Those in Rollins' presence for the first time are struck by his upbeat manner and willingness to assume whatever the club needs. Trying to reach Puig and steer him in positive directions is a challenge Rollins clearly has embraced.
"The shortstop position, if you accept everything else that comes with it, you're already there in the position of being a leader," said Rollins, who waived his contractual right to void any trade to bring his talents to Southern California. "In 14 years, I have the experience of winning a World Series, losing a World Series, being in the playoffs.
"I've had successes and failures, and there's a lot I can provide. When things go a little crazy, I can bring stability. I've been in situations where we didn't have a leader. I can be the glue to make sure things work."
Things have gone a little crazy at times with Puig, but this is a new day, a fresh environment. If he can put together two halves like the first one in 2014, concerns about replacing the production of Matt Kemp and Hanley Ramirez from the right side will subside.
At the All-Star break in his first full season, Puig carried a .309/.393/.522 line with 12 homers and 52 RBIs in 90 games. He slipped to .274/.366/.414 after the break, his OPS dropping from .915 to .780.
The adjustment to a 162-game schedule after playing a little more than half that many in a Cuban season had something to do with that. But Puig, with his Bo Jackson body and power, should produce more than the four homers and 10 extra-base hits he generated in the season's final two months.
Puig wasn't the only young Southern California star to feel the effects of the long grind. Mike Trout, the Angels' American League Most Valuable Player Award winner, watched his batting average drop from .310 to .257 after the break and his OPS tumble from 1.005 to .849.
Puig's inability to make contact against the Cardinals in the National League Division Series led to his controversial Game 4 benching. But he actually hit for a higher average (.296 to .287) and had a better on-base percentage (.382 to .377) than Trout last season. Trout outslugged Puig .561 to .480 and forged a superior OPS, .939 to .863.
A county apart, Puig and Trout keep an eye on each other.
"Everybody watches Mike Trout," Puig said. "Last year he was the MVP. He hits home runs, steals a base, plays good outfield. He does everything. He plays hard and has a good time."
Dodgers manager Don Mattingly will be thrilled if Puig evolves into a consistent force in the Trout mold.
"Yasiel really wants to do whatever it takes to be great," Mattingly said. "He's a lot like Trout. They have powerful bodies and tremendous speed. And they love to play the game. I see a lot of similarities."
Lyle Spencer is a national reporter and columnist for MLB.com. Follow him on Twitter @LyleMSpencer. This story was not subject to the approval of Major League Baseball or its clubs.