MLB.com Columnist
Barry M. Bloom
Price in typical ace form on 'Harvey Day'
Tigers' ace dominates in brief Spring Training debut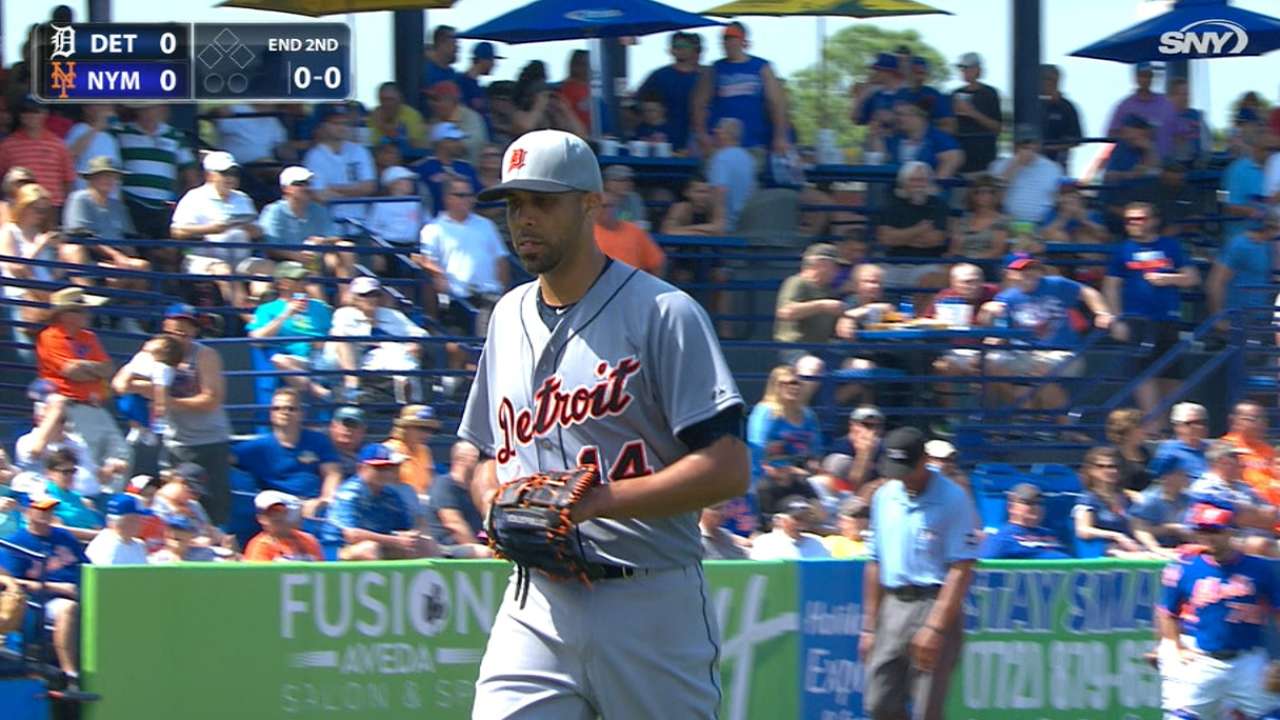 PORT St. LUCIE, Fla. -- It was billed as "Matt Harvey Day" at Tradition Field on Friday, but David Price certainly provided ample fodder as his understudy. The young Mets right-hander came blazing back from an 18-month absence because of Tommy John surgery to retire all six batters he faced.
But Price matched him pitch for pitch in the first inning -- throwing 11 -- nine of them for strikes, freezing lefty-swinging Curtis Granderson with a newly adapted curveball for a called third strike that was as nasty as it looked.
"That [pitch] felt good," said Price, who pitched two innings of scoreless, hitless ball with a walk, plus a hit batsman. "So I got a text message from [Oakland's] Sonny Gray. He's the one who taught me the grip in the offseason. I worked on it quite a bit."
"This game is consistently evolving," he added. "If you don't evolve with it it'll be tough. I'm always looking for ways to get better."
Price worked with Gray during the offseason at Vanderbilt University. And to emphasize the magnitude of this early Grapefruit League game, it was beamed nationwide on MLB.TV and MLB Network and Gray watched it as his A's prepared to play the D-backs in the Cactus League.
The atmosphere here was electric and Price said he was ready.
"I was out there about an hour before the game started and it was packed already," said Price, who's such a big Harvey fan he owns an autographed jersey. "People had a buzz to them, and it was good for everybody here to see Harvey back out there."
The subplot to Harvey's big comeback was certainly the start of Price's first full season with the Tigers and how long he will be with them. Max Scherzer is gone to the Nationals via free agency. So is Rick Porcello, traded to the Red Sox. The Tigers still have big-time names in their rotation, starting with former Cy Young Award winners Price and Justin Verlander, with Anibal Sanchez just behind them.
Price was acquired from Tampa Bay at last year's July 31 non-waiver Trade Deadline for two reasons: to help the Tigers win in 2014 and replace Scherzer in 2015. The former didn't happen as the Orioles swept the Tigers in the American League Division Series, and now Price is the man on the same bubble as Scherzer, a free agent at the end of the season. Price could be a short-term replacement.
Scherzer reportedly turned down an offer of six years and $144 million last spring from the Tigers, who then broke off negotiations. So far, there are have been no such negotiations, Price said. He signed a one-year deal worth $19.75 million in January with the Tigers to avoid arbitration, and that's where matters stand.
So far, Price is saying all the right things. He feels comfortable now and would like to remain in Detroit.
"I've said it multiple times. If we can come to an agreement, then all right," Price said.
There are no restrictions about talking contract, during Spring Training or well into the regular season before he becomes a free agent?
"No, but I don't think it will be that long," Price said.
If the Tigers are about to talk extension with Price, they aren't saying. As with all of the Tigers' contract negotiations, Dave Dombrowski, the team's president and general manager, is remaining mum.
"That's the way we've always handled things. We've found that it doesn't do anybody any good to talk about it," Dombrowski said.
"It's not my department," added Brad Ausmus, beginning his second season as Tigers manager. "Obviously as a manager you'd love to have a guy like David Price. But that's between the Tigers, David Price and his agent. If I'm asked if I'd like to have him I think that's a pretty obvious answer."
One would think the money that clubs are paying now to a high-caliber free-agent pitcher might turn a man's head. Not so, Price said. Scherzer signed with the Nationals for seven years at $210 million. And that was only the second-highest contract ever paid to a pitcher, falling $5 million short of the seven-year deal the Dodgers gave Clayton Kershaw early last year.
Price, at 29, is 86-51 with a 3.59 ERA in almost six full seasons. His WHIP is 1.14 and he strikes out 8.5 batters per nine innings. He has a fastball in the high 90s, complementary breaking pitches and opposing batters are hitting .234 against him. And he's a durable left-hander, who has never had any arm, elbow or shoulder problems, averaging 30 starts a year.
If he's not the best pitcher in baseball, he's certainly among the top three. It would be only natural for Price to wonder if some club will help him set a new financial record.
"I don't think about it," Price said. "I live in the present. I don't think about the past, I don't worry about the future. I'm focusing on right now. Be ready to come in tomorrow and get my work in. Do it again the next day. Just take it day to day and have fun while I'm doing it."
To be certain, last season was taxing on Price. He expected to be dealt at the Deadline and said so during interview sessions before the All-Star Game in Minneapolis. It hung over his head all season. He talked about New York, Chicago and Los Angeles as possible destinations. When it turned out to be Detroit, it took some time to adjust.
Now he's back in almost the same situation again. Different team. Different reasons. Despite his massive talent, Price has been a pitcher in flux. That should end shortly one way or the other -- in Detroit or elsewhere via free agency.
So on a day when the focus was on Harvey, Price was no less a storyline. A tale of two seasons has only just begun.
Barry M. Bloom is a national reporter for MLB.com and writes an MLBlog, Boomskie on Baseball. Follow @boomskie on Twitter. This story was not subject to the approval of Major League Baseball or its clubs.