Cubs set Spring Training attendance record
Club tops own previous mark with 15,331 on Friday at Sloan Park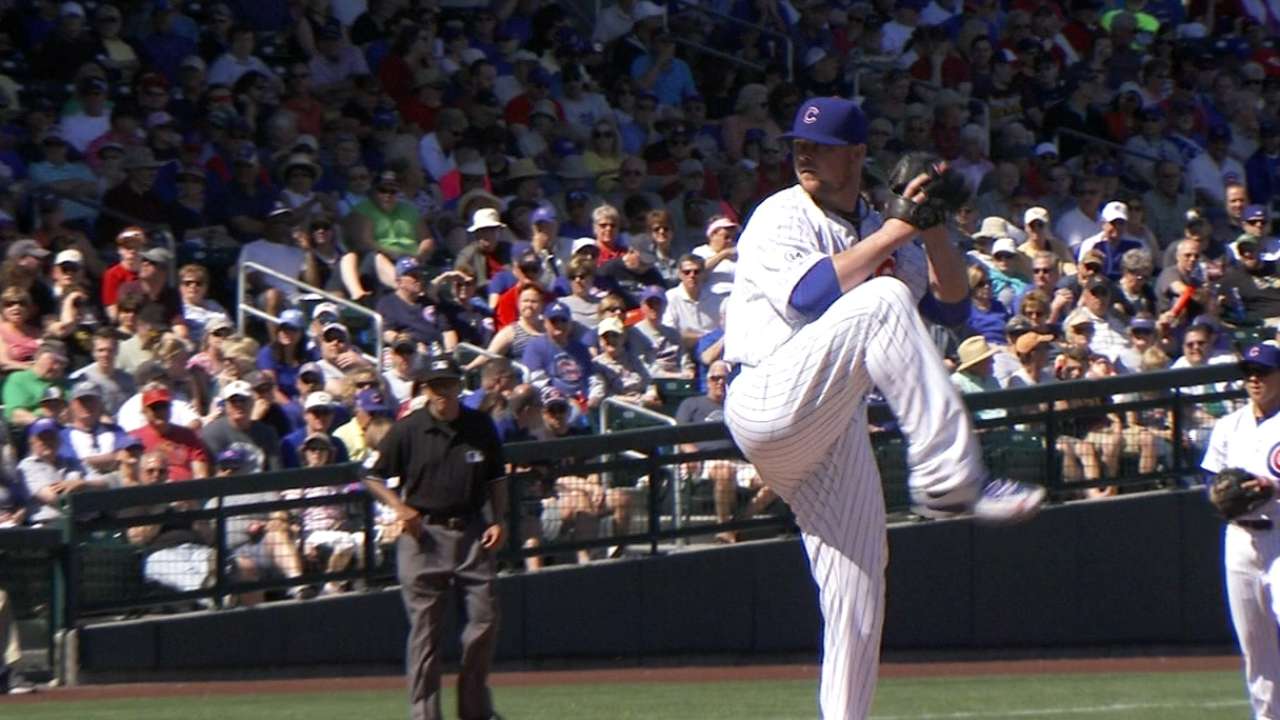 MESA, Ariz. -- Friday's crowd of 15,331 at Sloan Park was a Spring Training record for both the Cactus League and Grapefruit League, topping the old mark the Cubs set last March 25 when they drew 15,276 for a game against the Angels. In 2014, the Cubs drew more than 15,000 fans six times and led the Major Leagues with an average of 14,254.
"Anytime in Spring Training you have 15,000 to 16,000 people show up to watch a game, it's always a good thing," Jon Lester said. "You can get yourself acclimated to pitching in front of bigger crowds and used to your surroundings. All that stuff was really nice to feel today and get that adrenaline going and all that."
Maddon wants switch-pitcher nuances cleaned up
Cubs manager Joe Maddon said he'll be better prepared the next time one of his switch-hitters faces an ambidextrous pitcher.
On Thursday, Dexter Fowler was preparing to swing left-handed against the A's switch-pitcher Pat Venditte, who was warming up right-handed. But then Venditte told home-plate umpire Brian Gorman that he was going to throw left-handed once play started. Gorman relayed the message to Maddon and Fowler, who had to switch batting helmets and then start warming up from the right side.
"The only thing I probably did wrong was not force more time for [Fowler] to get warmed up as a right-handed hitter," Maddon said Friday. "The whole time, the pitcher warmed up right-handed, Dexter was ready to hit left-handed. [Venditte] declared left-handed, and Dexter had to go switch it around."
Maddon said he felt the batter should be permitted to have more time to warm up once the pitcher has declared.
"The other component is that this guy is not permitted to warm up by throwing to infielders with his other hand as the next hitter comes up," Maddon said of Venditte, who did so with his second baseman before facing Starlin Castro from the right side.
"[Venditte] did warm up right-handed, then pitched left-handed to Dexter because I believe [Anthony] Rizzo was on deck," Maddon said. "That might influence how he works the inning, I'm not sure. There's a lot of little nuance that needs to be cleaned up."
It was the first time Maddon had seen a pitcher throw both right- and left-handed in a game.
"It was impressive," Maddon said. "I can't brush my teeth with my left hand. Being able to throw a fastball 85 miles an hour, it's like, 'Wow.'"
• Single game tickets went on sale Friday for the 2015 season, and the Cubs reported that Opening Night, April 5, was sold out. Fans can purchase single game tickets via Cubs.com, and also by telephone at 800-THE-CUBS (800-843-2827). Starting Monday, fans can purchase tickets at The Cubs Store at Clark and Addison streets.
• Home-plate umpire Kerwin Danley and Lester talked after the pitcher was finished with his outing. Danley wanted to know if Lester had enough warmup time with the new restrictions between innings incorporated to improve the pace of the game.
"I didn't notice [a difference]," Lester said. "I'm in my own little world out there. I threw my eight pitches and threw the ball down and didn't get yelled at."
Lester admitted he was a little tardy getting out to the mound to start the second but still felt he had enough time.
Carrie Muskat is a reporter for MLB.com. She writes a blog, Muskat Ramblings, and you can follow her on Twitter @CarrieMuskat. This story was not subject to the approval of Major League Baseball or its clubs.