Iglesias bruises right shin vs. Mets
Shortstop does not believe injury will interrupt rehab from stress fractures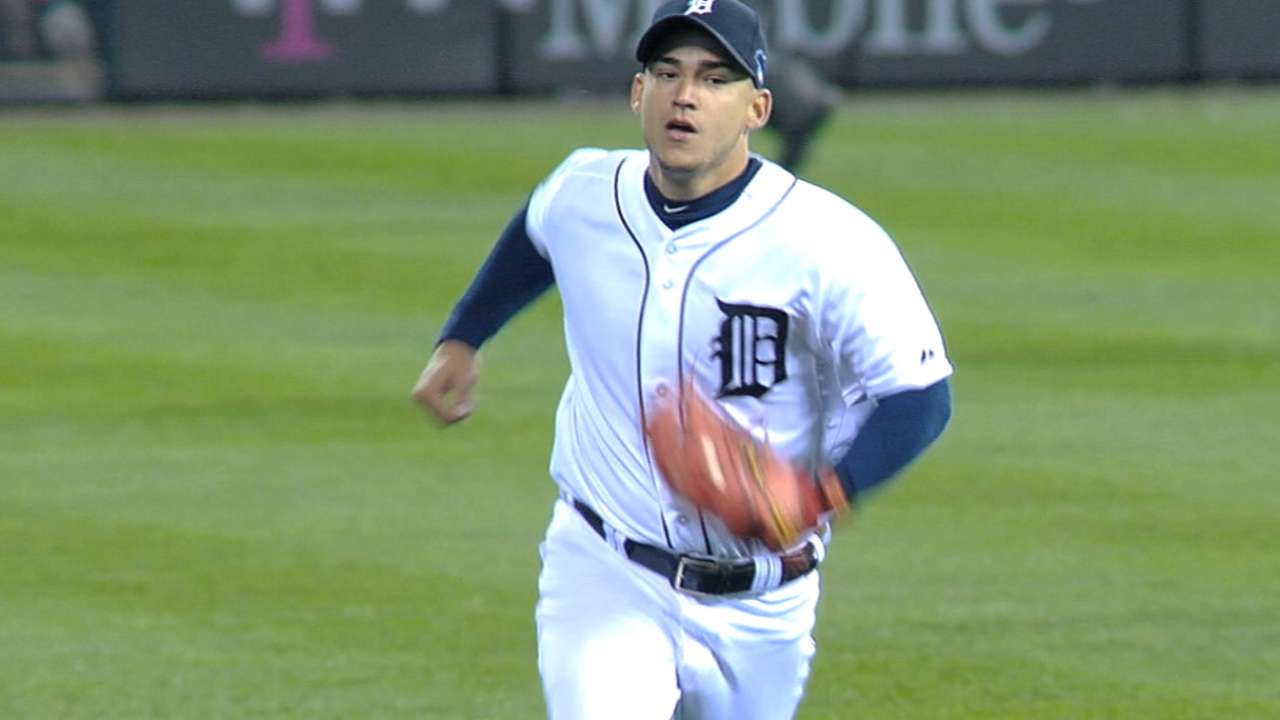 PORT ST. LUCIE, Fla. -- Tigers shortstop Jose Iglesias exited Friday's 5-4 loss to the New York Mets in the middle of the fourth for precautionary reasons with a bruised right shin.
Iglesias, who drove in a run with an RBI single in the top half of the frame, stole second off Mets right-hander Noah Syndergaard. But on his late feet-first slide, he hit the base with his leg. He remained in the game, later scoring on Bryan Holaday's sacrifice fly to center.
The 25-year-old Iglesias called it a function of not playing and his timing being off. Iglesias missed the 2014 season with stress fractures in both legs. Iglesias didn't expect the incident to interrupt his routine.
"Tomorrow I'm going to be able to practice and everything," said Iglesias, who had his right shin wrapped and iced in the clubhouse. "I'm fine, just bruised right there. Hopefully play Sunday at home."
Manager Brad Ausmus reiterated the sentiment after the game, saying things would stay status quo "unless something changes overnight."
Hernan Perez replaced Iglesias at short when the Tigers decided to use caution. Iglesias was scheduled to play four innings on defense.
As for when Iglesias will begin appearing in consecutive games, he didn't know, but "hopefully that will happen soon." Iglesias, batting .250 (1-for-4), last played on Wednesday, his spring debut.
"It's something that I've got to deal with, especially for this year, because I've got a coaching staff, I've got a team worried about me," Iglesias said. "They want me healthy, and I want to be healthy as well. We've just got to be smart and work my way up every single day."
Ausmus did not have an update on Yoenis Cespedes, who was scratched from Thursday's game with lower back tightness.
Right-hander Bruce Rondon threw live batting practice on Friday, and pitching coach Jeff Jones' assessment indicated a positive step forward.
Rondon, who underwent Tommy John surgery last March, was supposed to be the club's setup man in 2014.
"We've got to decide if he needs another bullpen, another live BP or if he's ready for game action," Ausmus said. "I think Jonesy was encouraged enough to consider a possibility of game action, but we haven't made a decision."
Christina De Nicola is a contributor to MLB.com. This story was not subject to the approval of Major League Baseball or its clubs.