Susac sees Posey as a mentor and role model
Giants catcher ups intensity as he battles for roster spot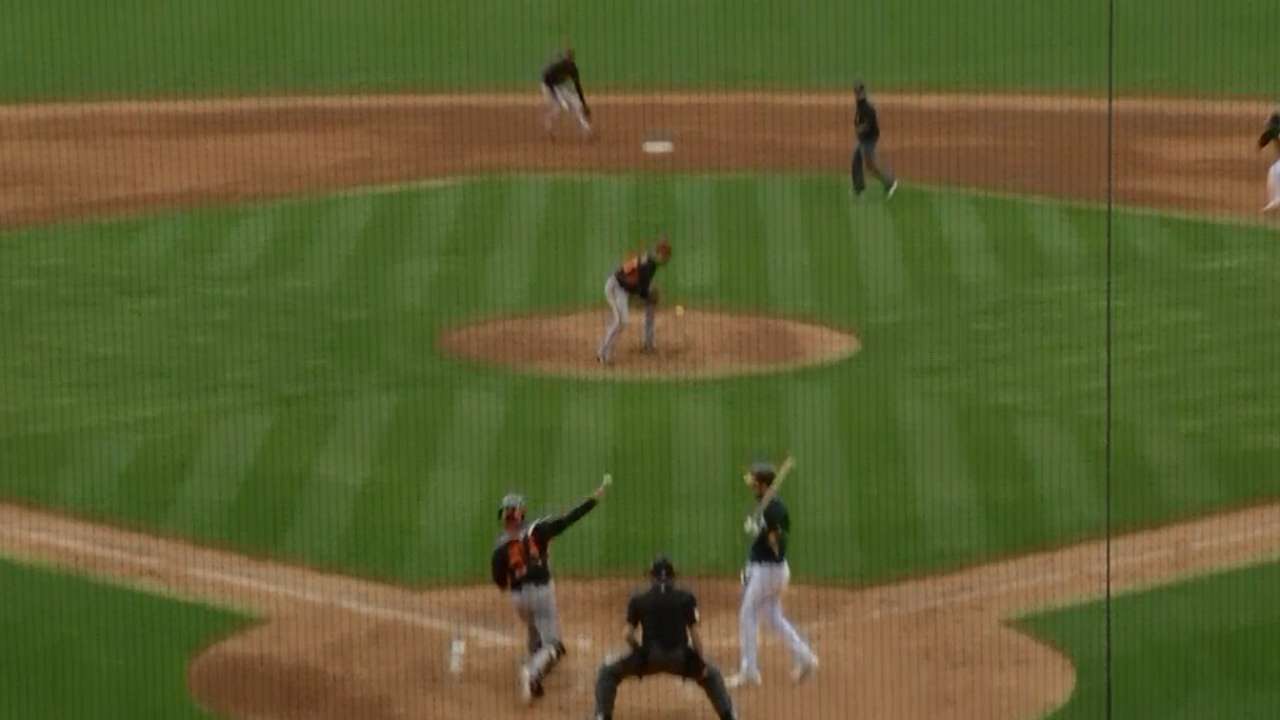 Scottsdale, Ariz. -- Andrew Susac is hungrier than ever.
After making his Major League debut and playing in 35 games for the Giants in 2014, the 24-year-old catcher enters Spring Training determined to make the team and once again experience life in the Major Leagues.
"It's a big upgrade going to the Major Leagues, no doubt," Susac said. "It was cool for me to experience because it gave me that much more desire to want to be a big leaguer and live this lifestyle because it's a special one and it's fun."
However, if Susac is going to break camp with the Giants, he'll need to beat out Hector Sanchez for the backup catcher's job.
And it is because of that competition that Susac feels a little more pressure and intensity this spring.
"Last year was more just soaking it in, being a sponge and learning from the best," Susac said. "This year I'm competing for a spot and have the task at hand of trying to make a ballclub. It's definitely nice to know these pitchers, working with them through the season and getting comfortable with them, learning their lingo and their characteristics."
Susac can certainly look back on the experience he gained last year and draw on the camaraderie he's developed with the pitchers, but his most valuable resource -- Buster Posey -- sits a few feet to his left and just one locker over.
"I tell everyone if I had a kid I'd have him look up to Buster," Susac said. "He does everything right, on and off the field. He's a great role model and he's a very good player too. He's fun to watch."
While Susac did not receive an overwhelming amount of playing time last season, his time on the Major League roster was a benefit, because it afforded him the opportunity to observe Posey on a daily basis.
"I watched him a lot last year," Susac said. "I got a chance to watch how he works back there and see how he interacts with the pitchers and how he goes about his business, it's something special."
Going from the Minors to playing in front of a sold-out AT&T Park is quite the adjustment, but Posey helped Susac learn to slow the game down and focus on the task at hand.
Now, with a bit of experience and a strong mentor, Susac is hoping to package everything he's learned and earn a spot on the Opening Day roster.
"I love the game of baseball and I'll work hard no matter where I'm at," Susac said. "But playing in the big leagues was a special experience for me and especially to win a World Series in my first year, you can't write it up any better than that."
William Boor is a reporter for MLB.com. Follow him on Twitter at @wboor. This story was not subject to the approval of Major League Baseball or its clubs.