Shields to debut for Padres against Giants
Prized free agent squares off with Bumgarner in rematch from World Series
PEORIA, Ariz. -- James Shields, who on Saturday will fire his first pitch for the Padres, will see some very familiar faces across the way when he takes the mound at Scottsdale Stadium.
Shields will face the Giants and, specifically, will be pitted against San Francisco ace Madison Bumgarner in a rematch of Games 1 and 5 of the World Series last fall.
The Giants won Game 1, 7-1, and took Game 5 as well, 5-0, on their way to a seven-game Series win over the Royals.
"Yeah, I guess it's kind of ironic," Shields said. "I'm just glad I don't have to face him at the plate. He's a pretty good pitcher. I think the last time I faced him in San Francisco [Game 5], it wasn't a fun experience for us. I think I'm only throwing one or two innings, so it's not a big deal."
This weekend's starting pitchers sign for fans after the morning workout #PadresST pic.twitter.com/0nXQVMDvWx

- San Diego Padres (@Padres) March 6, 2015
In Game 1, Bumgarner allowed one run in seven innings. Shields yielded five runs in three innings. In Game 5, Bumgarner tossed a four-hit shutout. Shields wasn't too shabby, either. He allowed two runs over six innings.
Against Bumgarner in Game 5, Shields flied out to center field to start the third inning and struck out swinging in the fifth.
San Diego manager Bud Black watched the World Series with great interest -- not just as a baseball fan, but because he actually pitched for both teams (Royals 1982-88, Giants 1991-94).
"Bumgarner was phenomenal, historic in how he threw," Black said. "His postseason performance, arguably, will go down as one of the best performances of all time.
"We get a little redo. Spring Training is completely different than a postseason game, but it makes for good copy -- Shields and Bumgarner. It's good to see."
Bumgarner threw 52 2/3 innings in the postseason, allowing just six earned runs.
And it's good for Shields -- who last month signed the largest contract (four years and $75 million) in club history -- in the sense that he can finally get into a game.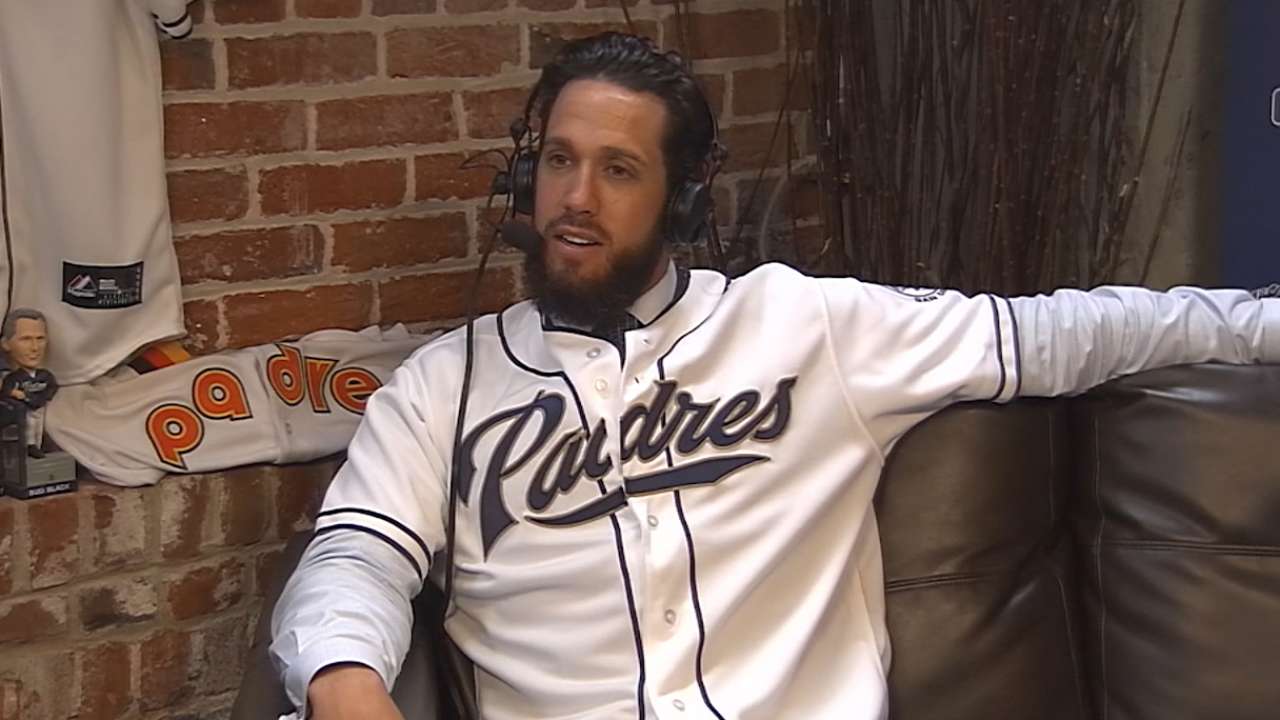 The Padres pushed his first bullpen session and his first game of the spring back a couple of extra days because of the additional workload he had in the postseason with the Royals (25 innings).
Shields didn't sound like he needed it.
"In the past, whether we made the playoffs or not, I always kind of took my time in Spring Training. It's a long time and you get plenty of work," he said.
"But I'm excited to start games. From a physical standpoint, I feel good."
Corey Brock is a reporter for MLB.com. Keep track of @FollowThePadres on Twitter. This story was not subject to the approval of Major League Baseball or its clubs.