Pence hopes to heal quickly, as he has in the past
Broken forearm likely to end outfielder's consecutive-games streak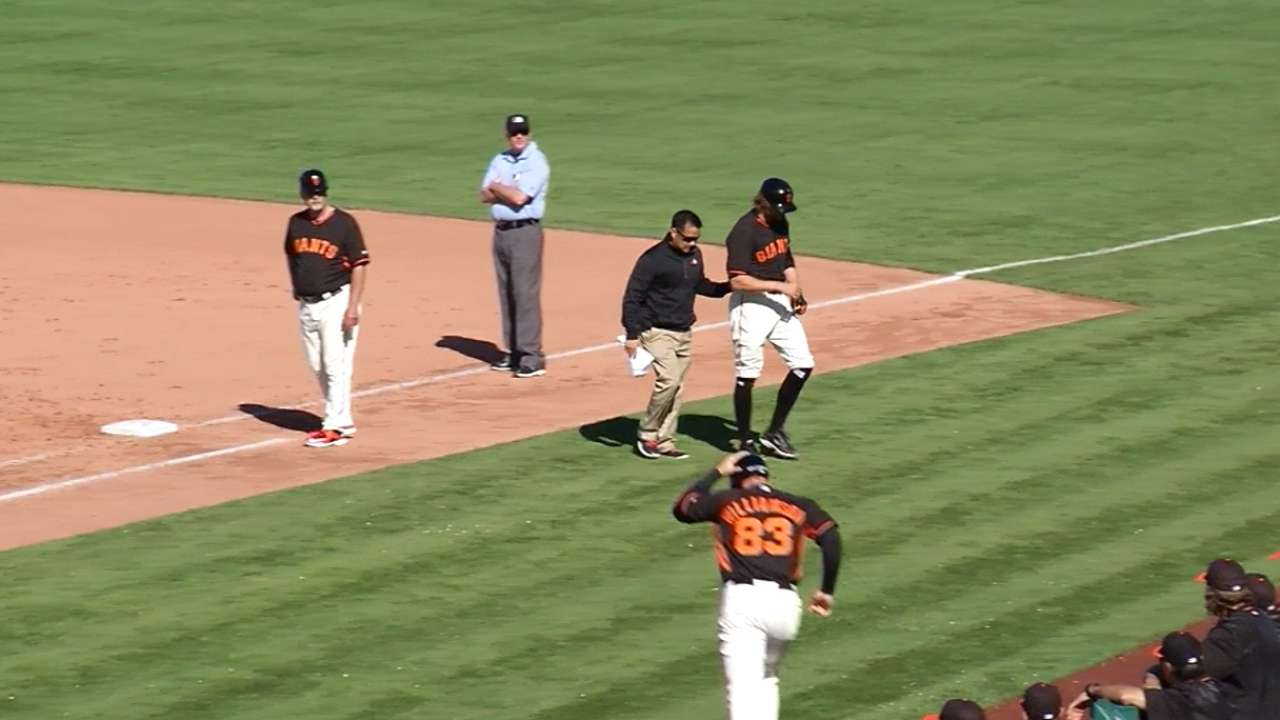 SURPRISE, Ariz. -- When the San Francisco Giants open the 2015 season, the lineup will likely have a glaring omission.
Hunter Pence has played in 383 consecutive games, the longest active streak in the majors, and in every game with the Giants since the team acquired him in the middle of the 2012 seasons, but that may come to an end on April 6 in Arizona.
Pence suffered a non-displaced fracture of the ulna bone in his left forearm during Thursday's Cactus League game against the Cubs when a Corey Black fastball ran up and in and hit the outfielder.
"It [stinks]," Black said. "You don't want to hit people, first of all, and hurting someone on top of that is even worse. It's a bad feeling and I hope he heals up real quick."
Pence harbors no ill will toward Black and understands the incident is simply part of the game.
"You control what you can control," Pence said. "These things happen. You can never be upset when you're competing and something like this happens -- there's no malicious intent. It really couldn't have happened at a much better time so I'm grateful that it was timed this early."
Just as Black hopes Pence has a speedy recovery, so do the Giants, and history says that may be the case.
Pence has broken two bones before -- his wrist and pinkie -- and said he healed faster than expected in both instances, a good sign for a team that will miss Pence's bat.
"Obviously he's a big part of our team," shortstop Brandon Crawford said. "He leads the team in a lot of offensive categories. He plays every day for us. It's a big loss."
All the love and support is making me feel better already. Thank You :)

- Hunter Pence (@hunterpence) March 6, 2015
Pence hit .277 with 20 home runs and 74 RBI last season and although he will be hard to replace, the Giants are not without options.
Gregor Blanco, who hit .260 in 146 games a season ago, was expected to begin the season as a fourth outfielder, but will now likely be thrust into a starting role.
"We have a lot of really, really good outfielders," Pence said. "Blanco looks great, he's ready to play and we have all the faith in the world in him. We also have other guys that are really good too. We've got Juan Perez, we've got [Justin] Maxwell, we've got [Nori] Aoki, obviously who is expected to be starting every day. We've got a strong unit and that's what the focus is on, the unit."
Although Pence has plenty of confidence in his teammates, he's eager to get back onto the field and do his part.
Pence arrived at the Giants facilities Friday morning eager to start his rehab. The right-fielder asked around trying to find something to do, but was ultimately told that he couldn't do anything quite yet.
"I love to play, so as far as that goes, I'm going to take care of everything I can, but also be here for the guys, helping out with whatever little parts I can," Pence said.
Once Pence is able to start working out, he won't have the benefit of spring training. Although Pence will have to get ready to play in a limited amount of time, he isn't too worried about that and believes he'll be able to adjust.
"Timing I'm not even too worried about," Pence said. "I'm more worried about just getting the wrist to where I can [finish my swing]. Once I get the wrist strong enough it should be fine."
In the meantime, Pence is trying to get used to life with a cast and finding ways to accomplish everyday tasks with limited mobility in his arm.
"Saddest part is I can't really comb my hair," Pence said.
William Boor is a reporter for MLB.com. Follow him on Twitter at @wboor. This story was not subject to the approval of Major League Baseball or its clubs.