Like father, like son: Clarks share long road to bigs
Inheriting patience, 1B/OF hopes to earn legit shot with Brewers after successful '14 callup
PHOENIX -- Matt Clark learned patience from his dad, Terry, a former right-handed pitcher who waited more than nine years from the day he was drafted by the Cardinals to a Major League debut with the Angels. His boy's own journey covered seven years, including a frustrating departure from the Padres and a stint in Japan, before a Brewers debut last September.
Clark hoped to report to Spring Training with a shot to win first base. When Milwaukee traded for Adam Lind, Clark shifted his focus to the bench and those old lessons from dad.
"I wish our stories weren't so similar," Matt Clark said Friday before drawing a start against the Dodgers. "But I watched my dad my whole life, and I thought that's just how it was -- grinding all the time. That's what I've done, and I hope people notice it. How long I've played, how long I've played well, and never given in.
"That's the hardest part. Don't give up."
The short version of Clark's baseball story: At LSU in 2008, he tied Gordon Beckham for the NCAA home run crown and helped the Tigers reach the College World Series. The Padres made Clark a 12th-round Draft pick that year, and he charged through their system, topping 20 home runs in four straight seasons from '09-'12. But he was buried behind the likes of Adrian Gonzalez, Anthony Rizzo and Yonder Alonso on the depth chart and never found his way to the Majors, even in September.
Dismayed, Clark went to Japan for 2013. He signed with the Mets' organization for 2014 but was buried again, so he requested his release from Double-A in late June.
"That's the nature of the game," Clark said. "You just have to get someone who has faith in you and will stick his neck out."
He found that someone in Triple-A Nashville hitting coach Bob Skube, a former Padres coach who had been pushing Brewers officials to give Clark a shot. Hunter Morris' broken arm opened a spot for Clark to bat .313 with 16 homers in 53 games for Nashville, and the Brewers rewarded Clark with his long-awaited September callup, right in the midst of a postseason push.
He collected his first big league hit with dad -- now the Minor League pitching coordinator for the Mariners -- in the stands at Miller Park, then homered in three consecutive games from Sept. 10-14.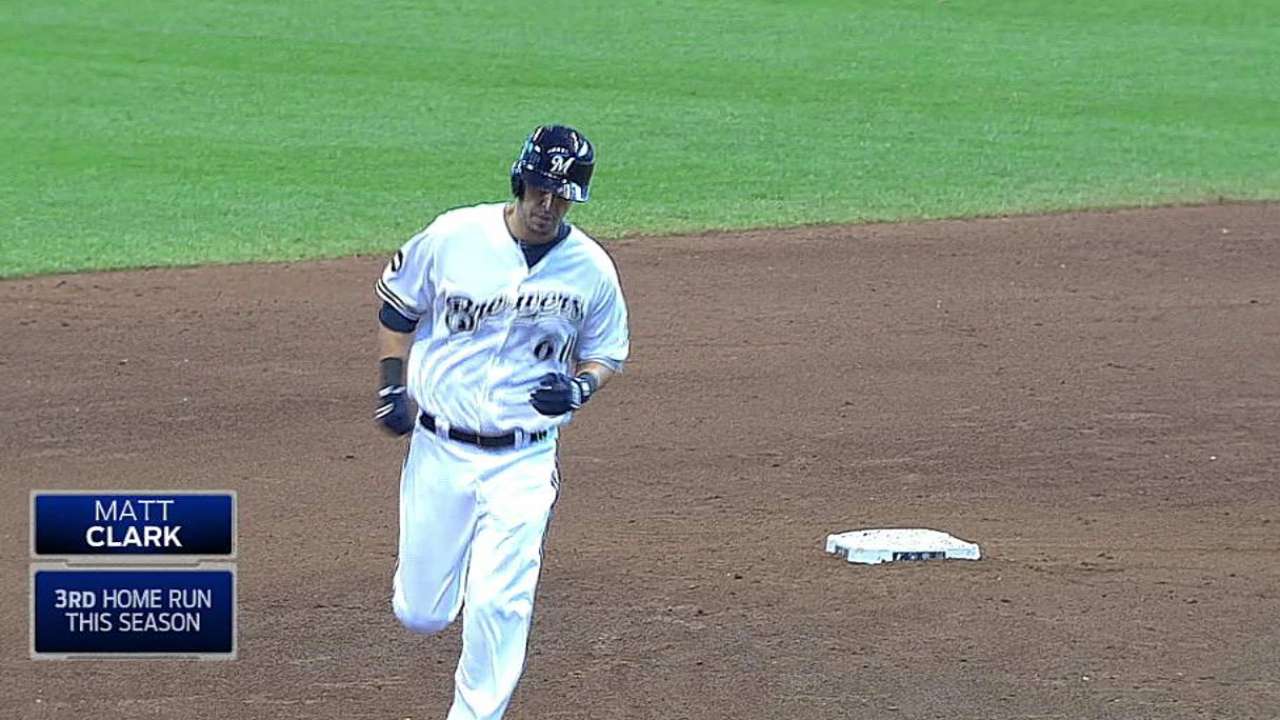 "He's a guy who could be that left-handed hitter off the bench," said Brewers manager Ron Roenicke, who will also see Clark in left field this spring. "For me, personally, I hope Lind has a great year. That doesn't help [Clark], but somewhere in there, you want everyone to have the opportunity to see if they can do it, especially the guy who has proved it in the Minor Leagues year after year."
Clark will stay patient.
"I would love to see what I could do with 500 at-bats in the big leagues," he said. "That would be unbelievable."
Adam McCalvy is a reporter for MLB.com. Read his blog, Brew Beat, and follow him on Twitter at @AdamMcCalvy. This story was not subject to the approval of Major League Baseball or its clubs.