Greinke on schedule after positive BP session
Dodgers starter comes away with no pain after receiving mid-February injection in right elbow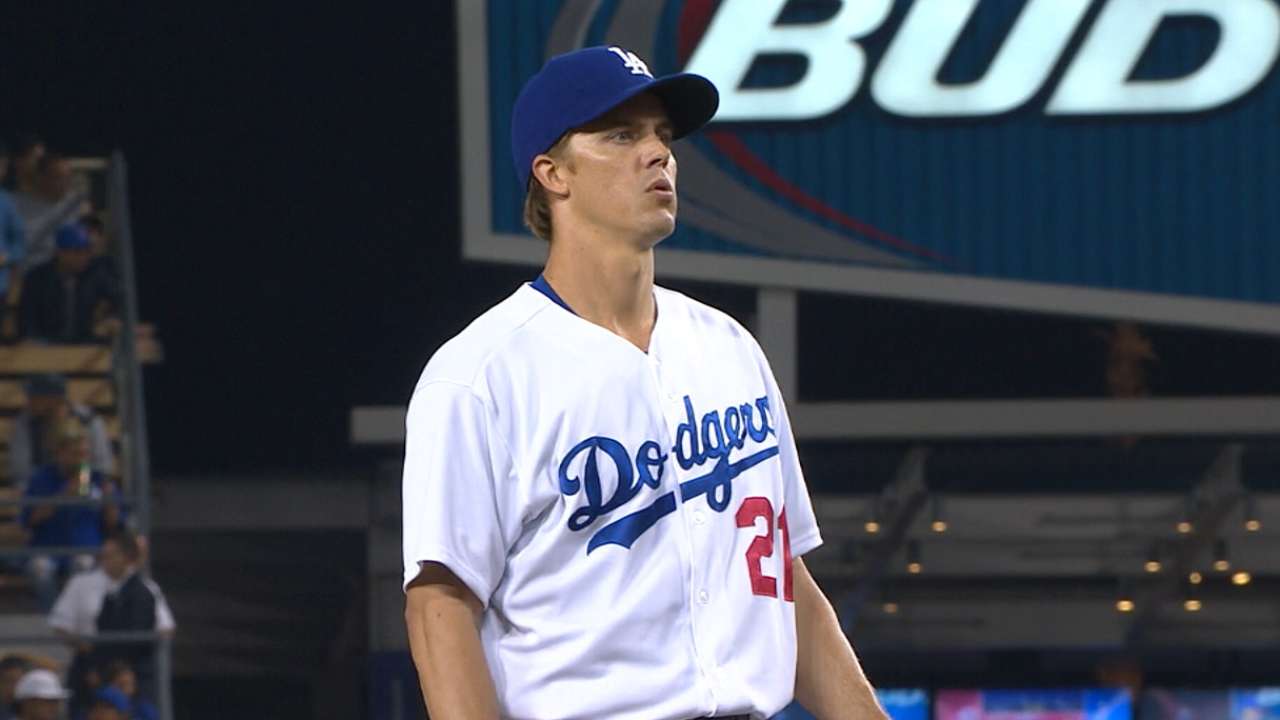 GLENDALE, Ariz. -- Dodgers right-hander Zack Greinke looked sharp Friday, facing hitters for the first time this spring. Perhaps more importantly, he came away from his live batting practice session pain free.
Greinke, who threw 36 pitches and faced 10 Minor League hitters during the session, had an injection in his right elbow in mid-February (the injection was nothing more than annual maintenance, the Dodgers say). He's on track to throw one more bullpen session before starting on Wednesday against the Cubs (1:05 p.m. PT on MLB.TV).
"Everything worked pretty good," said Greinke, who threw all of his pitches. "You're just building your arm speed up and trying to get comfortable with hitters in the box. That all worked out."
Greinke threw two "innings" Friday -- for lack of a better term. After facing five hitters, he took a short break to chat with manager Don Mattingly and pitching coach Rick Honeycutt, before facing five more.
Unofficially, Greinke retired nine batters, allowing just an opposite-field single -- though without any fielders, the exact results are mostly guesswork.
"I wasn't great, but they're not in midseason form either, so you don't get a 100 percent accurate read," Greinke said. "But it's better than facing nothing."
Greinke's fastball was easily his best pitch, which he says is to be expected at this time of year. He also reiterated that he isn't too concerned with any early-spring results, so long as he feels good.
"You're just working on pitches early on," Greinke said. "Then [you] try to get outs more later on."
Greinke went 17-8 with a 2.71 ERA in 202 1/3 innings last year. He has four years remaining on his current deal with Los Angeles, but can opt out of his contract after the season.
In other news Friday:
• Yasmani Grandal fouled a pitch off his foot during batting practice and was moved from catcher to designated hitter as a result. He went 1-for-3 in the Dodgers' 7-4 win over the Mariners.
After the game, Mattingly said the decision to move Grandal was strictly precautionary, and he doesn't foresee Grandal undergoing any tests or missing time.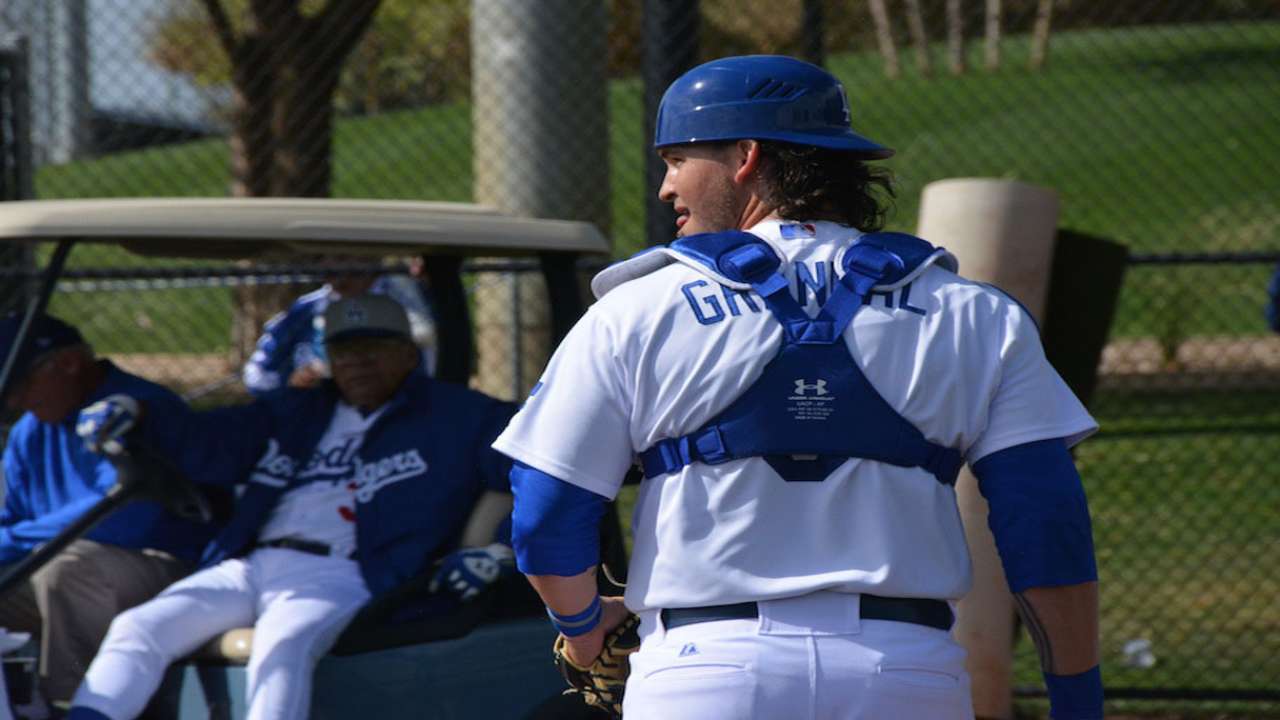 • The Dodgers will experiment with Alex Guerrero and Darwin Barney at different positions this spring -- with the point being that there's no better time to find out where they're capable of playing.
Mattingly believes Barney has the natural instincts to play shortstop if necessary -- and enough of an arm, too. He also likes what he's seen from Guerrero at third base thus far. Guerrero, who homered in the Dodgers' 10-1 win over the Brewers and went 2-for-3, will get a chance in left field Saturday.
"He just seems so much more comfortable this year," Mattingly said. "That's the one thing that I've noticed that really stands out."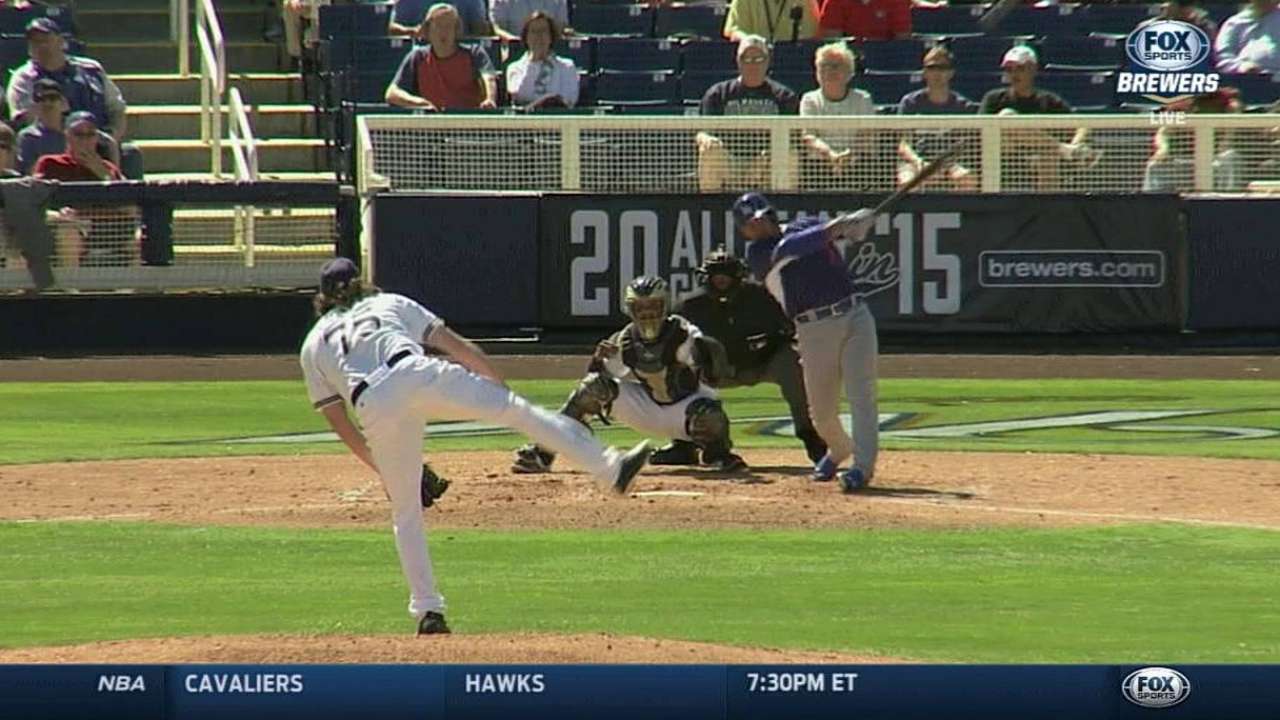 AJ Cassavell is a reporter for MLB.com. Follow him on Twitter @ajcassavell. This story was not subject to the approval of Major League Baseball or its clubs.