Mets honor slain NYPD officers Ramos, Liu
Families join team in Florida to watch Harvey, attend weekend events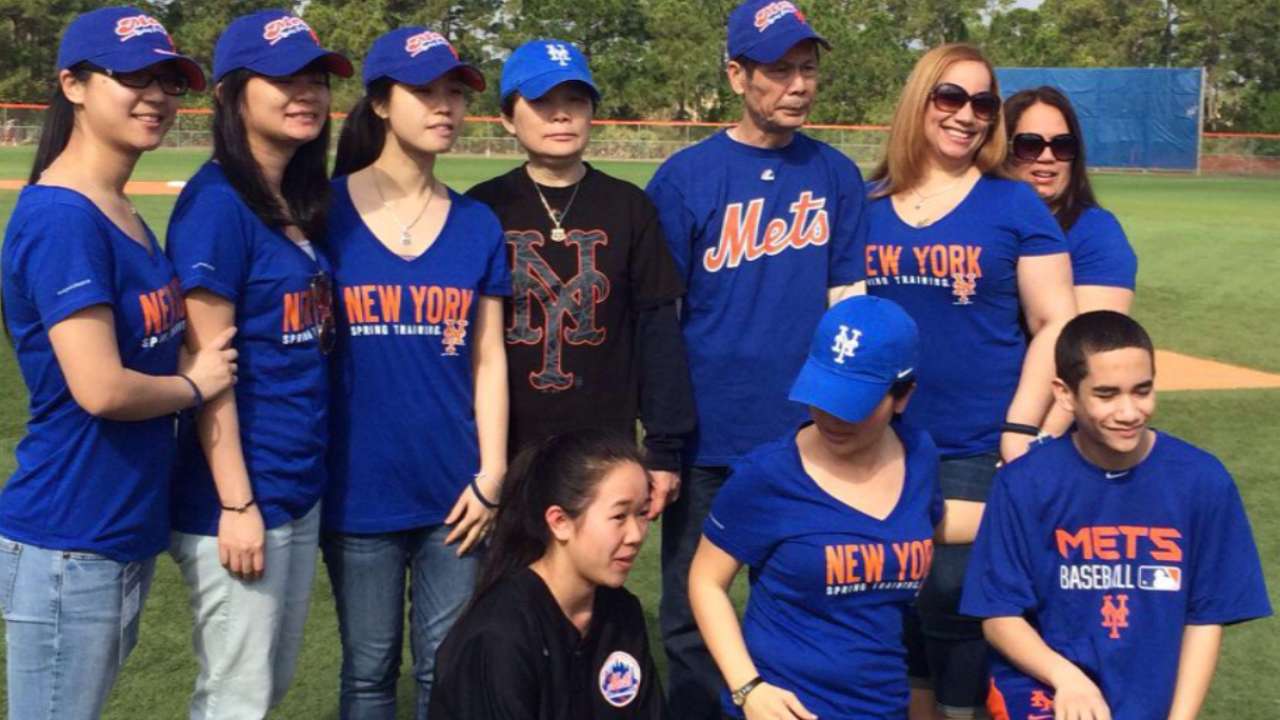 PORT ST. LUCIE, Fla. -- David Wright recalls sitting at home, staring at the phone, running through the potential conversation in his head. This was Christmas Eve, and Wright was about to call the children of Rafael Ramos, an NYPD officer shot with his partner in their patrol car in Brooklyn. The killings came shortly after the death of Eric Garner, who was choked to death by an NYPD officer.
Wright had no idea what to say to two boys who had just lost their father. He remembers his mind going completely blank, before picking up the phone and dialing.
"You hear the kids' voices and it's Christmas Eve," Wright said. "You obviously get emotional. It's probably one of the tougher phone calls I've ever had to make, one of the tougher conversations. You want to get across that you're sorry, but you don't know how they're feeling. I couldn't imagine myself in their shoes."
Friday, Wright had a second chance to talk to the Ramos family, which flew to Port St. Lucie to take part in a series of events organized by the Mets. Along with the family of Wenjian Liu, who died in the same shooting, the Ramos family watched Matt Harvey pitch in Friday's Grapefruit League game against the Tigers. The families had plans to join a group of Mets later in the day for dinner, then play miniature golf with another group of Mets on Saturday and go bowling on Sunday.
Thirteen-year-old Jaden Ramos also suited up as a batboy for Friday's game. He and his brother, 19-year-old Justin, were assigned lockers next to Mets catcher Travis d'Arnaud.
"You try to explain to them how much of a hero their father is, and how much we appreciate the service that their family has given us," Wright said. "For maybe a split-second, you try to distract them from the pain of losing a father."
Wright, whose father, Rhon, is a retired police officer in Virginia, said he grew up unaware of the dangers his dad faced on a daily basis. It was only later in life, through friends of his father, that he began to hear stories of the adversity Rhon faced. That made him want to do anything possible to help the Ramos and Liu families.
"Hearing about the tragedy with the police officers in New York, and how close I feel like I am with law enforcement in general with my father, and doing some work with the men, the women, the officers in New York, you just have a sinking feeling," Wright said. "There's nothing you can say or do to fully understand what these kids are going through or these families are going through. Then once you get on the phone with them, you're at a loss for words. You just don't know how to articulate how sorry you are for the loss of a hero."
Anthony DiComo is a reporter for MLB.com. Follow him on Twitter @AnthonyDicomo. This story was not subject to the approval of Major League Baseball or its clubs.