Barnes impresses Farrell with velocity in relief outing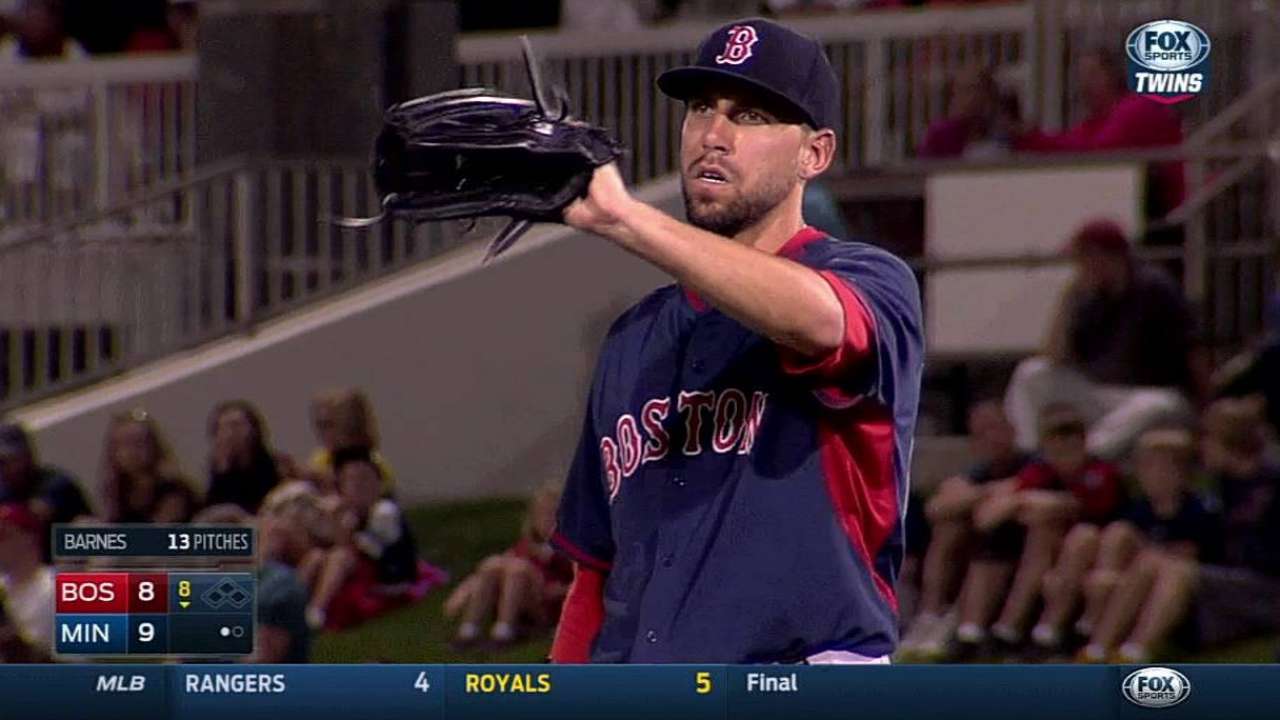 FORT MYERS, Fla. -- Though Matt Barnes remains a starting-pitching prospect for the Red Sox, the power he displayed out of the bullpen in Thursday's game against the Twins could give manager John Farrell something to think about.
While Boston's rotation is full, provided everyone stays healthy, there are a couple of spots up for grabs in the bullpen.
"That's not my decision, honestly," said Barnes. "That's a decision for John and his staff. I'll leave the decision-making to the smart guys and let them figure that out. I'm just trying to work as hard as I can to go out there and pitch and to make it a tough decision."
Barnes was sitting in the upper 90s with his fastball in a two-inning stint.
"I don't have a whole lot of history with Matt Barnes, but that was a different guy than even what we saw in September," said Farrell. "Sometimes you look for silver linings in an otherwise frustrating year. And talking with Matt Barnes, who has a better understanding of who he is as a pitcher, what's required at the Major League level and the constant focus and concentration needed, all those were talked about openly by him.
"And he went out last night and demonstrated some of the things he learned last year. The breaking ball was much tighter. I've never seen that kind of velocity from him. He was a different guy last night."
Though a pitcher who can throw 200 innings is generally more valuable than one who logs 70 or 75, Barnes might be of more value in the short term as a reliever.
"The velocity in which he pitched last night, I don't think that shows up in a starting role," said Farrell.
Could Barnes snag a spot in the competition for a bullpen spot?
"Well, we felt like there were likely two spots [open]," Farrell said. "If everyone was healthy, we probably viewed two spots in competition among a group of four or five. Does an outing like last night increase the pool? I don't know that we need to anoint that yet, but that was a really good outing to watch."
Against the Twins, Barnes allowed one hit and struck out three.
"Obviously, I was extremely happy with the outing last night," said Barnes. "More so than the results, I'm glad I feel really good at this point in the year -- compared to last year, where I hit a little bit of a speed bump. I'm happy with how my body feels now."
Ian Browne is a reporter for MLB.com. Read his blog, Brownie Points, and follow him on Twitter @IanMBrowne. This story was not subject to the approval of Major League Baseball or its clubs.