Harvey dazzles in perfect return to mound
Right-hander strikes out three in retiring all six Detroit batters he faces
PORT ST. LUCIE, Fla. -- For the first time in forever on Friday morning, Mets catcher Travis d'Arnaud showed up nervous to a Spring Training game. A reporter asked him why.
"Harvey Day," d'Arnaud replied, as if it were the most natural answer in the world.
This was nothing compared to what will happen in April, when Matt Harvey appears in a regular-season game for the first time in almost two years. It was, in many ways, just another step in a process that began when Harvey partially tore the ulnar collateral ligament in his right elbow two Augusts ago. Harvey is far from the only pitcher in baseball history to undergo Tommy John surgery, and he is not the most accomplished.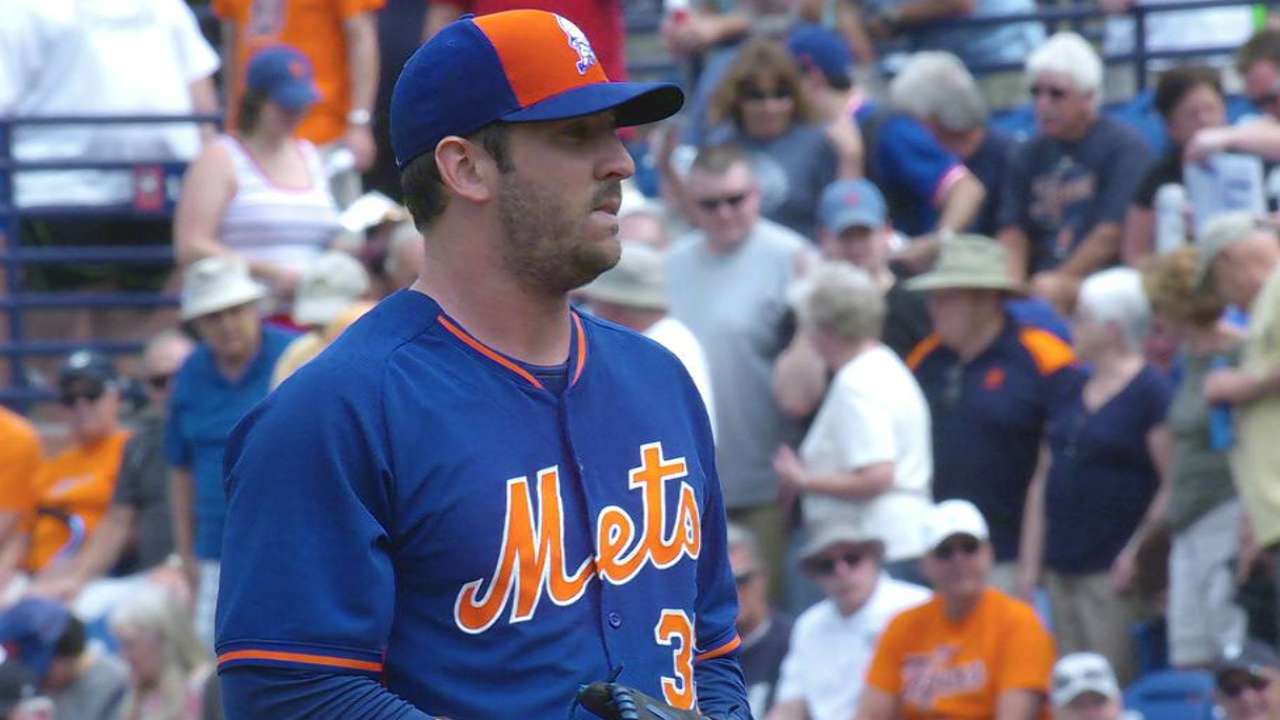 But Harvey is a presence, a caricature, the Mets' best chance at contention and the most outsized personality within their clubhouse. So when he stepped onto a mound Friday for the first time in nearly 19 full months, pumping his fastball as high as 99 mph over two perfect innings, he almost seemed to have a gravitational pull.
"We know we've got a long way to go yet," manager Terry Collins said. "But he is who he is. There are special guys, and he's just one of those guys."
Not every Tommy John patient sells out a Spring Training stadium in his first game back, as Harvey did against the Tigers at Tradition Field. They don't all warm up with a line of teammates standing behind them in the bullpen, and fans chanting from the stands above. They certainly don't all strike out their first batters on 98-mph fastballs, nor break multiple bats, nor drop third-strike curveballs into the zone to finish their days.
Harvey did all of that and more, hitting the upper 90s regularly with a free-and-easy delivery that pitching coach Dan Warthen called "superhuman." In his first game back, Harvey not only outpitched Tigers ace David Price, a Cy Young Award winner who counts a signed Harvey jersey among his only pieces of baseball memorabilia. He gave a sold-out crowd exactly the show it wanted, needing only 25 pitches to buzz through six Tigers hitters.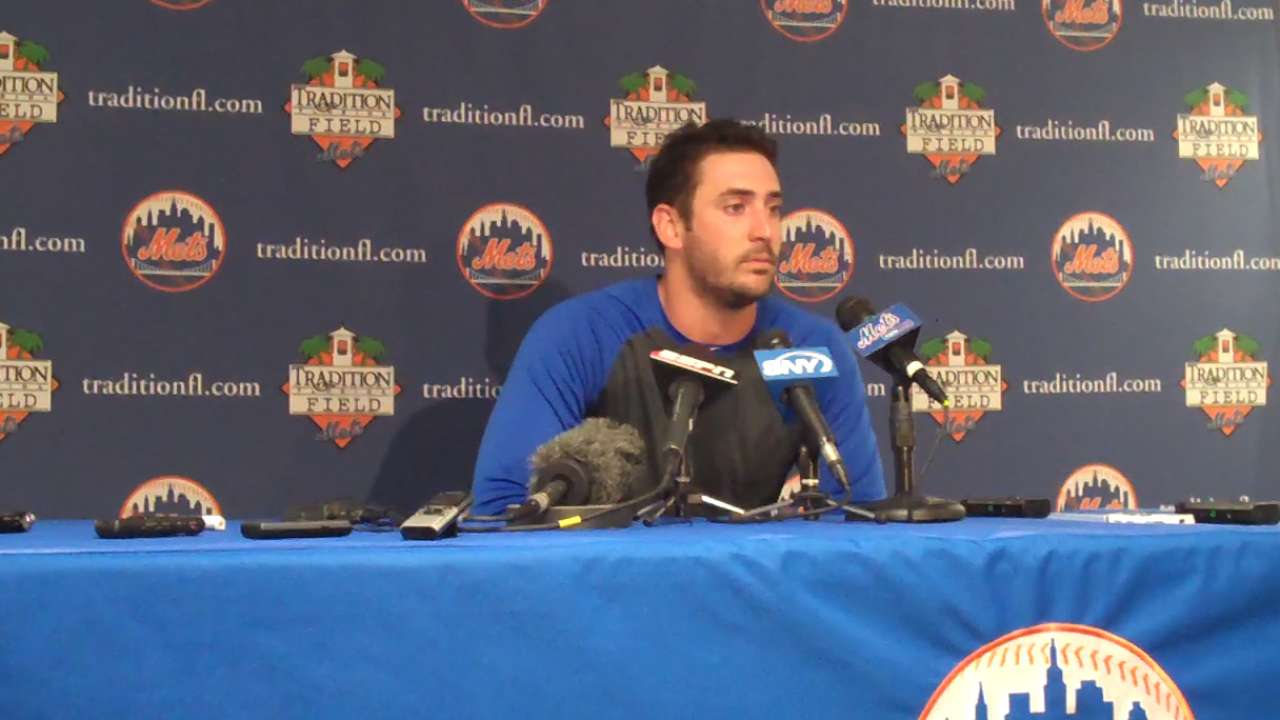 "I honestly believe that the hype, everything else, is well-warranted," Warthen said. "He's a big factor in that clubhouse. He's a big factor in New York. He's a big factor everywhere he goes. So yeah, I think it's warranted. And I think he lived up to that hype."
The Mets know how critical Harvey is to their success this season, which is what made Friday's game such a hullabaloo. Harvey himself compared the feeling of jogging out to the Tradition Field mound to his All-Star Game start in 2013, more than halfway through a summer that saw him go 9-5 with a 2.27 ERA.
"I feel like I never left," Harvey said. "I could tell the ball was coming out good. I think I let a few go, but for the most part I was really trying to stay loose and hit my spots, and I felt pretty confident with that."
Next up for Harvey is a Wednesday outing against the Marlins, which should see him reach three innings and up to 45 pitches. It's another step in the process and it won't seem as significant as this one.
But for Harvey, bigger things do seem imminent.
"I felt the buzz right when I pulled up in the parking lot," d'Arnaud said. "A guy with stuff like that can make or break a team. He's got that stuff and he's got that mindset, and everyone in the clubhouse knows he can do that."
Anthony DiComo is a reporter for MLB.com. Follow him on Twitter @AnthonyDicomo. This story was not subject to the approval of Major League Baseball or its clubs.