Bean speaks to RBI leaders about supporting kids
MLB's ambassador for inclusion discusses ways to help youngsters in quest for acceptance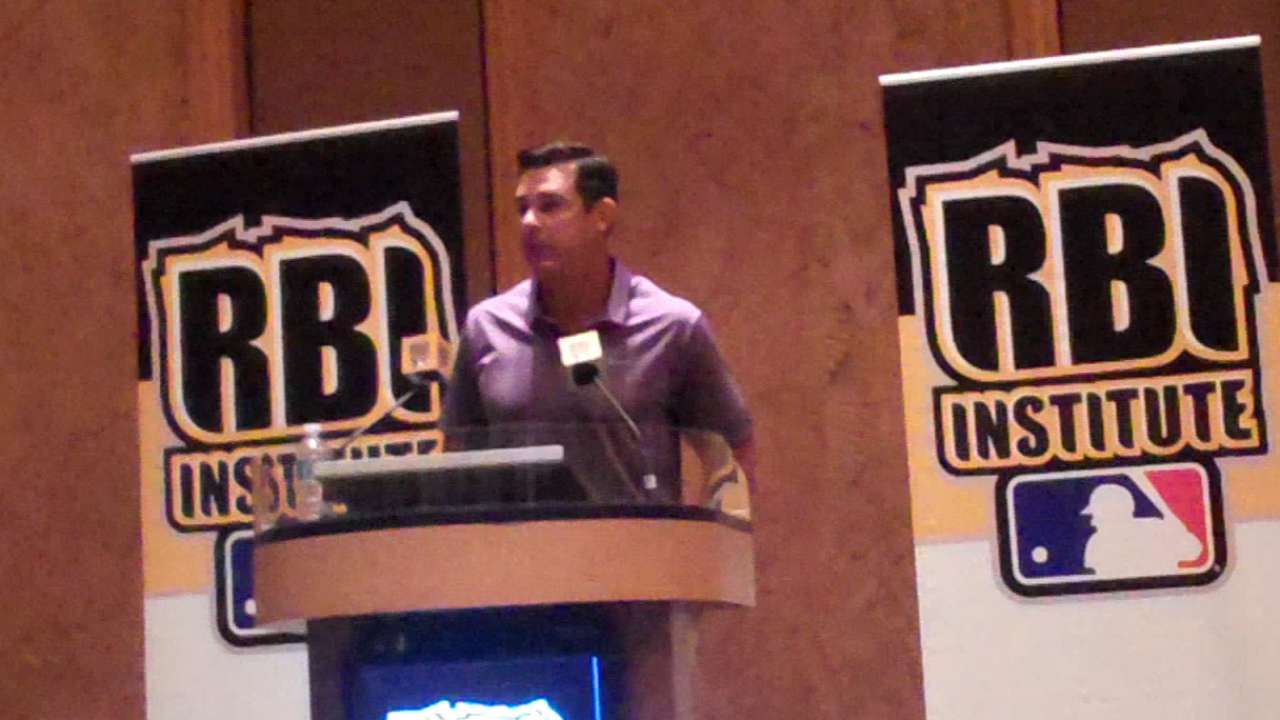 ORLANDO, Fla. -- Billy Bean's story is unique but universal, a window into the game of baseball and the lives of many people who have been pressured by society to keep their perspectives private.
Bean, a former big league ballplayer who is now Major League Baseball's ambassador for inclusion, told his story at RBI Institute on Friday, passionately speaking about how he feared his sexuality would make him a pariah in baseball clubhouses. Bean, who came out as gay after quitting the game, spoke on Friday as part of his work toward greater acceptance and understanding in his sport and society.
Bean, speaking to an audience of coaches and administrators in the RBI -- Reviving Baseball in Inner Cities -- progam, wanted to stress that he is not alone. So many kids go through the same struggles for acceptance, he said, but that doesn't have to be true for future generations.
"Everybody in this room cares about kids or you wouldn't be here," Bean said to the audience. "You love our sport, no different than me. Everything that comes out of your mouth, think about the teammates that have the most influence on you. Obviously, our mothers and our fathers are probably No. 1 on that list, but I guarantee you that anybody who's ever played catch, hit a home run or pitched a shutout, they've got a coach or two that they looked up to. It doesn't matter if you haven't seen them in 35 years, but whatever they did, they changed the course of your life and influenced you."
Bean, 50, has been making his way around Spring Training camps and speaking to players and coaches at the big league level, but this foray to the RBI Institute might make an even bigger impact. There are more than 200 leagues and 200,000 kids involved in the RBI program, and his audience on Friday included the people who will help mold their lives and attitudes going forward.
Bean, an outfielder who played parts of six seasons in the Majors, told of his journey through crippling self-doubt to acceptance. He said that he wasn't courageous enough to come out during his playing career and that he lied to everyone around him -- his family and teammates included -- because he feared for their reaction. Then, after Bean left the game that he loved, he found the will to be true to himself.
First, that meant telling his family, a terrifying prospect that was made easier by the acceptance of his parents. And then, over the next decade, Bean began telling his story in the hopes of making it easier for youngsters who tread the same path either in the game of baseball or outside of it.
"I never thought I'd be a part of baseball again," said Bean. "It was the center of my life from the age of seven until I was 30 years old, and by circumstance, I went through some really tough personal struggles."
Bean, speaking from his own perspective, said that his father was one of the most important people in his life and that there were times when he literally would have rather died than open up about his sexuality. He couldn't have the conversation at home and he certainly couldn't have it at work.
"He was the man I was most afraid of," Bean said of his stepfather. "I walked away from baseball -- the thing I did the best, loved the most and that gave me the most satisfaction -- because I literally couldn't start that conversation in my own parents' household. And it's one of the great regrets of my life."
Now, 20 years removed from playing, Bean is in position to make a difference. He was invited to tell his story to MLB executives last year and they responded by hiring him to reach out to people in baseball. There's no telling how many children might ultimately improve their lives because of it, and Bean wanted the RBI coaches to use his story as a resource.
If they're not comfortable broaching the topics themselves, Bean said he'd either come and address their teams personally or he'd find somebody in their area who could. The bottom line, said Bean, is that the coaches can make a difference in kids' lives by simply being attentive to their needs.
"So what can you do? You might not know anybody who's gay," Bean said. "You might not care. I'm not here to ask you to change the way you believe or your religion. But if you're going to be around kids and you're going to be a part of baseball, you've got a great leadership opportunity in front of you. And that's simply a culture of acceptance. If you run around calling the other team [names] when you beat them, what's that going to do? Are we going to raise leaders or are we raising bullies?"
At the beginning of his speech, Bean made reference to a long-lost baseball friend who was in attendance. He said that Morris Madden -- now president of the RBI league in Charlotte, N.C. -- was one of his favorite teammates at Double-A Glens Falls (N.Y.) nearly three decades ago.
Madden and Bean later played together with the Detroit Tigers, and he said he could recall singing to Bean when his teammate had a down moment. Now, listening to Bean's message about acceptance and inclusion, Madden was thrilled to be able to apply it to the kids who play in his RBI league.
"I think it's very important we learn how to handle those situations. In hearing Billy speak this morning, one of my coaches said that's one of the most inspiring speeches that he'd heard," said Madden. "It's very important and I'm glad some of my coaches are here so we can know how to identify those kids and have an idea of where we need to go to find an answer for their needs. One of the big issues now with the kids we have is bullying, and some of the kids are at a point where they don't want to participate in anything. Some of those kids even want to take their own lives. We don't want that, and our job as mentors is reaching out to those kids and understanding where they are in life."
Bean and the late former outfielder Glenn Burke are the only two former big leaguers who have revealed they are gay. But it's a different world now than when they played in the 1970s and '80s. The NBA's Jason Collins came out during his playing career two years ago, and Major League Soccer's Robbie Rogers also came out two years ago.
The culture is changing, said Bean, and it's increasingly possible for people to be open about subjects that were considered taboo a decade or two ago. But that isn't always true for kids, he said, who come to their realizations earlier than those of past generations and aren't always equipped to deal with them.
Some of those children, like Bean was, aren't comfortable broaching the topic at home for fear of rejection by the people they love the most. That's why their peers and coaches can be so instrumental in their growth, and Bean wants to help the RBI program get through to as many kids as possible.
"I challenge you today. I don't ask you to change who you are or what you believe, just to make a consideration," Bean said. "I guarantee you, if we have 300,000 kids playing in RBI next year, this question is going to come up. You might have two moms. You might have a kid that's a little more effeminate than your best two players and they're just ripping him to shreds. He turns around, he starts crying and he says, 'I never want to play baseball again.'
"Left turn. He's gone. You've lost him forever. Whether he ever is a good player or whether any player ever comes out in the big leagues, that's not the priority for me. ... It's literally about saving these kids' lives."
Spencer Fordin is a reporter for MLB.com. This story was not subject to the approval of Major League Baseball or its clubs.