Black hopes for speedy recovery for Pence
Cubs pitcher says hitting Giants outfielder with pitch was 'unfortunate accident'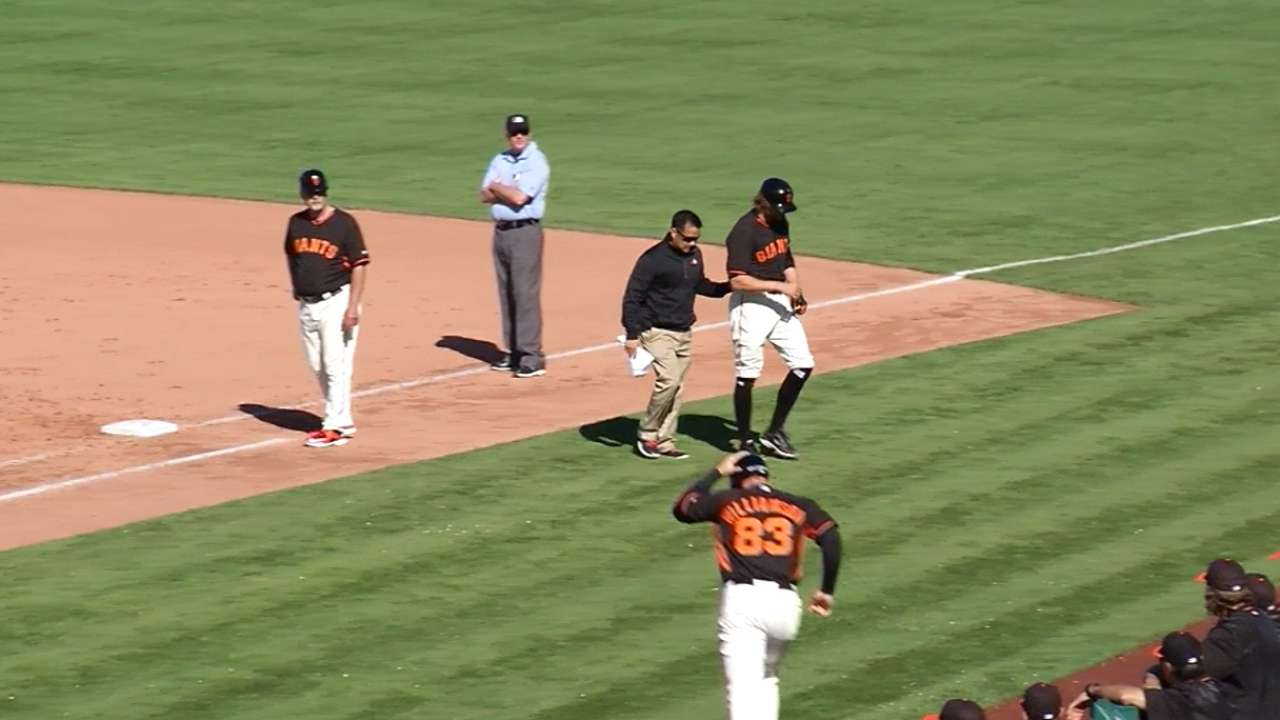 MESA, Ariz. -- Corey Black stood at his locker in the Cubs' complex Friday to talk about his first spring outing. As he talked, the clubhouse television replayed a painful reminder of what happened.
Black, 23, walked the first two batters he faced in the sixth inning at Scottsdale Stadium, then hit Giants outfielder Hunter Pence on the left forearm with a fastball. Black knew something was wrong as soon as he heard Pence scream.
Pence walked to first, but he then came out of the game. He has a non-displaced fracture of the ulna bone in his left forearm, and he is expected to be sidelined six to eight weeks.
"It's just part of the game," Black said. "It got away, he got hit. It's on the TV right now -- I don't like seeing it a lot. My heart goes out to him. I hope he heals up real quick and gets back better than ever."
It looked as if Pence tried to check his swing, but Black wasn't sure.
"That's the way he hits," Black said. "He's all over the place. Whatever works for him. It's an unfortunate accident."
Black and Pence are represented by the same agency, the Beverly Hills Sports Council, and the young pitcher was at dinner with his agents when he found out how severe the injury was.
"It [stinks]," Black said. "You don't want to hit people, first of all, and hurting someone on top of that is even worse. It's a bad feeling, and I hope he heals up real quick."
Black reached out to Pence, posting on his Twitter: "Lost for words. Hope you heal fast @hunterpence hitting someone is never a good feeling. Hurting someone is even worse."
Cubs manager Joe Maddon made a point of talking to Black during pregame stretch.
"I said, 'Don't you dare worry about any of that. It's part of the game,'" Maddon said. "It's awful when it happens, he wasn't trying to do that, that's part of the game of baseball. It's just terrible, and I know he feels badly. There's not a thing he should do about it."
Maddon said Black didn't need to apologize.
"If I was a player and it happened to me, and broke my arm, I would not need that apology," Maddon said. "It's part of the game. I signed up to play baseball.
"[What happened] is just the way of the world, man. It's a car accident, it's slipping in the bathroom, it just happened to be a pitch that got inside. You live, you play baseball, accidents occur, you move on, you sign up to do it, it happens. Of course we feel badly about it, of course we do. [Pence] is a great player, great guy, a big part of that team. It was definitely not intentional. It happens."
Black said some Giants fans were surprised that he apologized.
"It was a heartfelt tweet to try to get his attention and say it wasn't on purpose or anything like that," Black said. "I was actually kind of excited to hear some Giants fans say, 'Don't worry about it, it's part of the game.' That made me feel better. There's always two or three people with negative comments."
Pence responded to the tweet, telling Black, "It happens."
@CblackCHC It happens my friend. Thanks for the concern, it's a part of the game we love. No slowing down!

- Hunter Pence (@hunterpence) March 6, 2015
This isn't the first time Black has hit a batter -- he plunked 14 last season at Double-A Tennessee -- but it was a tough one to shake off. The right-hander went for a run Friday morning to try to move on.
"You don't want to hurt anybody, you don't try to hit anybody," Black said. "It feels bad, especially for my first game in Spring Training. It's a bad way to start. Today's a new day, and I've just got to get better and try to forget about it."
Carrie Muskat is a reporter for MLB.com. She writes a blog, Muskat Ramblings, and you can follow her on Twitter @CarrieMuskat. This story was not subject to the approval of Major League Baseball or its clubs.