Votto likely to make spring debut today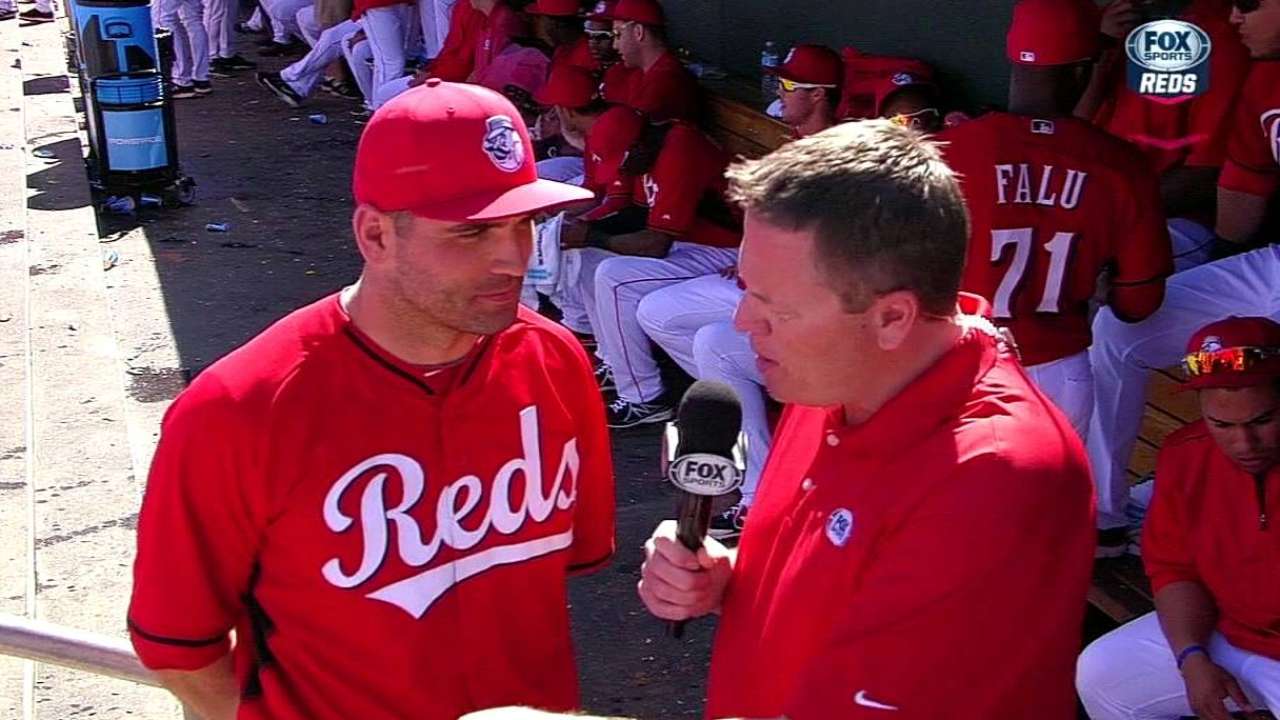 GOODYEAR, Ariz. -- Joey Votto is scheduled to be in the Reds' lineup for his spring debut on Saturday, when the club travels to play the Royals at Surprise Stadium at 3:05 p.m. ET.
It will be the first time Votto, who will play first base Saturday, has been in the lineup since July 5. He missed the final three months of last season -- and 100 games total -- because of a distal strain of his left quadriceps.
"I expect to play [Saturday] and hopefully have a conversation with you [reporters], and then just join in -- me just playing ball and competing with the team," Votto said.
Before fully committing to Votto playing, manager Bryan Price is waiting for the club to get through Friday's workout.
"We're evaluating that, and it looks like if everything is good today, we plan on seeing him out there tomorrow," Price said.
Like other players, Votto will probably play three or four innings on Saturday and gradually build up from there.
Votto came to camp a few days early, but he was considered behind schedule from the others. His offseason workouts focused on rehabilitation of his leg rather than getting into baseball shape.
Although he had shown no signs of injury issues this spring, the Reds held Votto out of the lineup for their first three games. While he's been able to hit, field and run during workouts, he was held out from performing in some of the team drills.
On Thursday, Votto showed he had enough stamina to begin playing in games.
"He was on the bases twice at full speed -- sliding and an advanced workload, which included significant amounts of ground balls, and way more swings than he was taking when he first arrived here and throughout the offseason," Price said.
Votto felt everything, including the sliding, went well. There are no issues that are preventing him from playing at this point.
"I hadn't played in such a long time, and for me to have come back and have started Spring Training and kept up with the regular guys after not throwing spikes on, getting on the dirt and running, there were a few extra days' worth of work," he said. "And we figured better safe than sorry, and [we'll] also just make sure I'm in a good place before I start playing again. I felt like I was in a pretty good place coming into Spring Training, but [we're] just making sure we're cautious and not taking any risks or any chances."
Lacking strength near his knee last season because of his injury, Votto struggled in the 62 games he played, batting .255/.390/.409 with six home runs and 23 RBIs in 272 plate appearances. Cincinnati is counting on a full healthy return of the 2010 National League MVP Award winner in order to contend in the NL Central this season.
Mark Sheldon is a reporter for MLB.com. Read his blog, Mark My Word, and follow him on Twitter @m_sheldon. This story was not subject to the approval of Major League Baseball or its clubs.