Gibson works on changeup in first spring start
Twins righty allows one run over two innings, strikes out two vs. Red Sox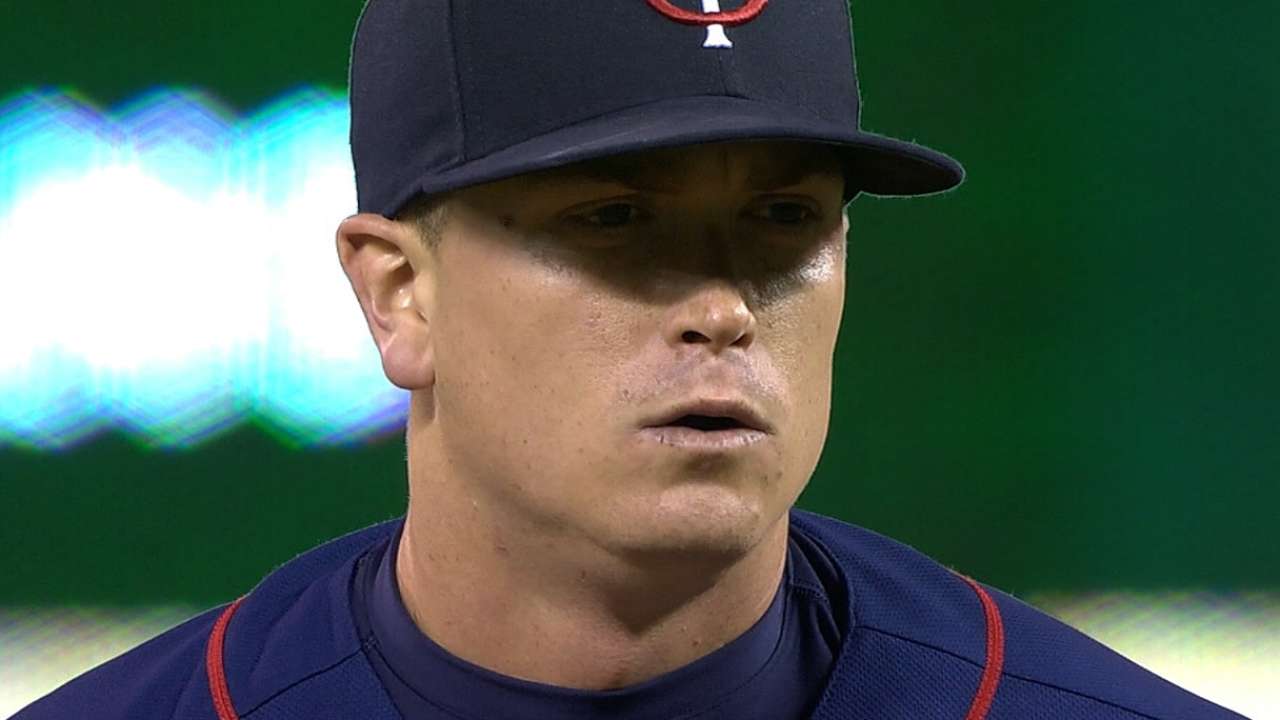 FORT MYERS, Fla. -- Pitchers often use Spring Training as a platform to work on a specific pitch, and Twins right-hander Kyle Gibson isn't any different.
The sinkerballer has been working to improve his changeup to go along with his slider and little-used curveball, which he feels will be important for him in his second full season in Minnesota's rotation. Gibson threw his sinker 62.6 percent of the time last year, while mixing in his slider (21.8 percent), changeup (12.5 percent) and curveball (3.2 percent), according to FanGraphs.com.
Gibson is looking to incorporate that changeup more this year, and he made it a point to throw his changeup against right-handed hitters in his Grapefruit League debut against the Red Sox on Thursday. The righty was happy with the results.
"I felt really good," Gibson said. "I think the changeup to righties is going to be a big pitch. You see guys like [Mike] Napoli and [Bryce] Brentz with big swings, it's kind of an equalizer. If I can get it to look like my sinker consistently and locate it middle-down, it'll keep those guys from letting their front hip fly open."
Gibson, 27, went 13-12 with a 4.47 ERA in 31 starts last year, but notably struggled in his losses. Gibson had a 1.42 ERA in his 13 wins and an 11.04 ERA in his 12 losses. So he's made it a mission to improve his consistency this year.
"The joke I was telling on the caravan was that when we lost, I just made sure we lost really bad," Gibson said with a laugh. "But I'm going to try to stay away from that this year. I had six or seven starts of less than four innings, and that just can't happen. So the goal this year is obviously for us to win more as a team, but in my 30 to 33 starts, I want to give us a chance to win."
Twins manager Paul Molitor liked what he saw from Gibson on Thursday, but did note he left a few balls up, which Gibson attributed to being amped up for his first start.
"He was fine," Molitor said. "I think he'll say he left a few balls up, but mostly he was good. He was aggressive. I thought he did fine."
Rhett Bollinger is a reporter for MLB.com. Read his blog, Bollinger Beat, and follow him on Twitter @RhettBollinger. This story was not subject to the approval of Major League Baseball or its clubs.