Kennedy allows home run to Cruz ... or did he?
Padres starter says 'odd' to make spring debut from bullpen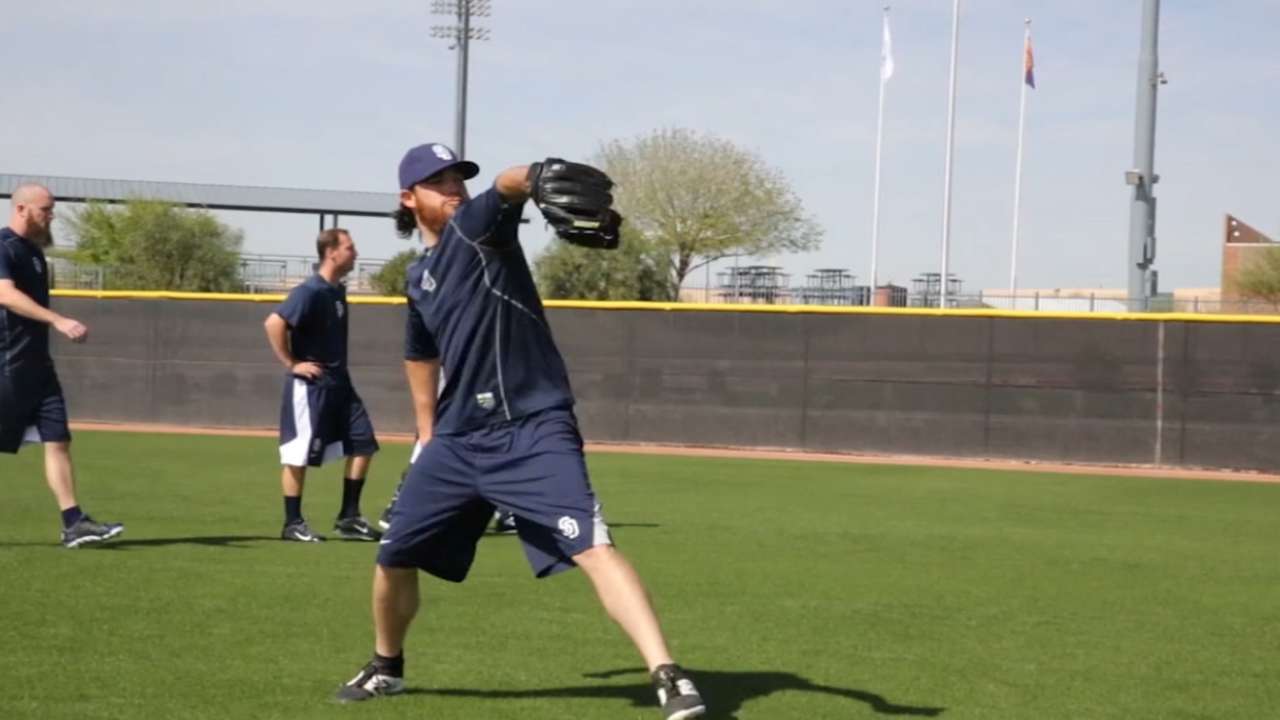 PEORIA, Ariz. -- Let the record show that while statistics in Spring Training carry as much weight as a 10-day weather forecast, Ian Kennedy left the Padres' training facility late Thursday afternoon with a 9.00 ERA, thanks in large part to the long two-run home run he allowed to Seattle's Nelson Cruz.
Or was it a home run?
Cruz's fly ball down the left field line in the second inning appeared foul -- and not just to Kennedy, but Padres manager Bud Black, his coaches and several fans at the Peoria Sports Complex who had a prime vantage point to track the flight of the breaking ball that stayed in the hitting zone a little too long.
"I thought someone was playing a joke on me," Kennedy said, smiling. "I think even Cruz went back and stopped running. I guess that's why we need replay I guess.
"The first thing I did was look down the line … 'there's no way that's a home run.'" The coaches were sitting perfect in line for that and they had their arms up [waving foul]. It was a tough break, I guess."
Kennedy was long gone by the time the Padres fell to the Mariners, 9-4, in Cactus League play.
It was a strange day in general for Kennedy, who allowed two runs on three hits in two innings. First of all, he didn't start the game as he normally would have. Andrew Cashner did and pitched one inning as was planned before giving way to Kennedy.
Cashner only went one inning because he's scheduled to throw again on Monday.
"It was odd. I haven't done that in a while, maybe my Yankee days. I know I didn't do it with Arizona. I didn't like it very much," Kennedy said of coming in from the bullpen and not getting what he felt was his typically pre-start routine.
"It could have gotten a lot worse. If he [Cashner] didn't out of the first, I think [Alex] Torres was warming up. If he went in the game, he was going to get the next inning. I was really hoping he got the last out. I would have had to wait another inning and that would have screwed me up."
In the end, Kennedy got his work in and could still enjoy a chuckle about the home run that, in his own estimation and that of others, wasn't really a home run at all.
"High fly ball, foul … that's what I saw," Black said.
Corey Brock is a reporter for MLB.com. Keep track of @FollowThePadres on Twitter. This story was not subject to the approval of Major League Baseball or its clubs.