Goal for Colon is to reach 200 innings again in 2015
Veteran right-hander tosses two perfect frames in Grapefruit League debut
VIERA, Fla. -- At this point, Mets manager Terry Collins and pitching coach Dan Warthen do not try to interfere with Bartolo Colon's program. They know better. Set to turn 42 in May (he joked that he's not sure if he's 42 already), Colon is set in his ways. And his ways apparently work, as Colon proved by topping 200 innings last year for the first time since 2005.
The Mets would love for Colon to improve upon the 4.09 ERA he posted in the process. But even if he doesn't, they know how valuable Colon can be to a staff already packed with young star potential.
"I'm going to go until, God willing, I can play and my body lets me do it," Colon said after throwing two perfect innings in his Grapefruit League debut against the Nationals on Thursday, generating three groundouts and striking out two. "For my age, throwing 200 innings is something unheard of. I was very proud of it and it's one of my goals this year."
Largely because of Colon's age and $11 million salary, the Mets never received much interest about him on the trade market this winter, as they looked to trim their starting staff from six down to five. Instead, the team tried unsuccessfully to trade Dillon Gee, who should end up in the bullpen.
The rotation will consist of Matt Harvey, Zack Wheeler, Jacob deGrom, Jon Niese and Colon, the oldest of that group by more than 13 years.
"I actually thought there would be some people for sure that would have interest in him," Collins said. "I think people were scared off because he's 42, and he's thrown a whole bunch of innings in his career, and he's got a price tag that's pretty good. Economics have a lot to do with the game."
• First baseman Lucas Duda took swings off a tee Wednesday and Thursday, his first such activity since straining his left intercostal muscle in mid-February. Duda still must progress to cage swings and live batting practice before he can appear in a game. He is the only one of the Mets' eight starting position players not slated to play in Friday's Grapefruit League home opener at Tradition Field.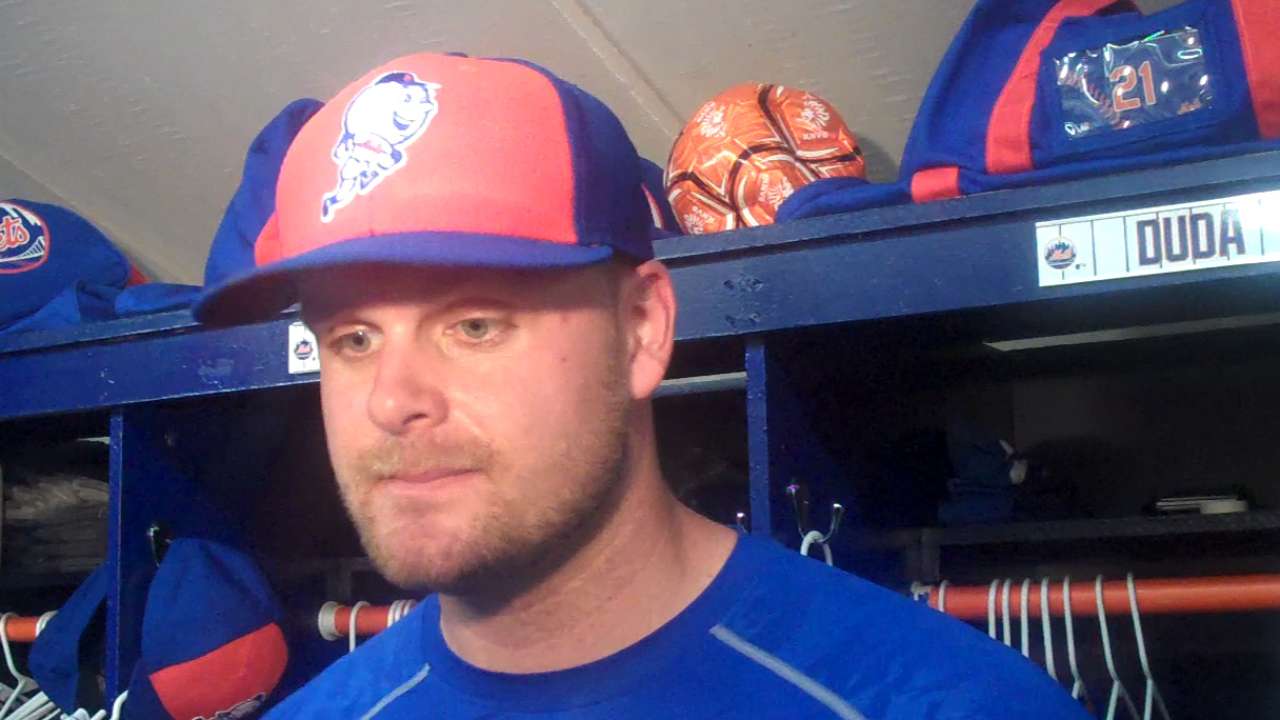 • The Mets agreed to terms with 28 pre-arbitration eligible players, including starting pitchers Harvey, Wheeler and deGrom. Per Major League Baseball rules, teams do not have to pay players with less than three (in some cases, two) years of service time more than the Major League minimum, which is $507,500 in 2015. Like most teams, the Mets play their pre-arbitration players slightly more, basing their deals on an internal evaluation system.
Anthony DiComo is a reporter for MLB.com. Follow him on Twitter @AnthonyDicomo. This story was not subject to the approval of Major League Baseball or its clubs.