MLB.com Columnist
Tracy Ringolsby
Rangers see prospects as key to rebound season
Youngsters like Gallo are poised for big league success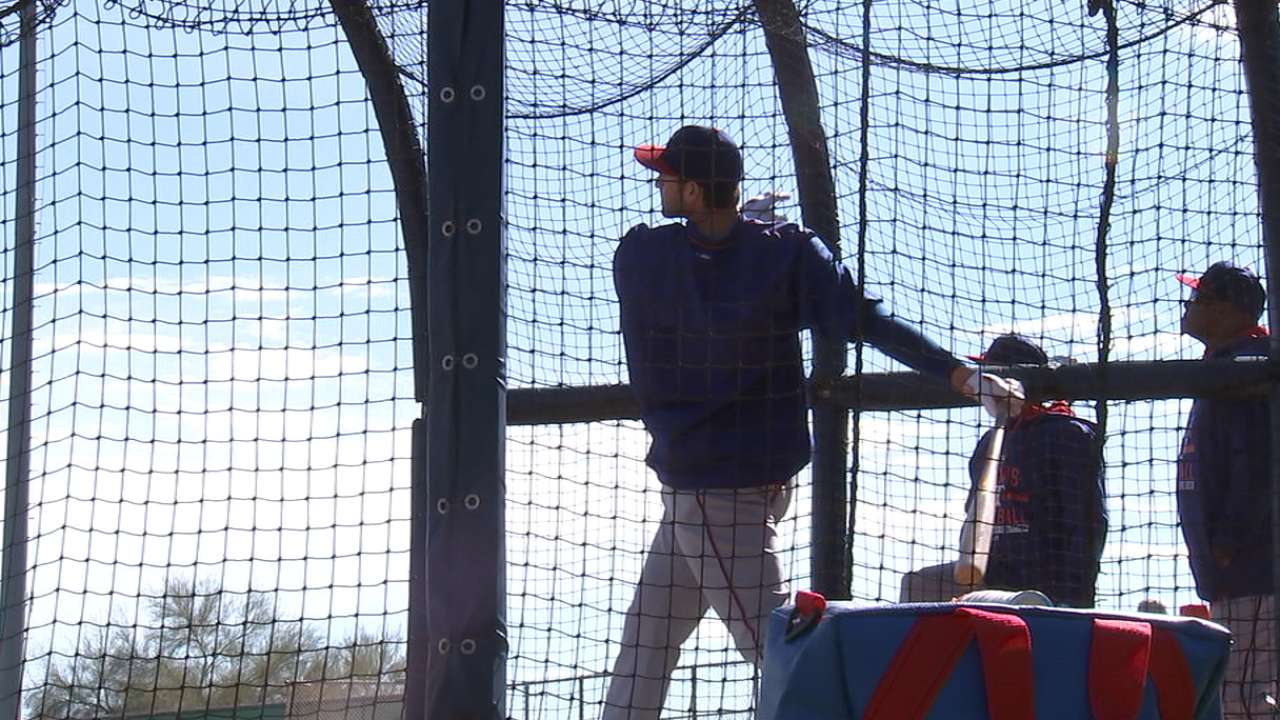 SURPRISE, Ariz. -- Sitting in the front row of the stands at Surprise Stadium, Texas Rangers general manager Jon Daniels glances out at third base during an exhibition game against the Royals on Thursday afternoon, shakes his head in approval.
"Look at him," Daniels said of third-base prospect Joey Gallo. "How many guys in the big leagues are built like that? [Miguel] Cabrera? [Giancarlo] Stanton?"
A hint of a smile surfaced on Daniels' face.
The future is bright for the Rangers.
Oh, they have hopes that they will rebound quickly from an American League-worst 95 losses in a 2014 season in which they led the Majors with players spending 2,281 days on the disabled list -- 833 days more than the D-backs, who ranked second on the list.
They, however, also have reason for confidence that the lull in success will not be extensive, not with the type of young talent that is about to arrive from the farm system.
Gallo -- the 6-foot-5, 250-pound third baseman with what scouts call "light-tower" power -- is the face of the future.
While the future isn't now, it also isn't far off.
And Daniels has been very careful to avoid disrupting what that future might bring, making sure each of the prospects has been properly prepared in the Minor Leagues before being put on the big league stage.
"At times last year, with the injuries and the opportunities that were created, it was hard for the fans and media to deal with why we didn't bring guys up," said Daniels. "Our feeling is: This next group has real talent, real ability, and that was not the right thing to do.
"Physically they look ready. But it's the nuances of the game. … We are trying to do everything we can to accelerate the pace, but we think highly enough of this group that we want to do it right and hopefully we will be rewarded."
This isn't unlike the situation that Texas enjoyed when, after failing to advance to the postseason in the franchise's first 35 years of existence, the club won AL West titles in 1996, '98 and '99, thanks to a core of home-grown players that included Pudge Rodriguez, Juan Gonzalez, Dean Palmer, Rusty Greer, Bobby Witt, Roger Pavlik and Rick Helling.
"When you can develop a core of players like that, there is a special bond," said Daniels.
And that's what the Rangers feel can happen from their current crop of prospects.
It starts with Gallo, a supplemental pick between the first and second rounds in the 2012 First-Year Player Draft, who set a Rookie-level record with 22 home runs in 59 games, and followed that up with 40 home runs in 2013 and 42 a year ago.
It doesn't end there, though.
Six of Texas' prospects are ranked by MLB.com among the Top 100 Prospects in baseball. The Sporting News is impressed enough it ranked the Rangers' farm system the second best, behind the Chicago Cubs'.
And there is balance.
MLB.com's Top 20 Rangers prospects can fill out a lineup, with catcher Jorge Alfaro, first baseman Ronald Guzman, second baseman Travis Demeritte, third baseman Gallo, and outfielders Nick Williams, Nomar Mazara, and Lewis Brinson, along with plenty of strong arms.
Every prospect doesn't make it. That's why they are called prospects.
The key is the Rangers have quality depth, which helps them overcome a developmental disappointment along the way.
When things went awry a year ago, Texas added to that depth in dealing players who didn't project into the club's future, to get highly regarded prospects, instead of trying to patch together a temporary fix at the big league level.
"It happened so fast with the injuries [last year] that it was pretty evident patchwork wasn't going to address our situation," said Daniels.
So instead, the Rangers sent veteran reliever Joakim Soria to the Tigers for right-handed starter Jason Thompson, ranked No. 8 in Texas' Minor League system, and promising reliever Corey Knebel. This winter, left-handed reliever Robbie Ross went to Boston for right-hander Anthony Ranaudo, who led the International League in wins last season. He is ranked sixth among prospects in the system and No. 100 in baseball.
And the Rangers have avoided the quick-fix mentality that often leads teams to strip their farm system of talent, which leads to a long-term struggle down the road.
That, said Daniels, is a product of an organizational philosophy that most importantly the ownership has accepted.
"They understand," Daniels said of the owners. "As much as they want to win now, they want to win for a 10-year stretch. … They are excited about this next group of guys."
There is, after all, plenty about that group to be excited about.
Tracy Ringolsby is a columnist for MLB.com. This story was not subject to the approval of Major League Baseball or its clubs.