Norris thrives under bright lights in spring debut
Top prospect works 1 2/3 scoreless innings against Orioles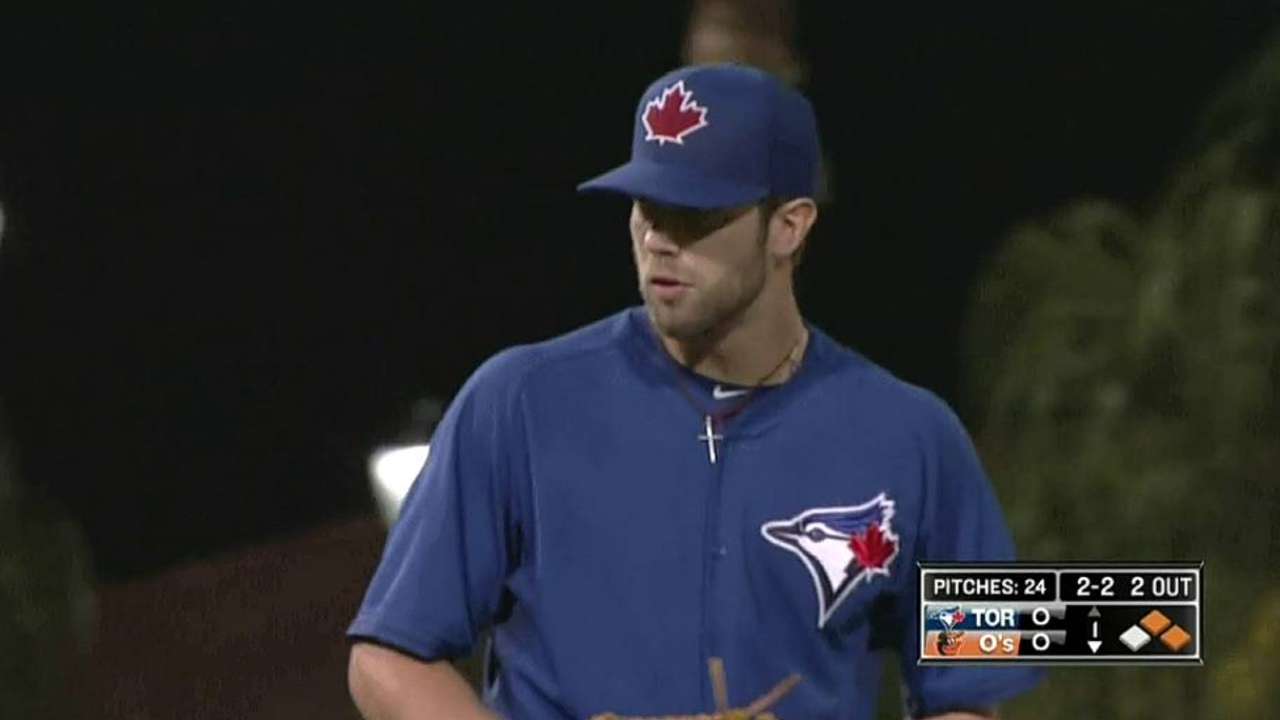 SARASOTA, Fla. -- Daniel Norris was the subject of national attention on Thursday, having been dubbed the "Most Interesting Pitcher in Baseball" by an ESPN The Magazine article detailing his nonconformist lifestyle. He said the publicity is "weird" to him, that he'd "rather just kind of tuck away a little bit."
But there was nowhere for Norris to tuck away on the mound at Ed Smith Stadium on Thursday night. The Blue Jays' top prospect, according to MLB.com, made his Spring Training debut under the lights, against most of the Orioles' right-handed regulars and in front of general manager Alex Anthopoulos and several other members of the front office.
Norris, competing with Marco Estrada for the fifth spot in the starting rotation, gave up a single and a walk, and he struck out two batters over 1 2/3 innings.
"I liked everything I saw," manager John Gibbons said. "It was a good outing for him, it really was."
But Thursday was still a learning experience for Norris, MLBPipeline.com's No. 17 overall prospect.
Norris gave up a leadoff single to Manny Machado and walked Adam Jones, the third batter he faced, before making a mechanical adjustment that helped him strike out Delmon Young (on a 75-mph curveball) and Chris Davis (on a 95-mph fastball). Norris induced two groundouts in the second inning before reaching his pitch limit and leaving the game.
While facing Jones, Norris realized his left shoulder was flying open during his delivery, causing him to unintentionally cut his fastball and miss his spots. He quickly cleaned up his delivery, struck out the next two batters and got out of his first inning unscathed.
"That's when I started getting on top of the ball, and that's when it does what it's supposed to do," he said. "So, I made the adjustment there, and that was big for me. ... That was big for me, going from inning-to-inning and kind of condensing it down to batter-to-batter."
Norris said he threw all four of his pitches like he would in a big league game, something he got a brief feel for last season.
The 21-year-old left-hander spent last year storming all the way from Class A Advanced Dunedin to Triple-A Buffalo, going 12-2 with a 2.53 ERA while averaging nearly 12 strikeouts per nine innings. He pitched 6 2/3 innings over five appearances for the Blue Jays in September.
"You're going to have butterflies and you're going to be stoked a little bit, but that helped prepare me for this stage with big league guys, facing big league lineups," Norris said. "Seeing those names before, I'm maybe not as intimidated."
There will be more bumps in the road for Norris, just as there will be more attention. Gibbons reiterated on Thursday night that Norris will have to earn his spot on the Opening Day roster, but there's little doubt Norris will be in the Majors sooner rather than later.
"His time will come," Gibbons said. "Whether it's right now or not, we'll see what happens."
As for ESPN's assertion that he's the "Most Interesting Pitcher in Baseball"?
"I thought they got the wrong guy," Norris said, smiling.
Adam Berry is a reporter for MLB.com. Follow him on Twitter at @adamdberry. This story was not subject to the approval of Major League Baseball or its clubs.