After nearly giving up, Moss rejuvenated career
Outfielder considered joining fire department as career was stuck in rut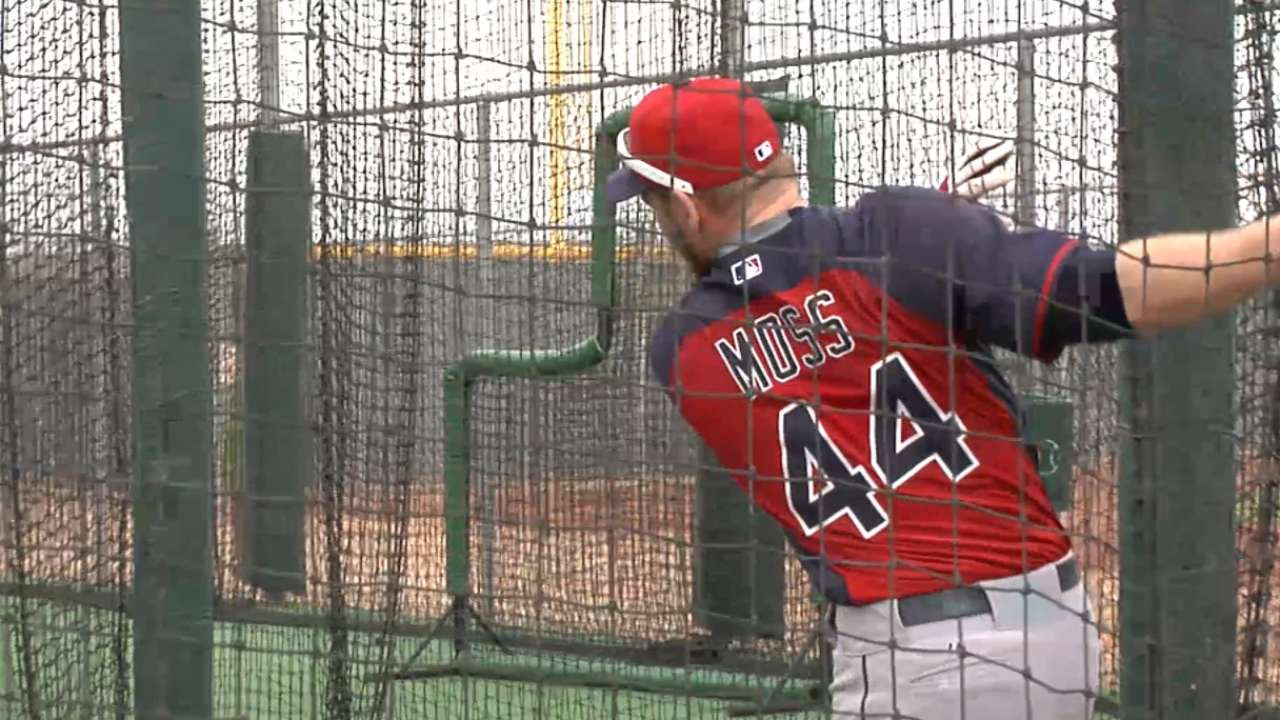 GOODYEAR, Ariz. -- Nine days. That is all Brandon Moss had to get through before he could opt out of his contract with the A's and pursue an opportunity playing baseball in Japan. He was mentally ready to head overseas and his family was prepared to make the dramatic move with him.
When Moss was done earning some money with a Japanese team -- more than he was making in 2012, his third straight year in Triple-A -- the outfielder was planning on leaving baseball completely. With a young son and a wife to support, Moss had talked things over with a close friend, who was a firefighter back in their Georgia hometown and was willing to put in a good word.
"You can just see the writing on the wall," Moss said. "It was something I was really thinking about."
Moss had zero experience with firefighting, but he was intrigued by the job after conversations with his friend, Brian Headspeth, a fire engineer with the Gwinnett County Fire Department. Much like baseball players, the firefighters spend a lot of time together, often away from their families, and the close-knit group can form the kind of camaraderie that is often found within a baseball clubhouse.
If he was going to give up baseball, Moss was interested in identifying a new career -- not just another job. Headspeth, who has known Moss since their days at Loganville High School in Georgia, was willing to help his friend transition from the clubhouse to his firehouse.
"Baseball had been his life for so long," Headspeth said. "He still wanted that team aspect and that brotherhood. He wanted to still experience that, and not really go to a 9-to-5 desk job. We have a lot of former military and former athletes that work in the fire service as a whole, just because of that aspect. It really becomes like a family, and that's what he was looking for. That's what he was used to."
Moss was ready to opt out of his contract on June 15 and head down that path.
On June 6, 2012, the A's called and told Moss he was going to the Majors.
"I was actually upset I got called up," Moss said. "I just thought I was going to get a few at-bats and then be designated [for assignment] or something like that and lose that spot. I was like, 'This is just going to throw everything off.'"
Moss laughs now. Things worked out much better than he planned.
Moss was laboring through his summer with Triple-A Indianapolis in 2010. The Pirates had worked with the outfielder on closing his stance with the idea of making him more of a gap-to-gap hitter, but the changes felt foreign to Moss and his once-promising power was seemingly gone.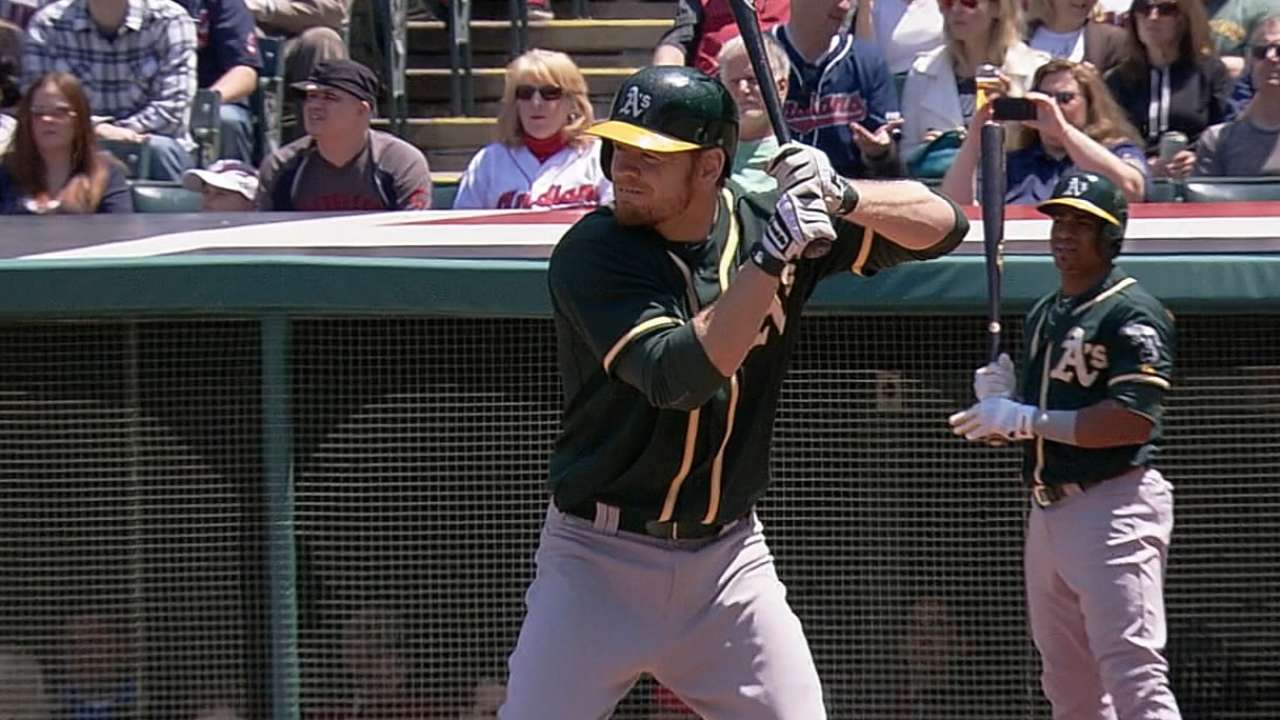 In June, while Moss struggled with the concept of continuing on essentially as a slap hitter, his hitting coach at the time, Jeff Branson, came to him with some video. Branson, who is now Pittsburgh's Major League hitting coach, wanted to revisit Moss' wide-open stance from his days with the Red Sox. Maybe, just maybe, it would help the struggling hitter get back on track.
"He was like, 'Man, you have nothing to lose,'" Moss recalled. "'I don't know what's going to happen if you keep hitting like this. You're not going to be around much longer.' That's how I'm more comfortable hitting anyway."
After averaging one home run every 39.6 at-bats through June 10 that season, Moss made the change and then belted one shot every 17.8 at-bats the rest of the way. He finished with 22 homers and 96 RBIs in an impressive season, but he remained mired in Triple-A. He signed with the Phillies the following offseason, and once again, found himself stuck on the top rung of the Minor League ladder.
Over the 2010-11 seasons, Moss appeared in 260 games in Triple-A and sniffed the big leagues only 22 times.
That is when Moss' mind began wandering to his alternatives.
"I was playing well, but I was in Triple-A," Moss said. "It's really easy to be labeled in this game and I had earned the label of a four-A player just by not playing well when I got opportunities in the big leagues."
Headspeth understood why his friend was thinking about giving up the game, but it still was hard for him to fathom.
"I couldn't understand the salary difference and the benefits difference he would take on from one to the other," Headspeth said. "That was kind of an initial shock to me. ... He wasn't worried about that. He was more worried about enjoying the rest of his life and enjoying being able to provide for his family."
After being called up to the Majors in June 2012, Moss hit just .154 in his first five games with Oakland. Not only had his plans to head to Japan fallen apart, he was again wasting his chance to rekindle his Major League career. When the A's flew to Colorado for a June 12-14 series, Moss' wife, Allison, and son, Jayden, joined him in Denver.
Allison was tired of seeing her husband -- an outgoing character typically beaming with enthusiasm -- coming home so dejected.
"She was like, 'Babe, this might be your last opportunity in the big leagues,'" Moss said. "'Just go and let it hang out. Just do your thing and leave with no regrets. If you struggle and can't do it, at least be able to walk away and say, no matter what I did, I couldn't do it. But don't go in there beat before you get there.'"
Her words hit Moss hard.
"I told her, 'I'm just going to go out there and try to hit home runs every at-bat,'" he said. "Just like I try to do in the Minor Leagues.'"
Moss hit five homers over the next four games and ended with 21 long balls in just 84 games with Oakland that season.
At the All-Star Game last summer, Indians manager Terry Francona saw Moss on the field during batting practice with the American League. Francona knew Moss from his days coming up with the Red Sox, and the manager knew how far the star had fallen before his career resurgence over the past few years.
Francona made a point to walk up to Moss to offer a few encouraging words.
"I said, 'Man, I'm so proud of you,'" Francona said with a smile. "He had fallen on some hard times in baseball. Things weren't going the way he wanted to, and I think by his own admission, he was thinking about doing something else."
Over the last three years with the A's, Moss launched 76 home runs to re-establish himself as one of the elite left-handed sluggers in the game. In that three-season period, he ranked ninth in all of baseball with an average of one homer per 15.93 at-bats (among hitters with at least 1,000 plate appearances). That was the kind of bat Cleveland felt could have a home in the heart of its lineup.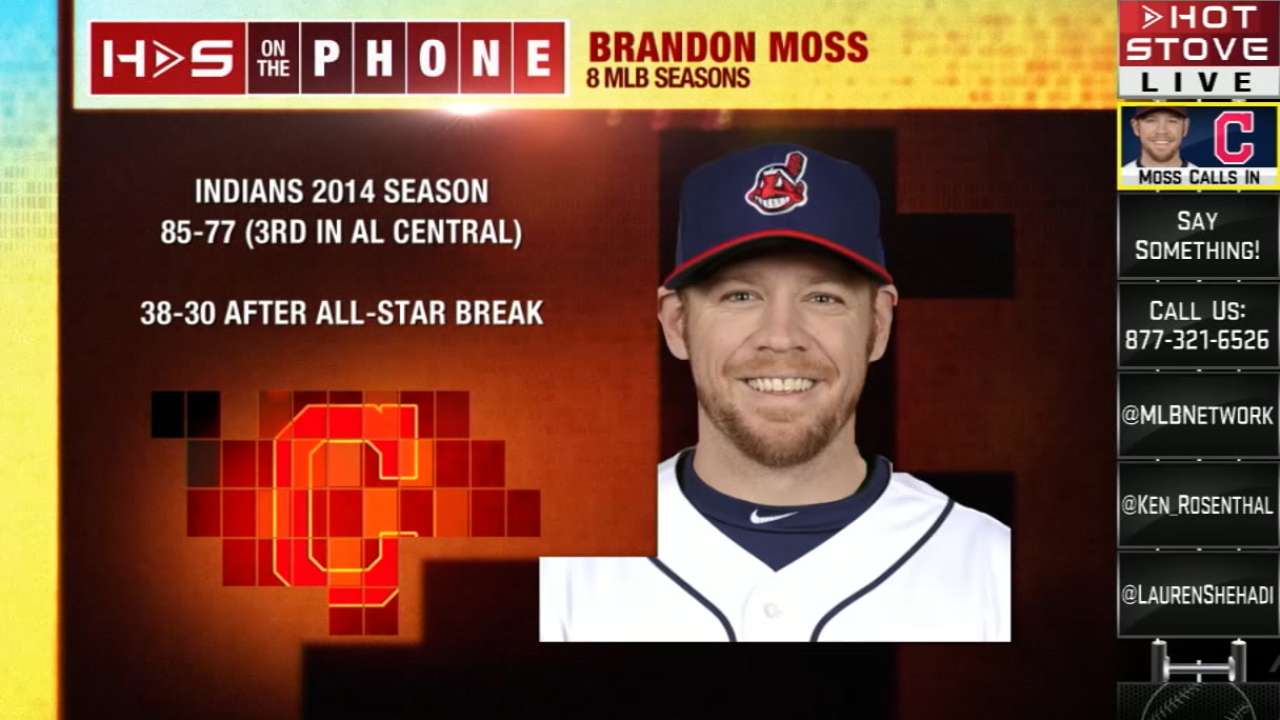 On Dec. 8, the Indians shipped Minor League infielder Joey Wendle to Oakland in exchange for the 31-year-old Moss, who was given a $6.5 million salary through arbitration and is under team control through next year. Headspeth, whose wife has been friends with Moss' wife since childhood as well, is happy that the outfielder is not working alongside him in Gwinnett County.
"I really had no doubts that he'd persevere and do what he needed to do to get things turned around," Headspeth said. "He stuck through it and I'm really proud of him. It's good to see it. He definitely deserves everything he gets."
That initial disappointment over being called to the big leagues has long since dissipated for Moss.
This spring, the outfielder is ahead of schedule in his comeback from October hip surgery, on target to make his Cactus League debut next week and optimistic about being in the lineup on Opening Day. A few years ago, Moss expected to play his way out of professional baseball. His expectations have drifted dramatically.
"I expect to have a good year," Moss said.
Jordan Bastian is a reporter for MLB.com. Read his blog, Major League Bastian, and follow him on Twitter @MLBastian. This story was not subject to the approval of Major League Baseball or its clubs.