What to watch for in today's games
Harvey's first start in 18 months highlights spring action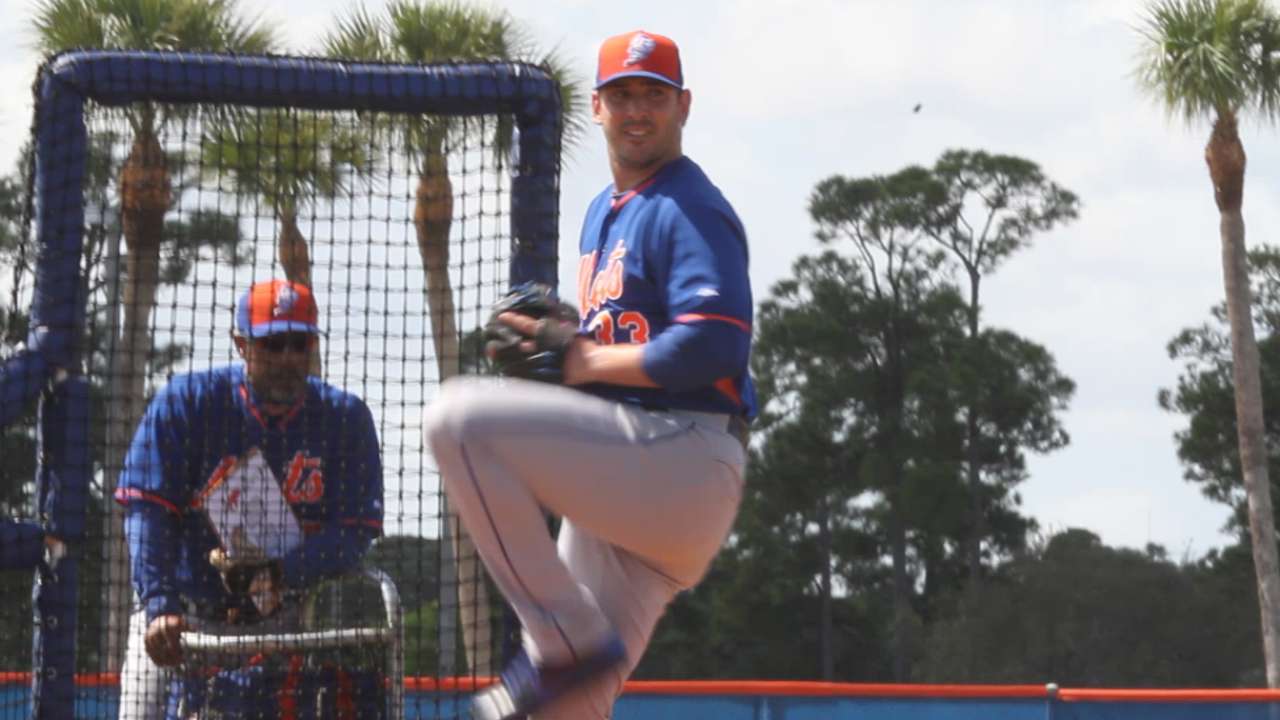 All 30 teams have officially opened their Spring Training slates, with action continuing today in Florida and Arizona.
A number of pitchers will make their spring debuts, with another veteran outfielder making his first spring appearance after an injury-plagued season.
Here are five things to watch for:
1. Harvey returns: DET @ NYM
Mets right-hander Matt Harvey will pitch in his first game in 18 months today after rehabbing from Tommy John surgery.
"We still have a whole month to go," Harvey said. "I don't want to go out there and overwork or get too excited about one or two innings. I've been through Spring Training before. I realize there's still a lot of work to be done and still a lot of steps that need to be taken in order to be game-ready."
Harvey will be opposed by Tigers left-hander David Price, who also will be making his spring debut.
2. Lester dons new jersey: CIN @ CHC
The Cubs get their first look at their new ace today when left-hander Jon Lester makes his spring debut at Sloan Park.
Lester, the Cubs' prized offseason free-agent signing, has already been given the nod for Opening Night. Along with manager Joe Maddon, Lester is a key reason for the organization's higher expectations in 2015.
"It's been a fun camp so far," Lester said. "It's been relaxed, but at the same time, guys are busting their butt at the right times to do the right things and do stuff quickly."
3. Beltran returns: PIT @ NYY
The Yankees are looking to get back to the postseason, and if they're to do so they'll no doubt need more from Carlos Beltran.
The outfieler struggled with injuries in his first season in the Bronx and was mostly limited to designated hitter duties. He's healthy now and hopes to play more than the 76 games he did last year.
"I'm happy. I'm excited, of course," Beltran said. "I feel pretty good, making improvement every day. I'm taking a lot of swings, like I used to in the past in Spring Training. The elbow feels good."
4. Rodon debuts: CWS @ SD
Left-hander Carlos Rodon is looking to make the jump from college baseball to the Show with only nine Minor League appearances under his belt, after being selected No. 3 overall in last year's Draft. His first crack to show what he can do comes today when he makes his spring debut in place of the injured Chris Sale.
Whether Rodon -- the game's No. 14 prospect, per MLB.com -- cracks the rotation right away or gets acclimated via the bullpen route a la Sale and former White Sox Mark Buehrle remains to be seen.
5. Young arms duel: KC @ CLE
Talented young pitchers are aplenty throughout today's game. And two of the best in the American League Central will duel today when Kansas City's Yordano Ventura faces Cleveland's Danny Salazar.
Ventura was 14-10 with a 3.20 ERA in 31 games (30 starts) last season and is Kansas City's likely Opening Day starter.
Salazar struggled to the tune of a 4.25 ERA in 20 starts last season but has the talent to dominate at times. He's one of several candidates fighting for Cleveland's fifth rotation spot.
Cash Kruth is a reporter for MLB.com. Follow him on Twitter at @cashkruth. This story was not subject to the approval of Major League Baseball or its clubs.