MLB.com Columnist
Phil Rogers
Rogers: Royals roll on with Escobar in leadoff spot
Yost plans to stick with what helped K.C. get to 2014 World Series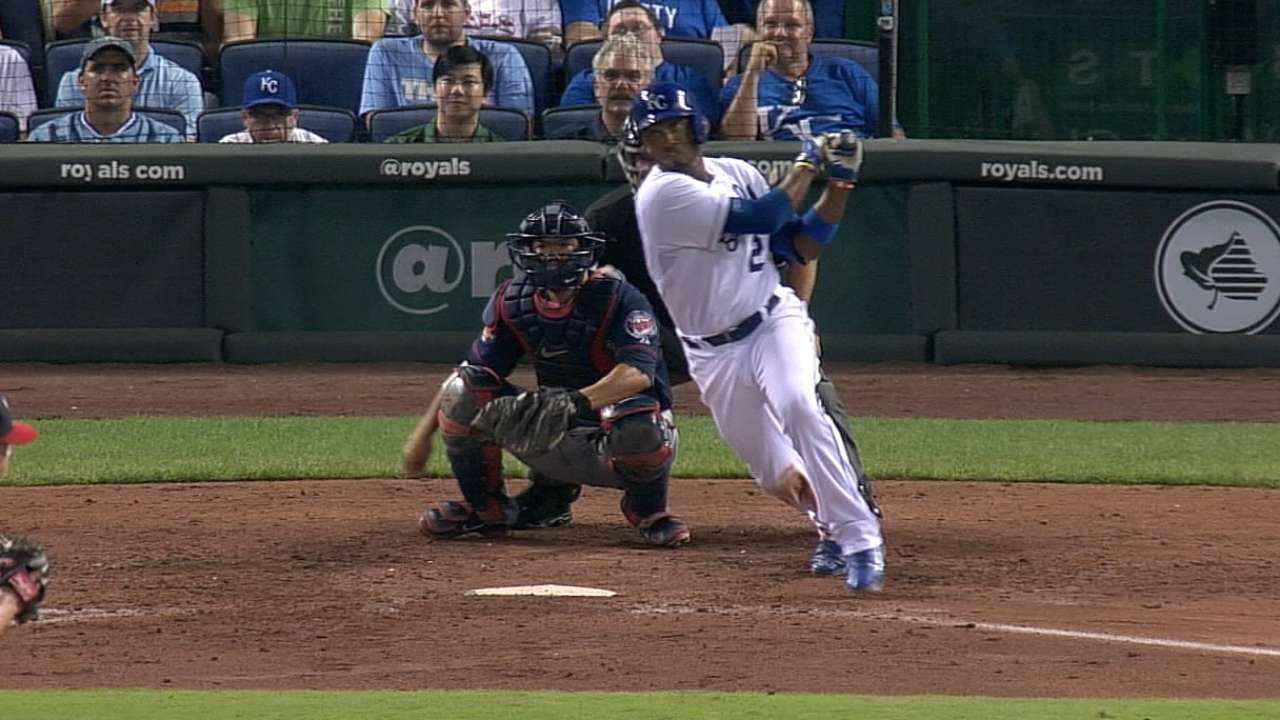 SURPRISE, Ariz. -- If it's not broken, don't fix it.
The free-swinging Alcides Escobar doesn't fit the traditional definition of a leadoff man, but the Royals rolled to the World Series after an exasperated Ned Yost put him into the leadoff spot last September. He's still writing his name there.
Based on the early returns in Arizona, he'll probably be there when the Royals face the White Sox on Opening Day.
"[He] took the opportunity and really intensified his focus at the plate,'' Yost said. "From that point on, he has been pretty dynamite.''
Facing Yu Darvish on Thursday at Surprise Stadium, Escobar watched the first two pitches sail over the corner of the plate for strikes. He was in an 0-2 hole, and things did not look good.
Escobar fouled off a 92-mph fastball, then -- showing the patience he is working to develop -- took a 90-mph fastball that just missed. "That's a good take,'' Escobar said. "The pitch is outside.''
The fifth pitch of the at-bat was a slider and Escobar took it the other way, hitting a hard grounder between first baseman Adam Rosales and second baseman Elliot Johnson for a leadoff single.
"That was a really good at-bat,'' Escobar said after a 5-4 victory over the Rangers. "I want to see Darvish's pitches.''
In the Royals' Cactus League opener on Wednesday, Escobar led off the game with a walk against Colby Lewis. That opened the door to a six-run inning that included consecutive home runs by Eric Hosmer, Kendrys Morales and Alex Rios.
"I'm happy,'' Escobar said. "I'm feeling good about the leadoff spot. I've only played two games but I feel comfortable.''
Escobar, 28, has a .299 career on-base percentage but reached base at a .412 pace in Royals' last 15 games, that after Yost decided to put his three fastest runners at the top of the order.
With Escobar, Nori Aoki and Lorenzo Cain hitting 1-2-3, the Royals produced just enough runs (4.4 per game) to go 11-4 and grab the top Wild Card spot in the American League. That same configuration allowed Kansas City to score 4.6 runs per game during their run to Game 7 of the World Series.
"When we did that, it was out of desperation really,'' Yost said. "We were just trying something different. We were struggling to score runs at that point. As a coaching staff we just sat down, said, 'let's try this. Let's see what happens.'''
Yost, who managed the Brewers before the Royals, has known Escobar since he was a teenager. He could tell that Escobar was excited last September when he moved from the ninth spot to the leadoff spot.
"Esky likes hitting at the top of the order,'' Yost said. "He asked, 'Is this going to be a one- or two-day thing?' My response to him was, 'This is up to you. If you show me you can handle it, you're having good at-bats, taking pitches, getting on base, it's not going to be a one- or two-day thing.' He ran with it.''
Like No. 1 starters, there often aren't enough true leadoff hitters to go around. Clubs often have to be creative, and that's been the case for the Royals throughout Yost's tenure. The Royals have started 18 different leadoff hitters during Yost's four previous seasons on the job, with no one there more often than left fielder Alex Gordon.
Gordon, who led the Royals with 19 home runs last season, is more valuable in the middle of the order. Outside of Escobar, the only other real leadoff options are Omar Infante, who was the No. 2 hitter for most of 2014 and Cain. But the lineup worked well with Escobar at the top, and that looks like the way it's going to stay, maybe even until the next time the Royals are in the postseason.
Escobar has never been a guy who walks a lot. He's probably not going to turn into David Eckstein, but shows signs of being able to improve a .263 career batting average.
"He's got a lot of confidence in his hitting ability,'' Yost said. "He can drive the gaps. He can hit doubles. He can hit triples. He can do a lot of things -- bunt, hit and run. His evolution as a hitter is kind of progressing him up to that one or two spot on a championship lineup.''
Escobar came as close to being one of those as you can last season. If he does better this year, it will really be something to celebrate in Kansas City.
Phil Rogers is a columnist for MLB.com. This story was not subject to the approval of Major League Baseball or its clubs.