Pain-free start good news for Chacin, Rockies
Righty feels fine after tossing 1 2/3 innings vs. Arizona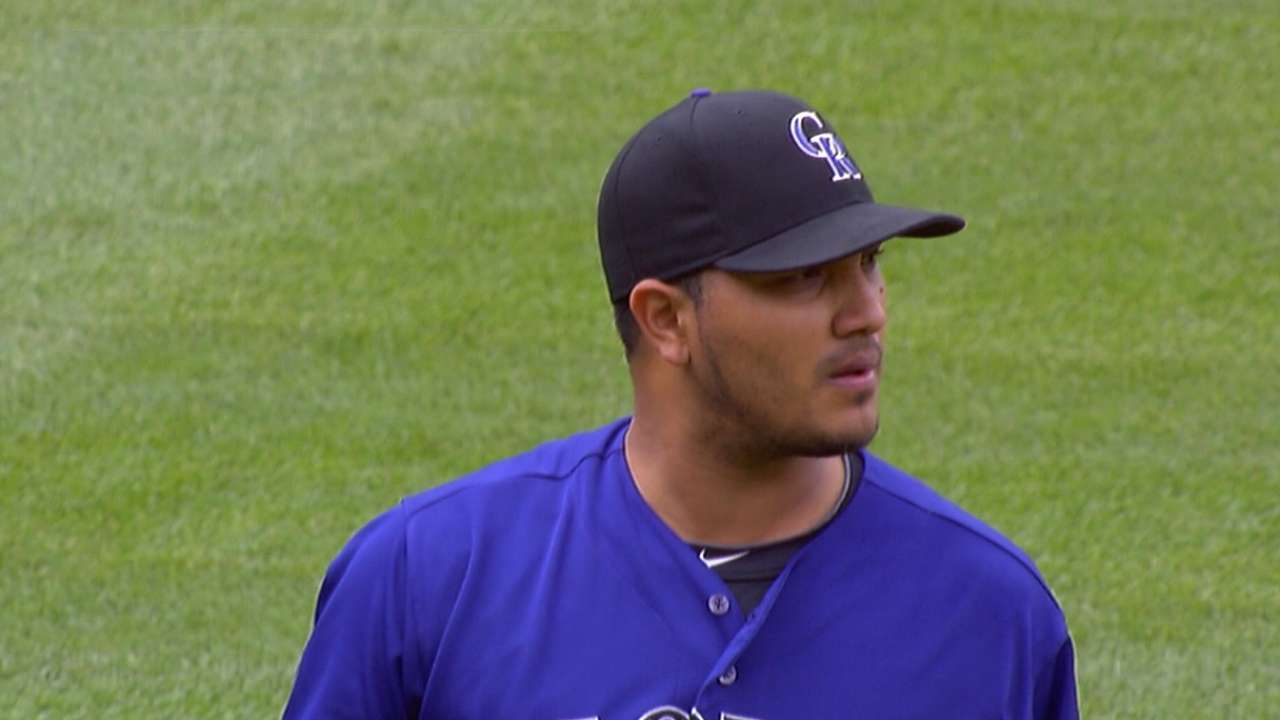 SCOTTSDALE, Ariz. -- Leaving the mound without pain made Thursday afternoon a success for Rockies right-hander Jhoulys Chacin. He'll worry about sharpness as Spring Training continues.
Rotator cuff and labrum damage limited Chacin to 11 starts last season. In his 2015 Cactus League debut on Thursday afternoon against the D-backs, Chacin gave up two runs on two hits and a walk in 1 2/3 innings. It was his first game action since last June 28, when he gave up 11 hits and seven runs in 5 2/3 innings of a loss at Milwaukee.
Chacin was sharper in the 1-2-3 first inning, which ended with a swinging strikeout of Aaron Hill. Mark Trumbo doubled on a down-and-out fastball to open the second. Chacin reached his allotted number of 35 pitches with two outs and two on in the second and was replaced by Jason Gurka.
Thursday showed that he'll have to get used to being on the mound. In perspective, it wasn't long ago that pitching without pain was a new feeling.
"I've been talking with [Jorge] De La Rosa, saying I've been feeling weird -- throwing with no issues or anything," Chacin said. "Before it was, 'I'll see how I feel today, see how I'm going to throw today.' Now I'm just building to get ready for the season."
Chacin used the game to work on his changeup and his slider -- his put-away pitch, especially in 2013 when he went 14-10 with a 3.47 ERA and fanned 126 in 197 1/3 innings. His fastball was 86-88 mph with good action on his breaking pitches, but that's a ways from being sharp. However, he was healthy, with no fear that his arm would not bounce back for his next appearance.
Rockies catcher Michael McKenry noted that Chacin's sharpness grew from the first time to the second time he faced hitters in batting practice during workouts, and envisioned the same pattern with his work in game action.
"Today he was in between getting his timing and competing," McKenry said. "His nature, being a bulldog on the mound, he wanted to compete, and probably tried to do much at times. How can you not be amped?"
Rockies manager Walt Weiss said Chacin, compared to last year, needed "less effort. His secondary pitches were pretty good. We're just trying to build him back up, and we're looking for him to rebound after each outing."
The Rockies are counting on Chacin to regain form. They signed him to a one-year, $5.5 million deal in his final offseason of arbitration eligibility, and expect him to join De La Rosa and veteran free-agent signee Kyle Kendrick at the front of the pitching rotation. The Rockies have confidence in their lineup and bullpen, but need the rotation to become a surprise contender.
"They saw me throwing all offseason," Chacin said. "I was here [in Scottsdale] all offseason and they were keeping an eye on me. They saw the progress I've been making. Each time I threw, I was getting better. Hopefully I won't have a setback and everything will feel fine."
Thomas Harding is a reporter for MLB.com. Read his blog, Hardball in the Rockies, follow him on Twitter @harding_at_mlb, and like his Facebook page, Thomas Harding and Friends at www.Rockies.com. This story was not subject to the approval of Major League Baseball or its clubs.