Switch-pitching Venditte continues to confound
Cubs' Fowler forced to change helmet after hurler elects to use left arm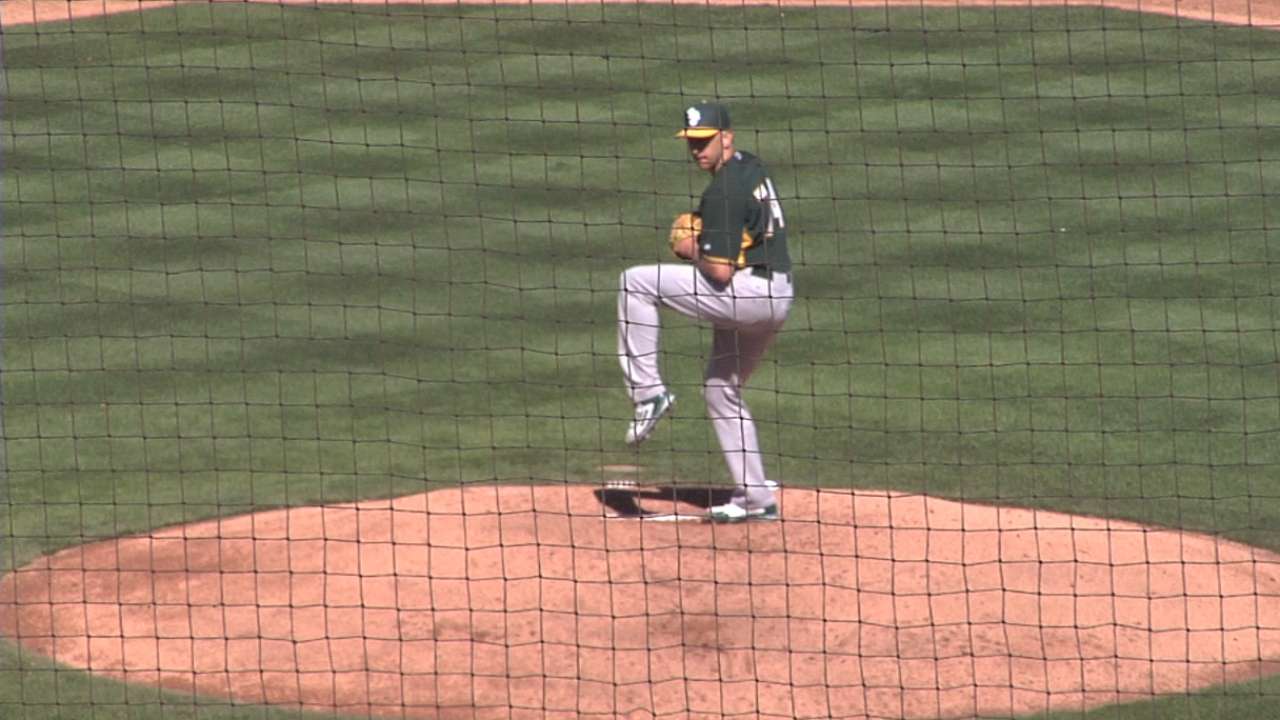 MESA, Ariz. -- Should Pat Venditte finally get a tour of the big leagues one day, after toiling in the Minors for years with his ambidextrous glove and switch-pitching ways, the unfamiliarity and sheer disbelief and wonder with which opponents greet him will gradually dissipate.
For now, the A's pitcher will continue to perplex -- and sometimes confuse -- them.
"It's funny how he just catches people off guard every time with that," said catcher Luke Carlin. "Even the umpire had to make sure he had the rule down before he came up today."
On Thursday, in a game with the Cubs, Venditte was brought out for the third inning to face Dexter Fowler, Anthony Rizzo and Starlin Castro. Fowler was aware of a switch-pitcher roaming around the Cactus League but didn't realize he wore green and gold, so when he took note of the game's newest pitcher warming up with his right arm, the switch-hitting Fowler naturally began taking dry swings from the left side.
But Venditte opted to begin the inning throwing left-handed and signaled his decision to the umpire before Fowler stepped into the box -- a mandate when facing a switch-hitter, per "The Pat Venditte Rule" (Rule 8.01(f)). After the game, Fowler expressed his desire for more notice, since he had to change his batting helmet to ensure he had a protective flap on the correct side of his head.
"My whole thing was, I should be able to take practice swings right-handed instead of just walking up there and having to hit," said Fowler. "It was kind of weird. You get up there and you're getting your timing and stuff left-handed, and then he switches around."
No matter, the results remained the same for Venditte. For a second straight outing, he retired all batters he faced, working a quick 1-2-3 inning.
"It's nice to be able to come out here and compete and show them what I have," he said. "Fortunately I've been throwing strikes and getting ahead, which is what I want to do."
"He gets it done, and he hits his spots, and the slider is a good slider," said Carlin. "It's an interesting weapon. I don't know how that would play out in a bullpen over the course of a season, but it definitely has its advantages, and I feel like almost more so than a switch-hitter."
Venditte is a long shot to make the club out of camp, given the stiff bullpen competition, but he could easily pitch his way to a midseason callup, should he continue impressing.
"I don't know how you can do much better unless you're striking everyone out," said A's manager Bob Melvin. "You can see they were getting a kick out of it today, too."
Jane Lee is a reporter for MLB.com. This story was not subject to the approval of Major League Baseball or its clubs.