Zito 'pretty impressive' in return to game action
A's lefty throws well, feels 'pretty good' after long layoff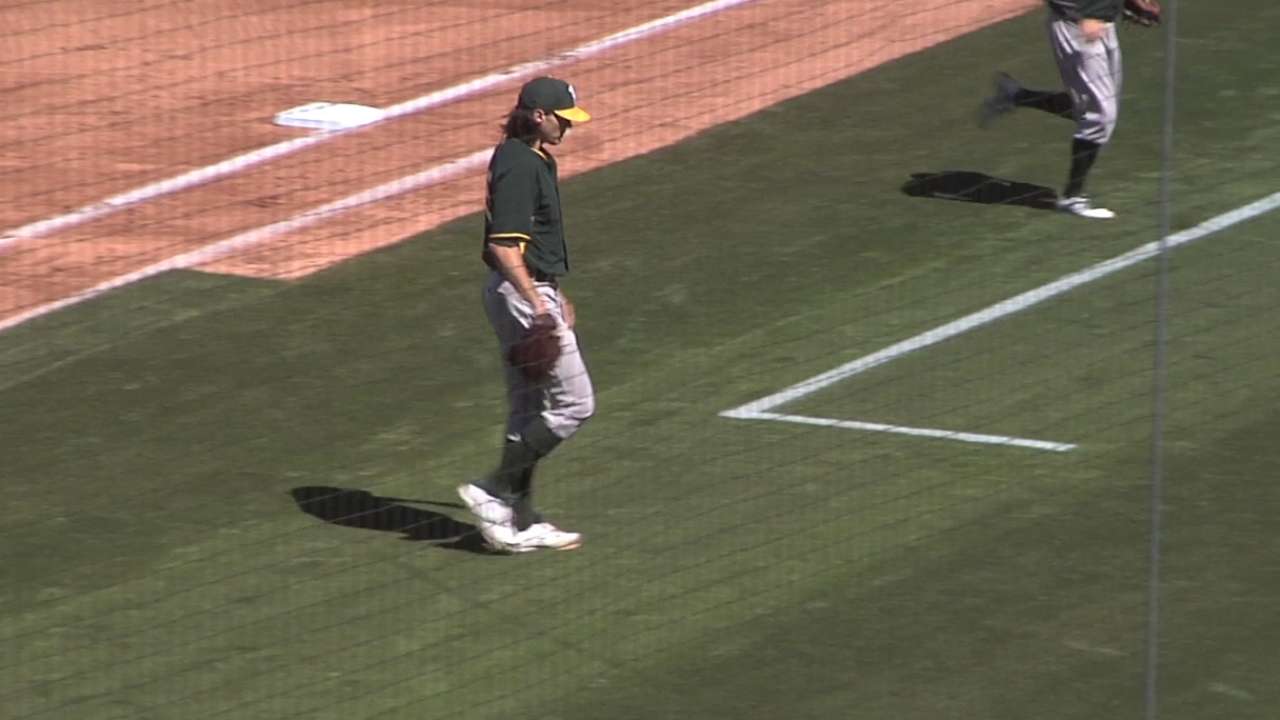 MESA, Ariz. -- A's comeback hopeful Barry Zito was one pitch away from tucking two scoreless innings in his pocket. But even that one, a low changeup the Cubs' Mike Olt belted for a two-run homer Thursday, couldn't dampen an otherwise encouraging day for the adrenaline-fueled southpaw.
Back with the A's on a Minor League deal and pitching in a game for the first time since 2013, following a year-long sabbatical, the 36-year-old Zito flashed a lively fastball and a mean curve. He also weaved in a changeup that still needs fine-tuning during the two-inning outing, opposed by a brawny Cubs lineup headed by Dexter Fowler, Anthony Rizzo, Starlin Castro and Miguel Montero.
"It definitely felt good to compete out there and to face a lineup that looked pretty similar to their Opening Day lineup," said Zito. "It was fun. I definitely had some fun out there."
"Great energy out there," said manager Bob Melvin, who will announce Zito's next step Friday. "You could tell there was some intensity. ... For a guy that hasn't pitched in a year, I thought it was pretty impressive."
Zito retired each of his first five batters, two of them by strikeout, before boarding three of his final four. He nicked Chris Coghlan with a pitch to bring up Olt, who passed on a close 1-2 pitch to set up a changeup he sent over the left-center-field wall. Former Athletic Ryan Sweeney followed with a single, and Zito induced a groundout from Junior Lake to end the inning -- and his day.
Overall, Zito said his "stuff felt pretty good," a sentiment backed by many.
"I thought he threw well," said batterymate Luke Carlin, who has caught Zito all spring. "Obviously he gave up the homer, but I thought he threw the ball better in a game than when he was just facing live hitters the other day. It was a different level of conviction in his pitches, so I was real excited to see that.
"All of his fastballs were where he wanted to throw them. I thought he did a great job commanding it today, and whatever the velocity was, it definitely looked faster. You could tell by the swings from the hitters. They weren't on it. So that's a huge plus."
Zito was consistently clocked at 86 mph, a notch above the velocity he sported in his final season with the Giants in 2013, when his fastball averaged 83-84 mph.
"I did a lot of things I wanted to do today," Zito concluded. "One pitch away. ... All things considered, I thought it was all right."
"He looked like his old self," said reliever Tyler Clippard. "I thought he threw the ball well. It was just good to see him back out there."
That, everyone agreed on. There was also plenty of talk about Zito looking "like he just pitched last Thursday," said infielder Brett Lawrie, and not 18 months ago.
"That's the type of pitcher he is," said Lawrie. "He's been there. He's a World Series champion. He knows what it takes to get ready and what it takes to prepare himself for a whole season. I see him putting in the work in the weight room. He's doing what he needs to do to be the complete guy."
Jane Lee is a reporter for MLB.com. This story was not subject to the approval of Major League Baseball or its clubs.