Banister: Rangers will continue to be aggressive on basepaths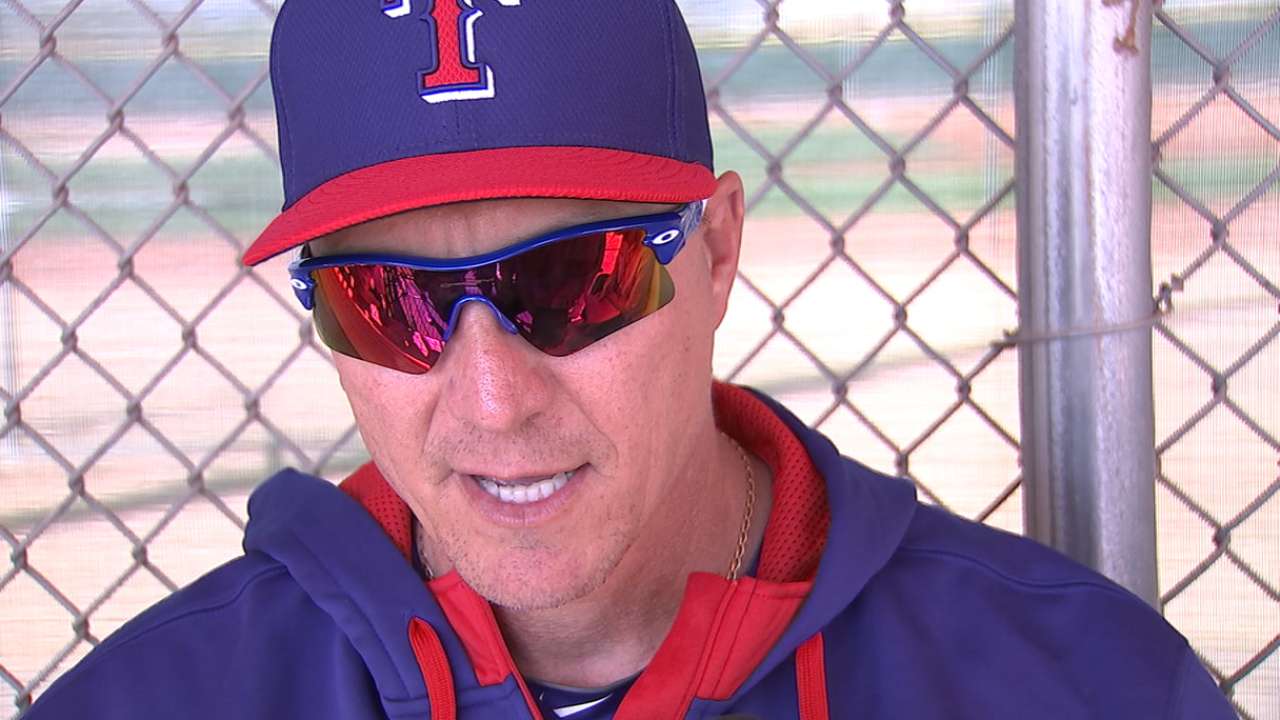 SURPRISE, Ariz. -- The Rangers were an aggressive baserunning team under former manager Ron Washington and will continue to be so under Jeff Banister.
"I grew up in the landscape of baseball where there were great baserunners and tremendous teams on the basepaths," Banister said. "I love the aspect of putting pressure on other teams when pressure is needed. It doesn't take a lot of talent, it takes education, aggressiveness and fearlessness."
In his first baserunning lecture, Banister talked about a ground ball deep into the left side hole with two outs and a runner on second. Banister stressed the need for both runners to go hard because if one runner is safe at first, the other could end up scoring from second.
That brings up one of the biggest postseason wins in Rangers' history. They beat the Rays, 5-1 in the deciding Game 5 of the 2010 American League Division Series and had three runs score from second base on plays where the baseball did not leave the infield.
Banister said preparation is huge for good baserunning, studying the opposing defense and the situation, getting good reads on balls, knowing when is the right time to take an extra base or attempt a steal. Educating his players on all of that will be a priority this spring and they had a fundamental baserunning drill on Thursday.
"It starts with aggressiveness and there is an education process of what you can and can't do," Banister said. "Great baserunning starts before you get on the field."
Worth noting:
• Rookie pitcher Alec Asher allowed three runs in the eighth and ninth inning in the Rangers' 5-4 loss to the Royals. But Banister said, "Asher did all right. He battled. He probably had some high emotions but for the most part he threw some good pitches. I thought all our pitchers came in and battled."
• Bannister was pleased that 10 of 26 outs recorded by Rangers pitchers in Thursday's game came on three pitches or fewer.
• Four key relief candidates each threw a scoreless inning Thursday: Phil Klein, Roman Mendez, Spencer Patton and Jon Edwards.
• Jared Hoying was 2-for-3, starting in center field for the Rangers. Ryan Rua, started for the second straight day and had a two-run triple.
T.R. Sullivan is a reporter for MLB.com. Read his blog, Postcards from Elysian Fields, and follow him on Twitter @Sullivan_Ranger. This story was not subject to the approval of Major League Baseball or its clubs.