Pedroia hits slam, paces offense in slugfest
Second baseman collects three hits; Bogaerts homers in loss to Twins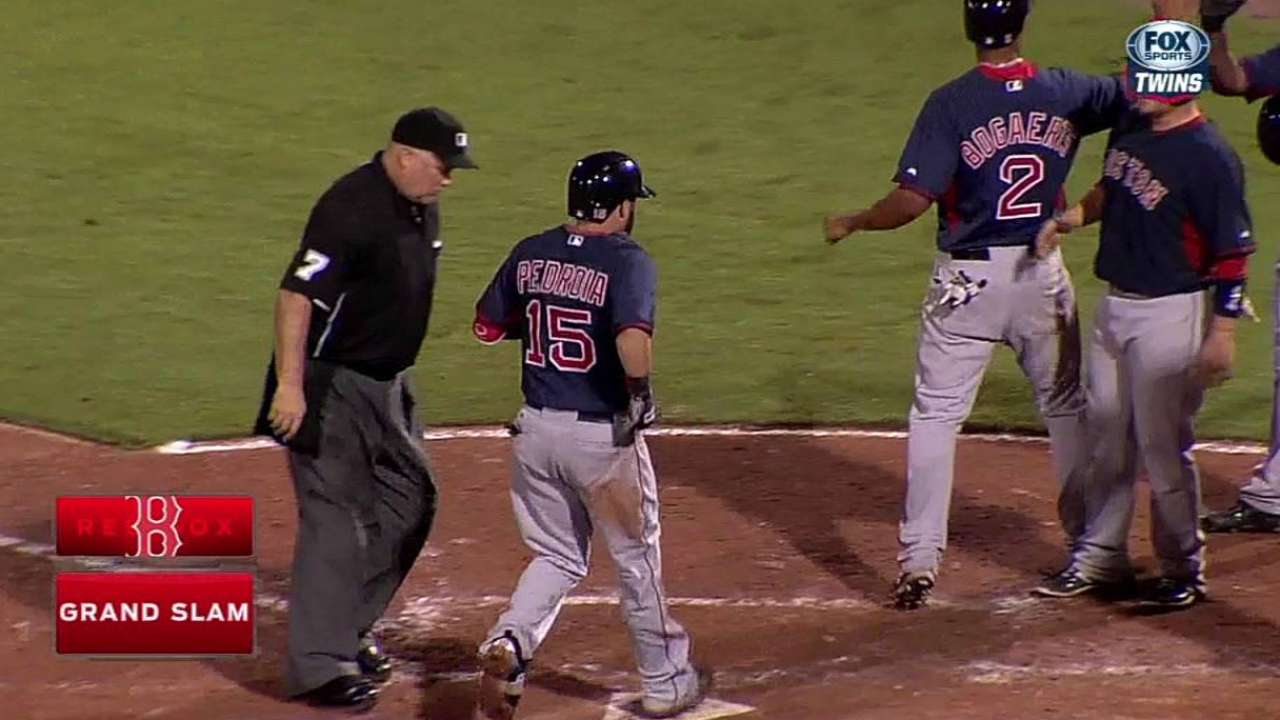 FORT MYERS, Fla. -- The Twins opened Grapefruit League play by outlasting the Red Sox in a 9-8 slugfest Thursday night at newly renovated Hammond Stadium.
Eduardo Escobar and Aaron Hicks paced the offense for the Twins with two RBIs apiece, while Danny Santana, Brian Dozier and Kurt Suzuki each added two hits. Right-hander Kyle Gibson fared well for Minnesota, giving up one run on two hits and a walk over two innings. The Red Sox scored their lone run against Gibson in the second on a two-out RBI double from Jackie Bradley Jr.
Red Sox right-hander Joe Kelly struggled in his first outing of the spring, as he was unable to get out of the second inning, allowing four runs on seven hits over 1 2/3 frames. The Twins opened with seven hits in their first 10 at-bats against Kelly, including three of those hits going for extra bases.
Torii Hunter, in his first at-bat since rejoining the Twins, opened the scoring with an RBI single in the first inning before Oswaldo Arcia followed with an RBI double to left field. Minnesota scored two more runs in the second on an RBI triple from Hicks and an RBI double from Santana.
"It felt like old times coming back here," said Hunter, who previously played with the Twins from 1997-2007. "I got that first hit out of the way. It had been eight years since I last got a hit here or played here. So I'm excited to be back."
Right-hander Tim Stauffer, making his Twins debut after signing a one-year deal this offseason, struggled much like Kelly. Stauffer, who is competing for the fifth spot in the Twins' rotation, gave up six runs (five earned) on five hits and two walks over one-plus innings.
Stauffer served up a two-run blast to Xander Bogaerts and a run-scoring single to Mike Napoli in the third to allow the Red Sox to tie the game at 4. After the Twins scored two runs in the bottom of the third on a two-run blast from Escobar off Alexi Ogando, Stauffer loaded the bases with nobody out to open the fourth. Right-hander Ryan O'Rourke came in and promptly served up a grand slam to Dustin Pedroia.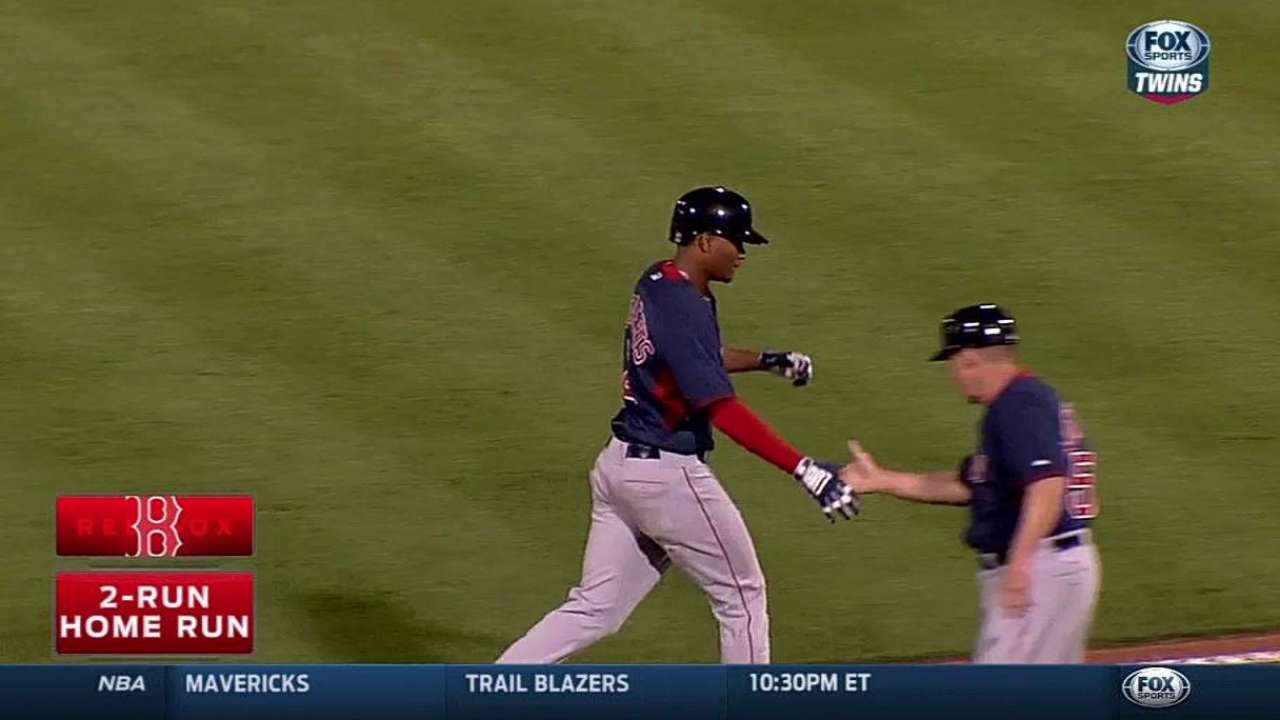 "Obviously, we're trying to have good at-bats and get ready," said Pedroia, who had surgery on his left hand and wrist last September. "I knew I was back to normal in the offseason. Obviously, I told you guys that, but you can only believe me if you see it. So there you go."
The Twins came back to tie the game with Dozier lacing an RBI double in the fourth and Hicks bringing home a run in the fifth on a sacrifice fly. They took the lead with a run in the sixth, which came on a throwing error from left-hander Brian Johnson with two outs.
Up next: Right-hander Justin Masterson starts Friday's 1:05 p.m. ET contest against the Marlins, marking his first appearance in a Red Sox uniform since he was traded for Victor Martinez in 2009. Prospect Henry Owens will also get some work, and closer Koji Uehara will make his Grapefruit League debut. Position players Mookie Betts, David Ortiz and Shane Victorino are among those expected to see action.
Rhett Bollinger is a reporter for MLB.com. Read his blog, Bollinger Beat, and follow him on Twitter @RhettBollinger. This story was not subject to the approval of Major League Baseball or its clubs.