In much-hyped return, Harvey to oppose Price
Mets right-hander set to make first start since August 2013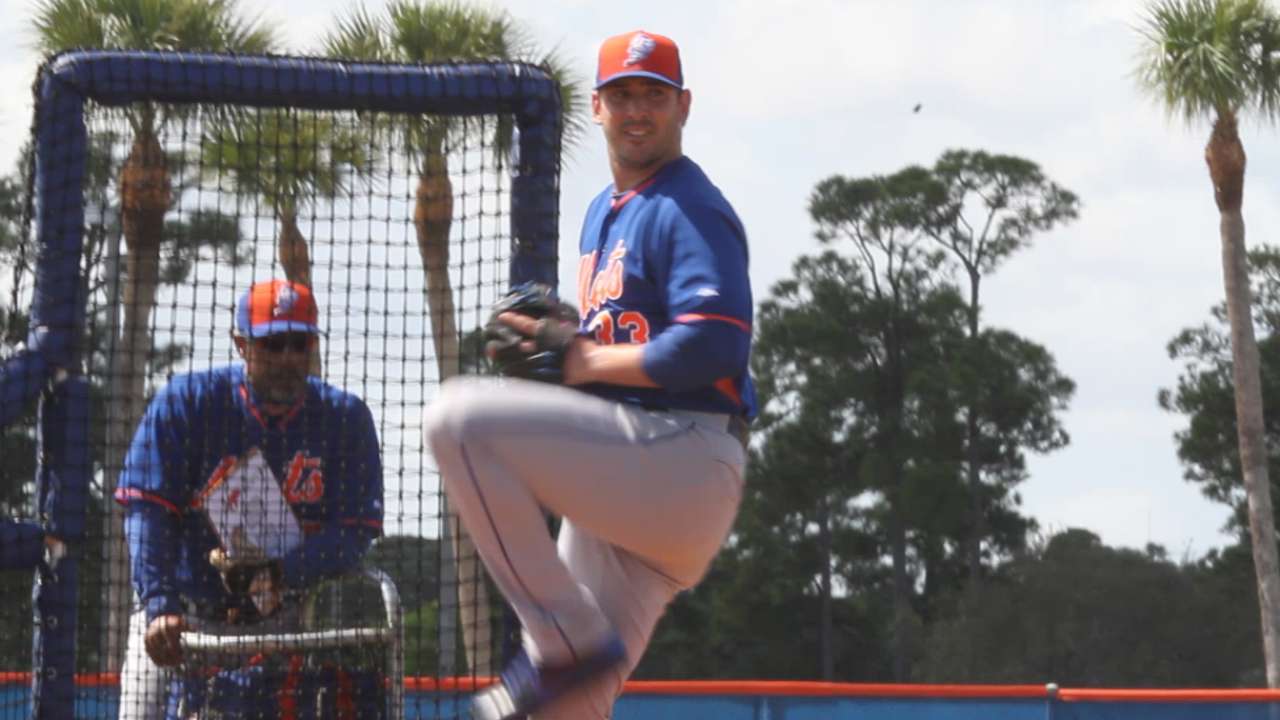 VIERA, Fla. -- Take Matt Harvey, one of the most competitive pitchers in baseball, and place him in a game after 16 tiresome months of rehab. Throw a former Cy Young Award winner on the other side, then toss them both into the carnival-like atmosphere of Tradition Field. Home opener, mid-70s, packed house -- that sort of thing.
Understand, then, that Harvey can say and do all the right things leading up to the Mets' 1:10 p.m. ET Grapefruit League game against the Tigers on Friday (watch on MLB.TV), his first game action since undergoing Tommy John surgery in October 2013. He can swear a dozen times over that he's "just looking at it as another day" and that he's "getting ready for the season like anybody else."
Mets manager Terry Collins still knows that once Harvey steps into uniform, stands on the mound and sees Tigers ace David Price on the other side, it will be impossible -- even in a Spring Training game -- to completely rein in Harvey.
"I just want him to understand this is part of the process of getting back," Collins said. "You're not going to do any more to make a huge impression on this club by trying to overthrow tomorrow. Just go out there, hit your spots, work on your stuff and let the two innings play out. But as we all know, we're going to have to ratchet him down a little bit probably before he walks out on that mound."
Said Harvey: "I don't think my mentality's going to change at all. It's just my first outing in Spring Training, getting ready for what's coming in the future. I'm not looking at it as a comeback or anything of that sort. It's me preparing for a normal season."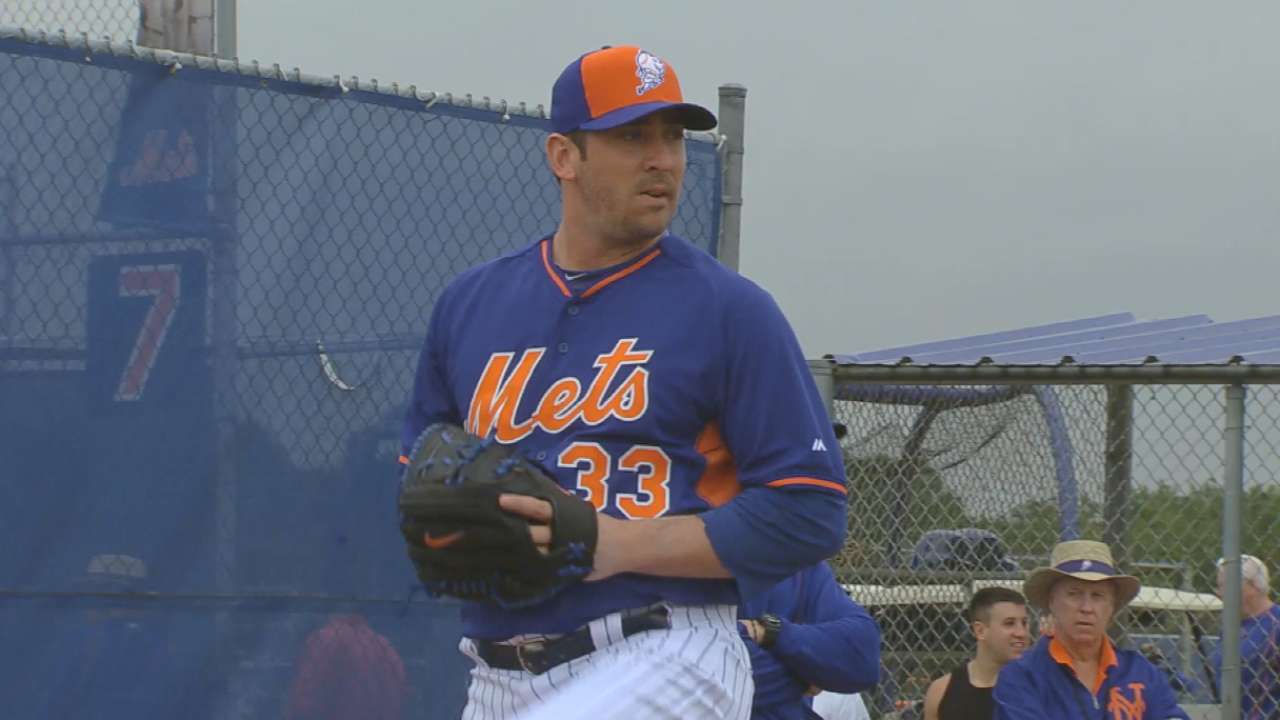 For Harvey, Friday's Grapefruit League game will complete an 18-month process that began when he partially tore the ulnar collateral ligament in his right elbow, cutting short what had been, up to that point, one of the finest seasons of any Mets pitcher in history. Following a two-month flirtation with rehab, Harvey decided in October 2013 to undergo surgery, then spent most of the next year working his arm back into shape -- sometimes in the privacy of the Mets' Port St. Lucie, Fla., training center, often within the media crush of New York City.
By September 2014, Harvey had convinced the Mets that he was back to his old self. Still, the out-of-contention team held him back, knowing that an extra six months could mean the difference between long-term health and a future recurrence.
That decision makes Harvey's matchup with Price his first game action since Aug. 24, 2013, also against the Tigers.
"Prior to the surgery, he had premier stuff," Tigers manager Brad Ausmus said. "He looked like he was bound to be a superstar. Certainly for his sake and the game's sake, I hope he bounces back and continues where he left off, because he was a very bright spot for Major League Baseball as a young player."
Daniel Fields, one of the Tigers hitters making a two-plus hour bus ride across Florida to face Harvey, noted that having Price on the other side only adds to the juice.
"Those are two of the best arms in the game right now," said Fields, who will be in a lineup also set to include big leaguers Anthony Gose, Jose Iglesias, Rajai Davis and Nick Castellanos, but not star veterans Miguel Cabrera, Ian Kinsler, Yoenis Cespedes or Victor Martinez. "Whenever you get a matchup like that in Spring Training, that's what you want to see. I'm excited for [Friday]. I'm definitely looking forward to it."
The Mets are, too. They just want Harvey to stick to his word and avoid overdoing it.
"Only Matt Harvey can speak for Matt Harvey," Collins said. "For me, it's a Spring Training game. I know that it's a story because he's Matt Harvey, but I don't want to see anything more than I would see in a normal Spring Training game."
Anthony DiComo is a reporter for MLB.com. Follow him on Twitter @AnthonyDicomo. This story was not subject to the approval of Major League Baseball or its clubs.