Nearly one year later, Chapman showing no signs of trauma
Reds closer didn't let scary incident impact his dominant season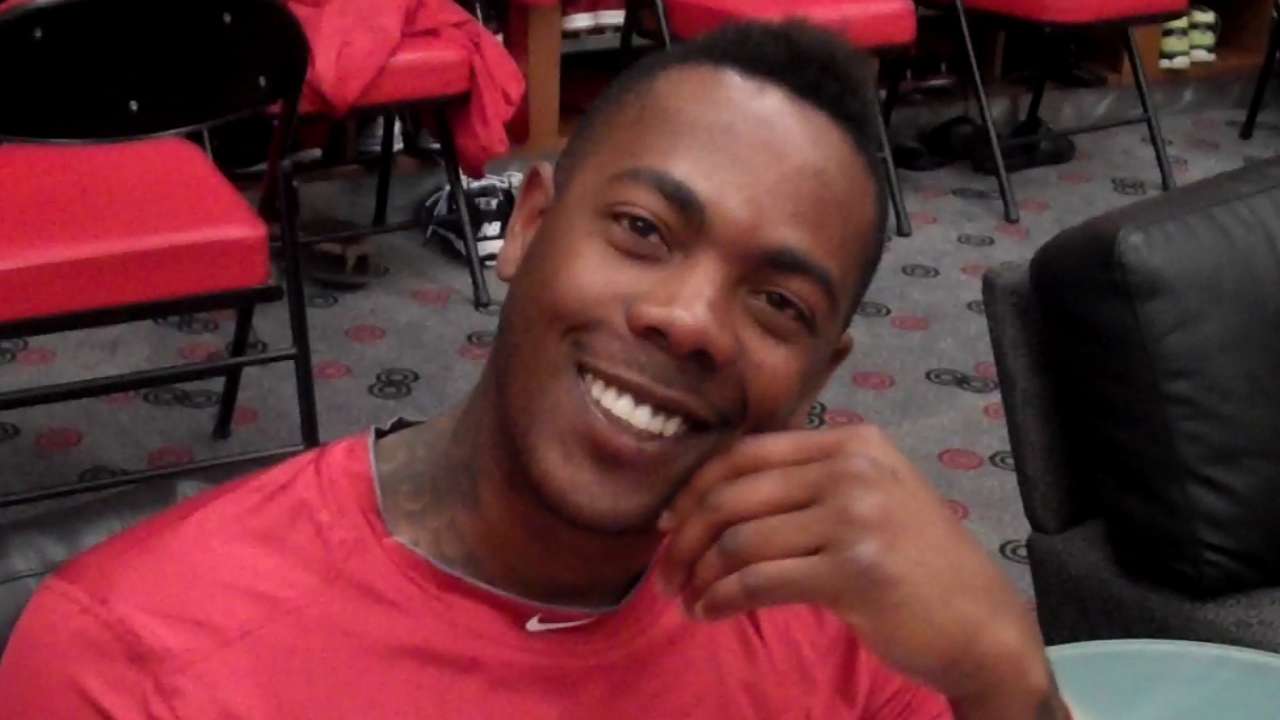 GOODYEAR, Ariz. -- Nearly one year after being hit in the head by a line drive that could have killed him, almost all signs of the trauma are gone from Reds closer Aroldis Chapman. The scar from the surgical staples that dotted the top of Chapman's head is covered by hair. Only a small bump remains above his left eyebrow that indicates anything might have happened at all.
"Even though you guys can't see, I'm still feeling it," Chapman said of the scar though the translation of catcher Brayan Pena.
It was a surreal and scary scene at Surprise Stadium on the night of March 19, 2014. There was Chapman lying on the mound, surrounded by teammates, after his 99-mph fastball to Royals batter Salvador Perez was crushed up the middle and back to the mound, striking the left-handed pitcher flush on the face.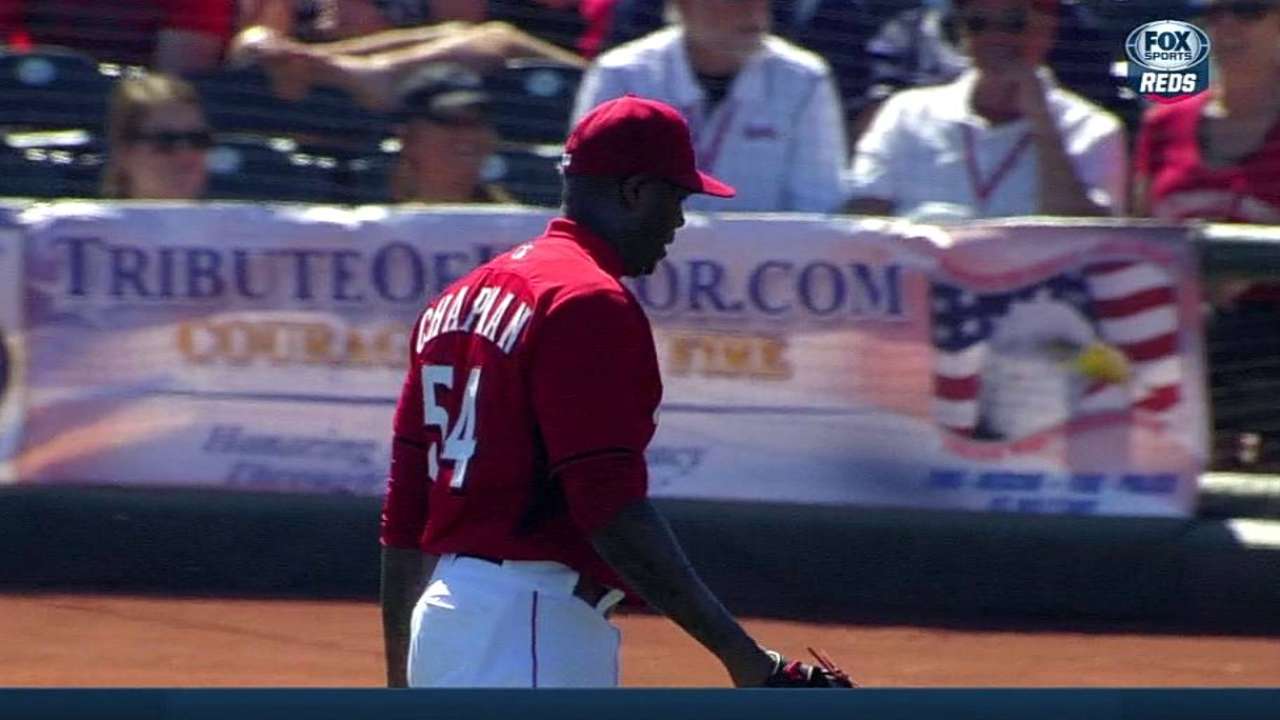 Pena was behind the plate and the first person to reach the mound after Chapman collapsed.
"He was bleeding from his nose and his eyes, you know? So I got super scared," Pena said. "My thought was, 'We lost him.' He was calling his daughter's name over and over and then I saw his dad jump in there.
"His dad said something in Spanish like, 'I got you.. ... I'm never going to let you go.' It was very emotional to see one of your teammates, one of my best friends, going down like that."
Reds manager Bryan Price was also among those who tended to Chapman.
"The one thing about it that I remembered was, 'Who was this strange man in the sweater that's on the mound?'" Price recalled on Thursday. "Maybe it was … the on-call doctor for the game or whatever. It was Aroldis' father. I didn't learn until after we had been on the field for a couple of minutes with Aroldis. I was realizing his dad was there to witness it and had to be there and see his son in such agony and a lot of fear. That's unforgettable for sure."
Amid stunned silence inside the ballpark, Chapman was carted off of the field with his father, Juan Carlos, by his side and taken to the hospital. The game, which was in the sixth inning, was immediately called off. Chapman needed surgery the following day that repaired fractures above the left eye and nose. A metal plate was inserted to stabilize his injuries.
Perez was among those concerned for Chapman, but he doesn't like thinking back to that night.
"I don't want to remember that. I don't want to talk about it," said Perez, who helped Kansas City reach the World Series in October.
Remarkably, Chapman not only made a full recovery but went on to enjoy one of the more dominant seasons of his five-year career with the Reds.
While becoming a National League All-Star for the third straight year, Chapman had a 2.00 ERA over his 54 appearances with 36 saves in 38 chances. He struck out 106 with 24 walks in 54 innings and his stunning 17.67 strikeouts per nine innings ratio set a Major League record. He also became the first pitcher to average 100 mph with his fastball (100.3 mph) since Pitch F/X data became available.
"After that, he came back even stronger. He had such a great season," Pena said. "Me personally, I wasn't expecting him to do it the way he did, but he believed in himself. He made sure everybody knew he was coming back stronger and better than he was. The rest is history."
In August, Chapman established a new Major League record for relievers by striking out at least one batter in 49 straight appearances -- dating back to the 2013 season. It broke the previous record of 39 games by Hall of Famer Bruce Sutter in 1977.
"I think with the way that he rebounded, beyond the fact that he came back and pitched beautifully, is that it allowed us to get past the memories of reflecting back terribly often on the events of that game in Surprise against the Royals," Price said. "It didn't become necessarily an afterthought, but it wasn't at the forefront. If he struggled … I think we'd end up talking a lot more about it."
Chapman didn't believe it was that difficult to both recover from his injuries and regain his form on the mound.
"It wasn't so hard for me, because I believe in myself. I trust myself," Chapman said. "I was confident enough to come back stronger than the way I was. I have very positive thoughts. I took that with me."
Helping Chapman dominate wasn't only his fastball. In the offseason before 2014, he made adjustments to his slider on the advice of soon-to-be Hall of Famer Pedro Martinez. Chapman also developed his offspeed stuff with a better changeup and improved command of all of his pitches.
"Even though everybody knew his fastball was coming 80 percent [of the time], he was throwing the offspeed," Pena said. "I think he got hit just one time with the changeup all season."
The Reds will be back in Surprise on Saturday to face the Royals, but Chapman is not scheduled to pitch. He is getting two days off after his first spring game on Thursday vs. the Indians. Following a leadoff walk in the third inning, Chapman struck out the side.
Since last year, Chapman never appeared traumatized by his experience, nor did it seem to affect him on the mound.
"I don't feel anything," Chapman said. "The only time that I remember it is when you guys in the media come ask me."
Mark Sheldon is a reporter for MLB.com. Read his blog, Mark My Word, and follow him on Twitter @m_sheldon. This story was not subject to the approval of Major League Baseball or its clubs.