Last call: Braun chats up umpire about pace of play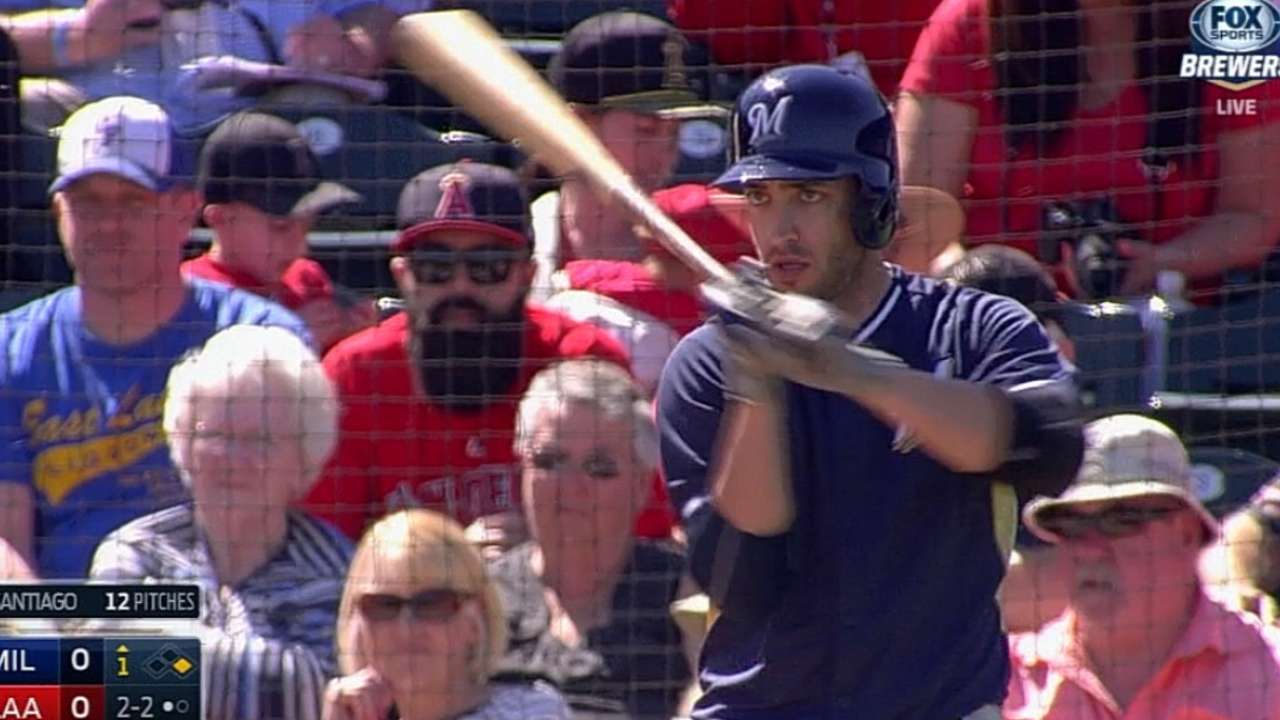 TEMPE, Ariz. -- Last Call is a spot for all the notes and anecdotes from Brewers camp that didn't find a home elsewhere on the site. Today, Braun and the batter's box:
• Thursday's Cactus League opener marked Ryan Braun's introduction to Major League Baseball's new pace-of-play measures, including enforcement of a rule that limits how often a hitter can step out of the batter's box. Braun, whose between-pitches routine is the most complicated of any Brewers player, chatted throughout his first-inning plate appearance with home-plate umpire Gerry Davis.
"I kept asking him questions," said Braun, who eventually worked a walk. "I'm still trying to figure it out, clearly. I was asking him between almost every single pitch exactly what I'm allowed to do, when I'm allowed step out, if I'm allowed to continue to take my warm-up swings as long as I keep one foot in the box.
"It will be an adjustment for sure, but that's what Spring Training is for."
Braun intends to maintain his routine, only with one foot in the batter's box when necessary. Players can still step out in certain instances, including after a swinging strike, a foul ball, a pickoff attempt and others.
Also on Thursday, pitchers were subject to a two-minute, 25-second countdown between innings and pitching changes. While starter Kyle Lohse finished his warm-ups too early, manager Ron Roenicke noticed that other Brewers pitchers were too slow. In Spring Training, umpires are somewhat relaxed about the rule.
"I noticed we're slow, and they're not going to get away with it during the regular season," Roenicke said. "The batter's box is going to be tough, too."
In general, Braun is in favor of measures to shorten game times.
"We don't get paid by the hour, so I'm all for it," Braun said.
• The Brewers and agent Scott Boras have finalized the language of Francisco Rodriguez's two-year contract, though it is unclear when Rodriguez will actually arrive in camp. He remains in Venezuela, and as of Thursday, was still seeking an appointment to apply for a work visa. Once he arrives, he'll have to pass a physical exam for the deal to be official.
Since Rodriguez has been throwing bullpen sessions at home, and he only needs a handful of spring innings to get ready for the season, manager Ron Roenicke remains unconcerned.
"We're a long ways off from that," Roenicke said.
• In the early innings Thursday, a reporter on Brewers duty offered a reminder that the team once called Tempe Diablo Stadium home. The franchise played there as the Seattle Pilots in 1969 and 1970, then as the Brewers in '71 and '72 before moving to Sun City, Ariz.
Adam McCalvy is a reporter for MLB.com. Read his blog, Brew Beat, and follow him on Twitter at @AdamMcCalvy. This story was not subject to the approval of Major League Baseball or its clubs.