MLB.com Columnist
Hal Bodley
Cash's first walk to dugout a huge step forward
Rays skipper manages first game of career in Grapefruit opener vs. Orioles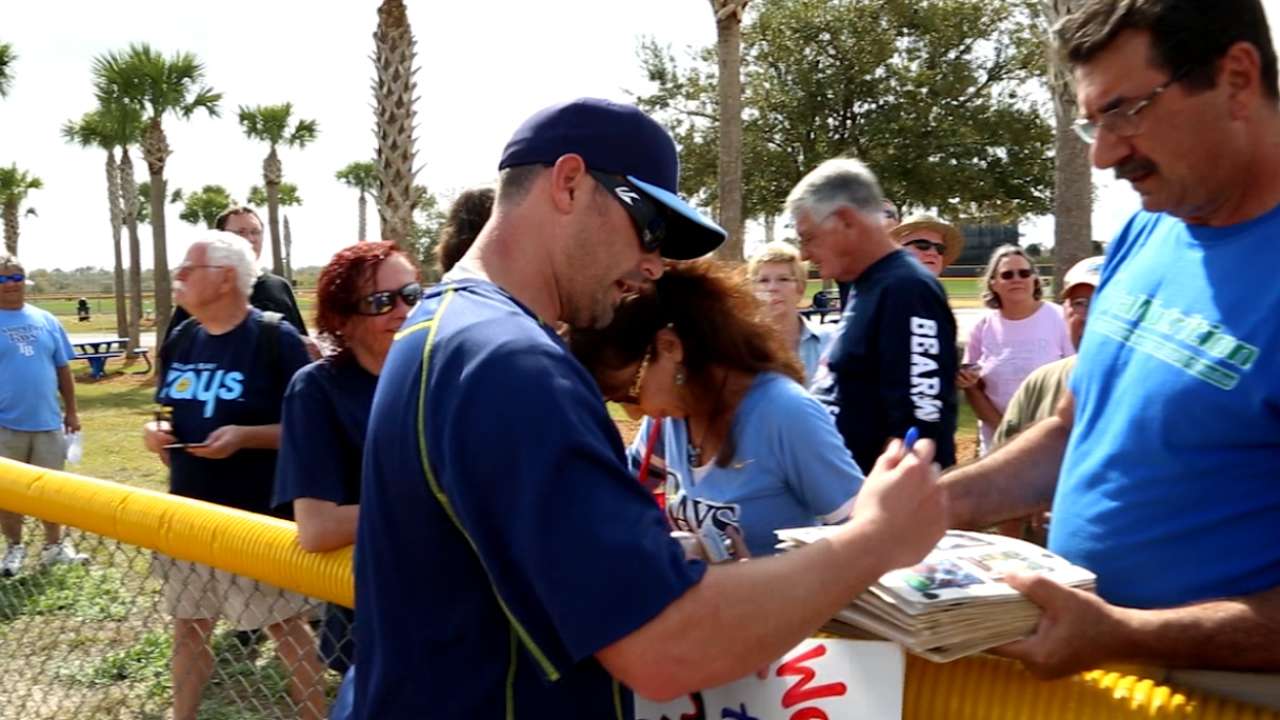 PORT CHARLOTTE, Fla. -- Kevin Cash had been thinking about the walk for some time. "What will it be like?" he kept asking himself. "That's when it will hit me."
A half-hour before the first pitch Thursday afternoon, Cash walked out of the Tampa Bay Rays' clubhouse in right field and started the 100-yard jaunt to the dugout. Charlotte Sports Park on the sunny day was beginning to fill, and for the young manager, this was more than a walk to his "office." He was walking to begin a new career.
It was the Rays' first Grapefruit League game of 2015, the defending and vaunted American League East champion Baltimore Orioles providing the opposition.
Cash's thoughts during the trip?
"I was looking for Mom and Dad in the stands, and I didn't find them until right before the first pitch," Cash said after the Orioles rallied in the last two innings to beat the Rays, 3-2. "The first day of spring [games] is pretty exciting in any capacity. For me, this took it another step."
And then, in true self-deprecating mode, he added: "There weren't many people who knew me, so I wasn't getting any autograph calls. So I just walked by the stands and disguised myself. Later, I did say hello to some fans."
For the 37-year-old Cash, the youngest manager in the Major Leagues, he says it was time for the game (and his career) to start.
Cash had never before managed a baseball game at any level.
"Hopefully, from now on, we can talk about the players," Cash added. "I know there's a first for everything. But this is something we can knock off the list."
Not so fast.
Across the field in the O's dugout stood the legendary Buck Showalter. Not only did Showalter bring the defending division champs to the Rays' yard, he won the AL Manager of the Year Award in 2014.
If there had to be a beginning for Kevin Forrest Cash, it couldn't have been more meaningful.
Showalter, 58, has managed 2,421 Major League games. When he managed his first game, in 1985 for the Oneonta Yankees in the New York-Penn League, Cash was 8 years old.
"I didn't think about that, but I've got a lot of admiration for Buck," Cash said. "He's evolved as the players have, which is very impressive."
When I mentioned to Cash that he was just 8 when Showalter managed his first game, he shook his head.
"That's amazing," Cash said. "If you'd told me that before the game, it might have rattled me a little bit more."
Cash will be able to look back on his first game as a manager with a measure of satisfaction. The recast Rays played well, manufacturing a run to take a 1-0 lead in the seventh inning before the Orioles came to life against some non-roster pitchers who struggled. That's the way Spring Training games go.
There was a flurry of typical Grapefruit League roster changes after the first three innings, but Cash made just one trip to the mound. That was in the ninth, when he replaced lefty Robert Zarate with right-hander Andrew Bellatti.
Before the game, Showalter was reminiscing about his first game in 1985.
"We [the Oneonta Yankees] were playing the Little Falls [N.Y.] Mets and had a lead going into the top of the sixth inning when it started raining," Showalter said. "A guy came into the clubhouse and said, 'We're done!' That was my first game managing at the professional level."
And because it wasn't an official game, Showalter had to wait for his first win as a manager. As he thought back over his career, he said he had little advice for Tampa Bay's rookie skipper.
"Really, just being yourself is the most important, because everybody is different," Showalter said. "For someone who hasn't played 10 years in the big leagues, it's something different. The game's the game.
"You have to figure out ways [to win] -- whether it's to out-relationship somebody, out-prepare or out-organize the other guy.
"The toughest thing for a manager is to get better as a team. The bottom line is the players. The manager's IQ is directly correlated to how good our team is. But it's always about the players. The biggest mistake guys make is they sometimes forget how hard the game was to play for them and how bad they might have been on a given day."
"[The] momentum of my confidence built throughout the offseason," said Cash. "That's a huge credit to our coaching staff and the front office. How supportive they've been. When you get more comfortable [in the job], you get more confidence."
It was mentioned that no one knows what to expect from the Rays this season, and little is known about their inexperienced leader.
"From a manager's perspective, that's very fair to say. They're waiting to see what we can do," said Cash.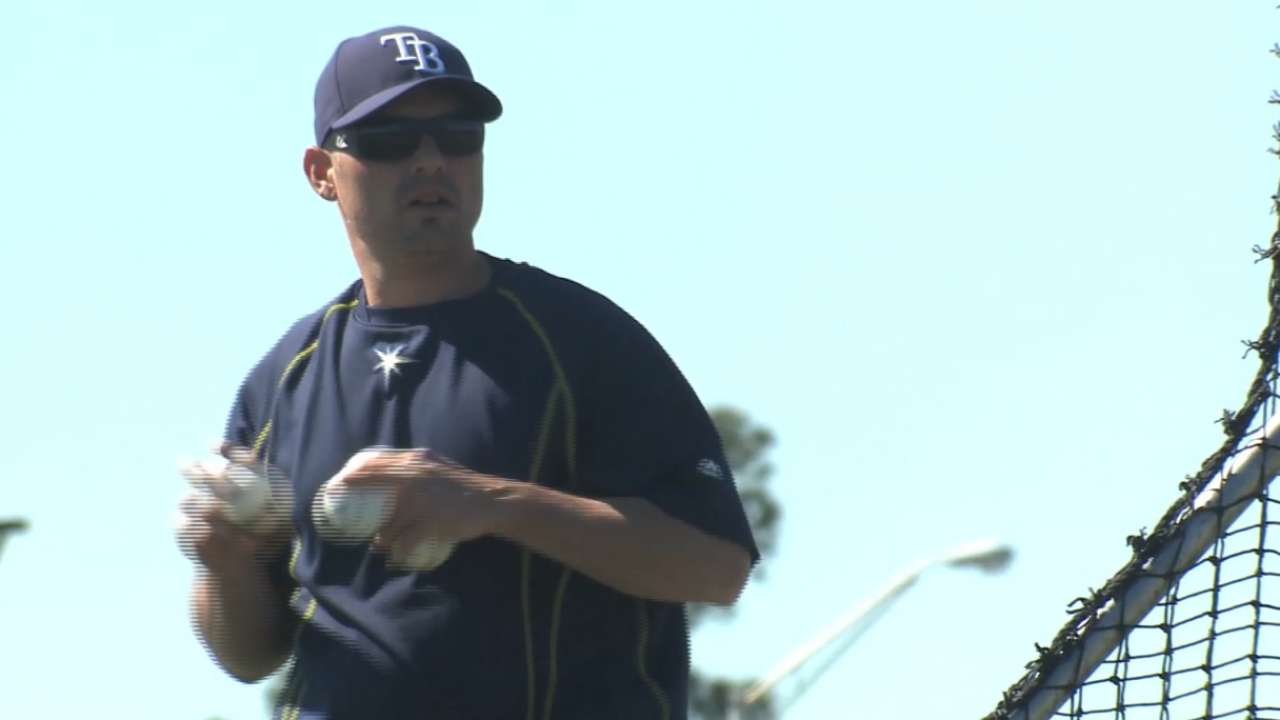 Joe Torre spent time with Cash during December's Winter Meetings in San Diego. No one is better suited to discuss the ups and downs of this job than the Hall of Fame manager.
"I was blown away that he took the time to talk with me," said Cash. "I certainly value what he said, as well as others I have enormous respect for."
Baseball, especially the strategic moves, can be so fast at times that the game can get ahead of even the best managers.
Cash agrees this is something he'll work on.
"When it comes to that, I'm going to value Spring Training more than a seasoned manager," Cash said. "I've never looked up after a run crossed home plate and had to give signs to the third-base coach. It got ahead of me my first year as a bullpen coach [for Cleveland]. We're going to practice that.
"We'll emulate some innings and use them like as a real game, like 'Let's manage this game like it's real.'
"And I'm going to watch a lot of video and be constantly talking to everyone about the game. As I've been saying since I got this job, communication is going to be a priority for me."
So, yes, Kevin Cash completed his most anticipated walk on Wednesday.
As he says, it's now all about the game on the field.
Hal Bodley is the senior correspondent for MLB.com. Follow him @halbodley on Twitter. This story was not subject to the approval of Major League Baseball or its clubs.