Scherzer strikes out two in debut with Nationals
Right-hander allows one run, a solo shot, over two innings against the Mets
VIERA, Fla. -- Max Scherzer was the first player to jog onto the field on Thursday, greeted with warm applause by the crowd at Space Coast Stadium as he hopped over the first-base line ready to make his much-anticipated Nationals debut.
It was only Spring Training, and there are games to come that will carry more importance in the regular season and, the Nationals hope, the postseason. In his first appearance since signing a seven-year, $210 million contract with the Nats during the offseason, Scherzer completed two innings, allowed a pair of hits -- including a solo home run to John Mayberry Jr. -- and struck out two in Washington's 5-4 victory against the Mets.
Scherzer threw 29 pitches, 20 for strikes, without any nerves -- "I love pitching, why would I be nervous?" he said. The right-hander mixed in all of his pitches, including a few cutters, a pitch he has experimented with since the beginning of camp. He left the outing pleased with his command on both sides of the plate, the way he established his fastball and that he stayed ahead in the count.
Scherzer acknowledged the need to make small changes to his approach because the Mets, even playing without most of their regulars Thursday, are a team he will likely face numerous times throughout the regular season. Still, Scherzer said Spring Training is more about focusing on what he needs to do to prepare for the season, regardless of opponent.
"You have to get ready for the season, so you got to go after it," Scherzer said. "Trying to get into midseason form as fast as possible."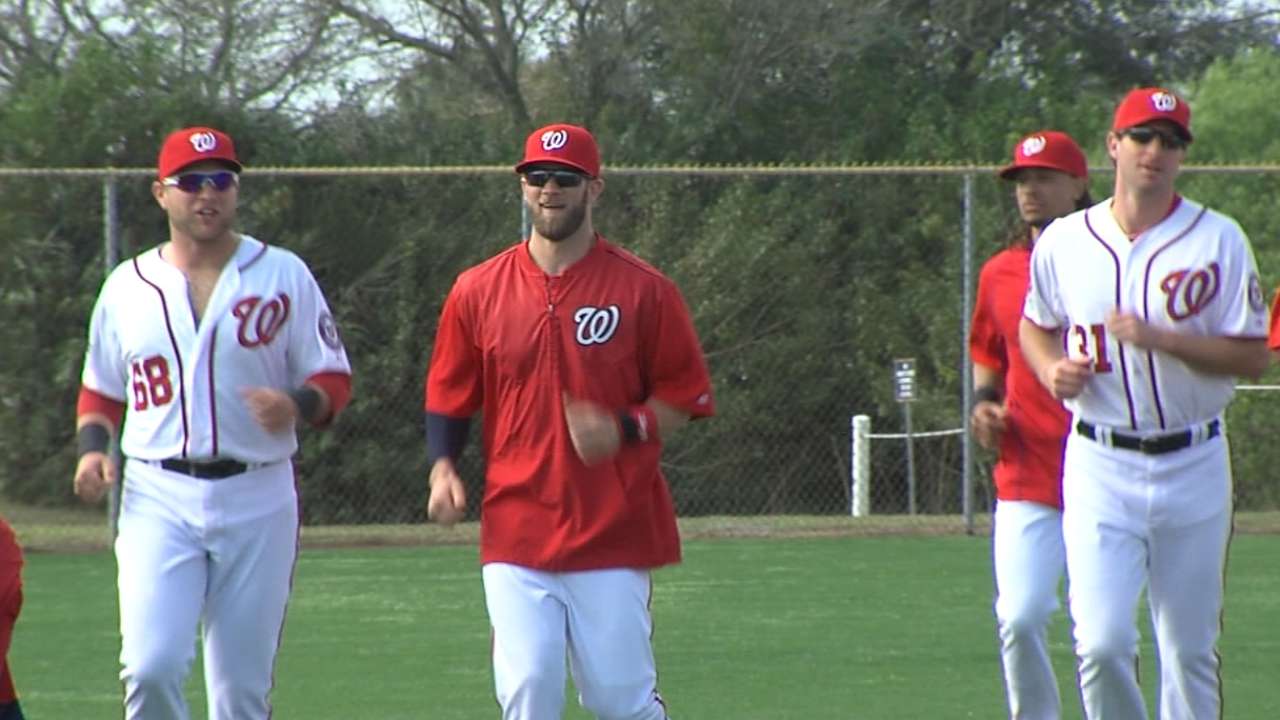 He began the game looking sharp, needing just eight pitches to retire all three batters in order in the first inning. Nationals manager Matt Williams said prior to the game it was important to see how Scherzer reacted in his second inning because he would have warmed up, sat down while the Nationals batted and then resumed pitching.
He began the second inning strong, getting Kirk Nieuwenhuis to swing and miss at a pitch in the dirt for a strikeout. The next batter was Mayberry Jr., who drove the ball over the left-field wall for a no-doubt home run.
After forcing Anthony Recker to ground out, Scherzer allowed a single to Alex Castellanos on a slow roller down the third-base line to Anthony Rendon. Scherzer rebounded quickly and got the next batter, Cesar Puello, to strike out swinging to finish his outing.
"It's good to get out there for the first start of spring," Scherzer said. "You've been working hard for the past several months, so it's nice to get out there and actually get on the mound and actually pitch in a game."
Jamal Collier is a reporter for MLB.com. Follow him on Twitter at @jamalcollier. This story was not subject to the approval of Major League Baseball or its clubs.