Amped up Santiago, Trout contribute in Angels' first game
Pitcher tosses pair of scoreless innings; outfielder legs out infield single to plate run
TEMPE, Ariz. -- Hector Santiago threw about 20 offseason bullpen sessions before arriving at the Angels' Spring Training facility, the last one at more than 90 pitches and all of them geared toward slowing everything down on the mound.
Then he started the Angels' Cactus League opener Thursday, and that new between-innings clock began. Hitters weren't stepping out of the box as frequently and everything started to move really fast again. Santiago got through his two-inning outing without any damage, giving up a hit, a walk and a strikeout while throwing 33 pitches in the Angels' 3-2 win over the Brewers.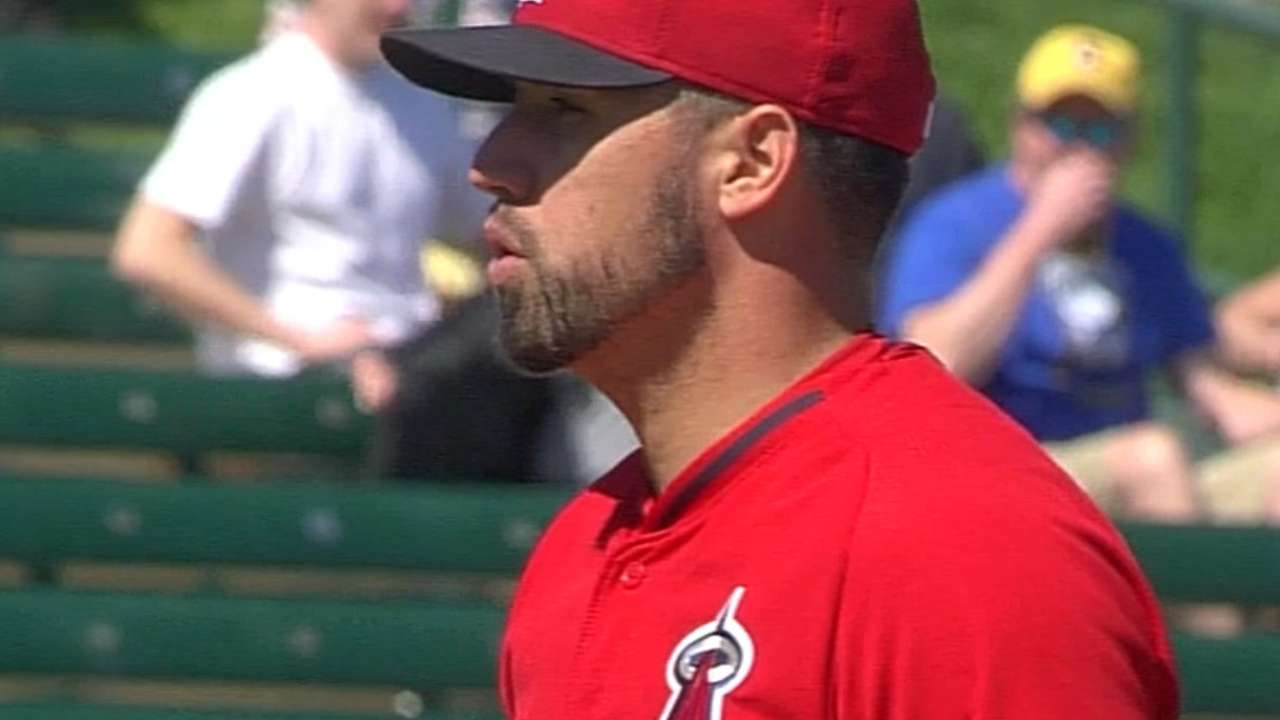 But the nerves were certainly there at the start.
"That first inning, my heart was beating," Santiago said. "I started breaking a sweat before I even threw a pitch. It was really intense. But it was fun."
Santiago's opponent, Brewers starter Kyle Lohse, seemed calm from the get-go.
The 36-year-old right-hander gave up a run -- on an RBI infield single by Mike Trout off Ariel Pena -- but he didn't walk anyone, struck out three and came back out for the third inning, recording a couple of outs because he still hadn't reached his 30-pitch limit.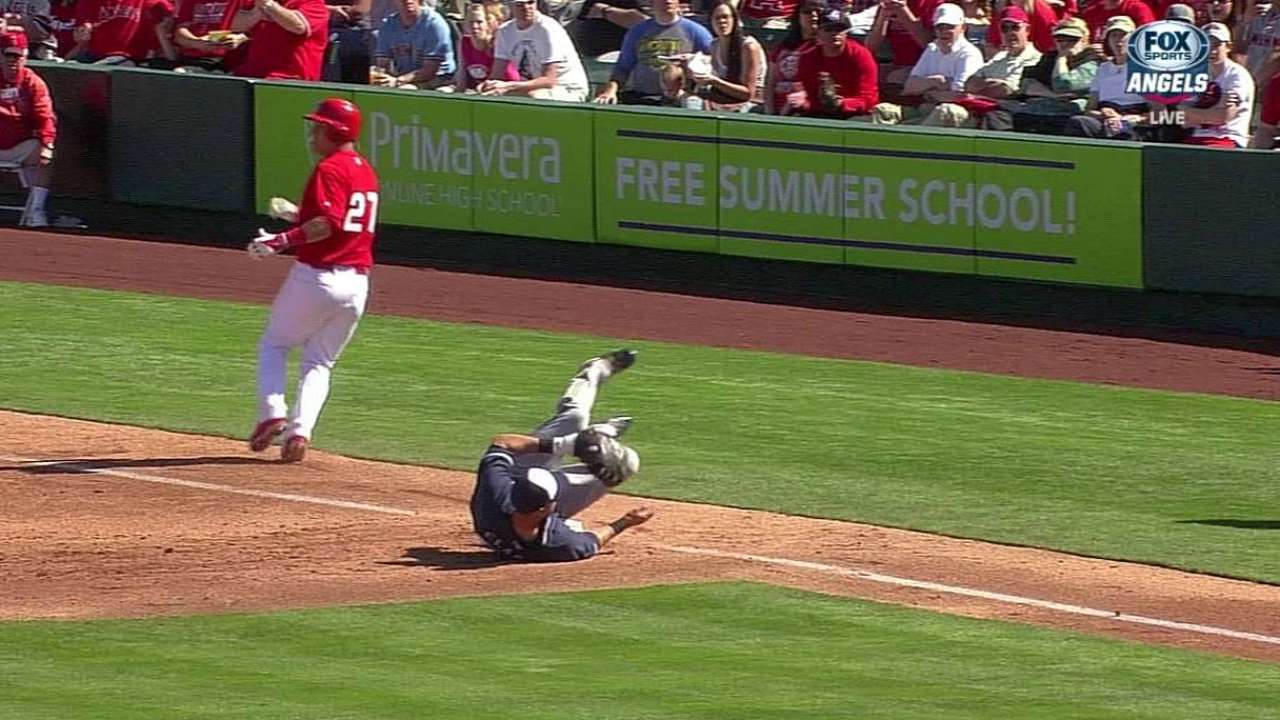 "It felt really good," Lohse said. "It was kind of a continuation of what I've been doing in my bullpens and my live BPs. I was going out and just doing what I normally do -- get ahead of guys and try to mix it up."
C.J. Cron, vying to be the Angels' designated hitter with Josh Hamilton's situation uncertain, notched a couple of opposite-field hits against right-handers. Brewers second baseman Scooter Gennett led off the game with a single off Santiago -- of note, because Gennett is trying to prove he can succeed against lefties -- then added a sacrifice fly off Cory Rasmus in the third.
Josh Rutledge, vying for the Halos' starting second-base job, hit an RBI single off Brewers reliever Chris Perez in the fifth.
Thursday marked the first Cactus League game for both teams, though the Brewers played against the University of Wisconsin-Milwaukee on Wednesday. Trout, who flied out to deep right-center field in his first at-bat, said he was "just anxious to get out there. Sitting at the house for three months and now you're playing every day, it's definitely an adrenaline rush."
In the bullpen just before jogging out to the field, Santiago felt like his heart was going to pound out of his chest. It's hard to simulate game action -- even a Spring Training game.
"I did all those bullpens and worked on all those mechanics, and it's not the same," Santiago said. "I know what I did wrong. I felt it. But it's just a different intensity. It feels like everything's going a lot faster."
Up next for the Angels: Jered Weaver will make his Cactus League debut on Friday, when the Angels host the Rockies at Tempe Diablo Stadium at 12:10 p.m. PT on MLB.TV and Fox Sports West. Angels manager Mike Scioscia traditionally doesn't announce his Opening Day starter until the very end of Spring Training, but Weaver is primed to start his franchise-record seventh Opening Day, and sixth in a row. The 32-year-old right-hander won an American League-leading 18 games last year, adding a 3.59 ERA in 213 1/3 innings. Over the offseason, he bulked up to 221 pounds, which is 22 pounds heavier than his lightest point in 2014.
Alden Gonzalez is a reporter for MLB.com. Read his blog, Gonzo and "The Show", and follow him on Twitter @Alden_Gonzalez. This story was not subject to the approval of Major League Baseball or its clubs.