Ready to make leap, Bucs' Lambo has new number, outlook
Outfielder-first baseman says he's much more prepared, confident as he seeks roster spot
BRADENTON, Fla. -- His uniform number -- from the back-shelf 57 to the front-row 15 -- isn't the only thing Andrew Lambo has changed.
Some things you can't see.
"This year I'm confident, physically and mentally focused and ready," Lambo said. "Last year I was unprepared, not confident."
Other things are quite apparent. Lambo has been tattooing pitches, although he has only one double to show for it through three exhibitions. But this is already one more extra-base hit than he had all last spring, when Lambo had an open door to at least sharing the Pirates' first base job and tripped on the doorsill.
Lambo collected four singles in 42 exhibition at-bats. The erstwhile outfielder dismissed the impression his preoccupation with a defensive switch to first had anything to do with it.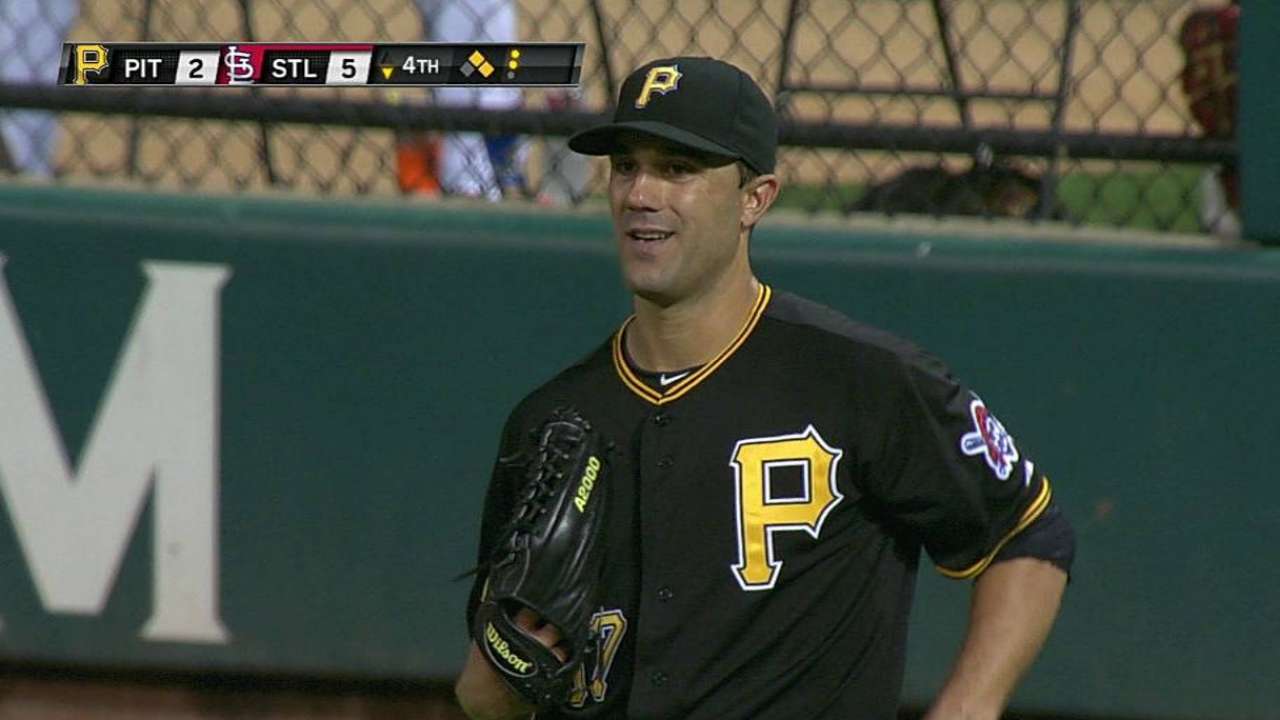 Then he went back to Indianapolis, and again ran the risk of wearing a "Triple-A hitter" label by batting .328 with the Indians, with 11 homers and 42 RBIs in 61 games around a bad right thumb injury. He added that line to his 2013 Indy output of 18 homers and 53 ribbies in 62 games.
So he is back in this camp, contending for what appears to be one vacancy on the Bucs' five-man bench.
"I'm not going to tell you I'm going to hit .700. But I'll tell you what: I'm not going to worry about it if I hit .100," said Lambo, who continues to split defensive drills between the outfield and first base. "I'm worried about just swinging well, not worried about the results.
"I said that last year, too, but I don't think I really meant it. This year, it's just getting ready and showing this team that I'm one of the best 25 guys in this camp."
He showed last September to be one of the best 30, and that is helping immeasurably now. Lambo was recalled actually a couple of days before the roster expanded, to make him postseason eligible, and hit a hard .256 in 21 games.
"I came off the bench, and when I started, I did good," Lambo nodded. "There's always room to improve, so I need to continue to show it."
"That's got to help his confidence," manager Clint Hurdle said of the late-season impression. "He played and contributed, held his own in the batter's box. At times, he's put a lot of heat on himself. We're just trying to get him to play the game -- don't work the game."
"Andrew has put together two really strong years at Triple-A," Pirates general manager Neal Huntington noted. "If you look at the numbers at the end of the year, he actually outplayed [Gregory] Polanco. Most people don't remember that, they think of him like, 'At 25, he's kind of an afterthought.' But he's a player we still like and believe could fit in as a nice piece for us."
Tom Singer is a reporter for MLB.com and writes an MLBlog Change for a Nickel. Follow him on Twitter @Tom_Singer. This story was not subject to the approval of Major League Baseball or its clubs.