Fowler irked by switch-pitcher's change of hand
Cubs batter tracks Venditte warming up righty, but then forced to change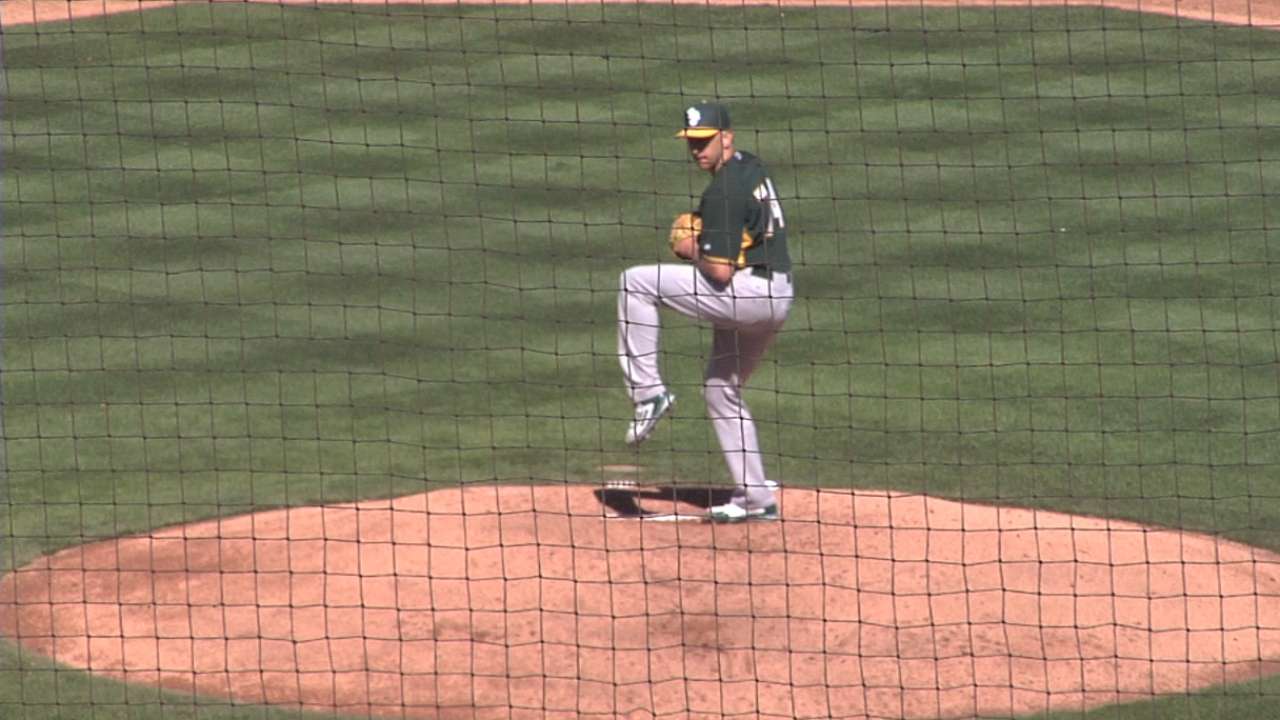 MESA, Ariz. -- What happens when a switch-hitter faces a switch-pitcher? There's a little confusion.
Dexter Fowler was warming up in the on-deck circle prior to leading off the Cubs third inning Thursday, trying to time Athletics pitcher Pat Venditte, who was throwing right-handed. But then Venditte, a switch-pitcher, told home-plate umpire Brian Gorman that he was going to throw left-handed. Gorman told Fowler and Cubs manager Joe Maddon.
"You're on deck, so you're swinging for whatever he's doing," Fowler said. "I was swinging left-handed because he was throwing right-handed, and then he gets up there and switches."
Which meant Fowler needed to change his batting helmet so he could get a protective flap on the correct side, and start thinking about swinging right-handed. Fowler wasn't too happy with the short notice.
"My whole thing was, I should be able to take practice swings right-handed instead of just walking up there and having to hit," he said. "It was kind of weird. You get up there and you're getting your timing and stuff left-handed, and then he switches around. Then you see him getting practice warmup pitches when he switches -- he threw the ball to second base. We should be able to step out."
Venditte threw left-handed to Fowler and Anthony Rizzo, then threw right-handed to Starlin Castro but not before he took a few warmup tosses to the second baseman. The A's pitcher retired all three Cubs batters.
Carrie Muskat is a reporter for MLB.com. She writes a blog, Muskat Ramblings, and you can follow her on Twitter @CarrieMuskat. This story was not subject to the approval of Major League Baseball or its clubs.