Cashman: Jeter should be last Yankees captain
General manager, Girardi believe current club has 'very strong leaders'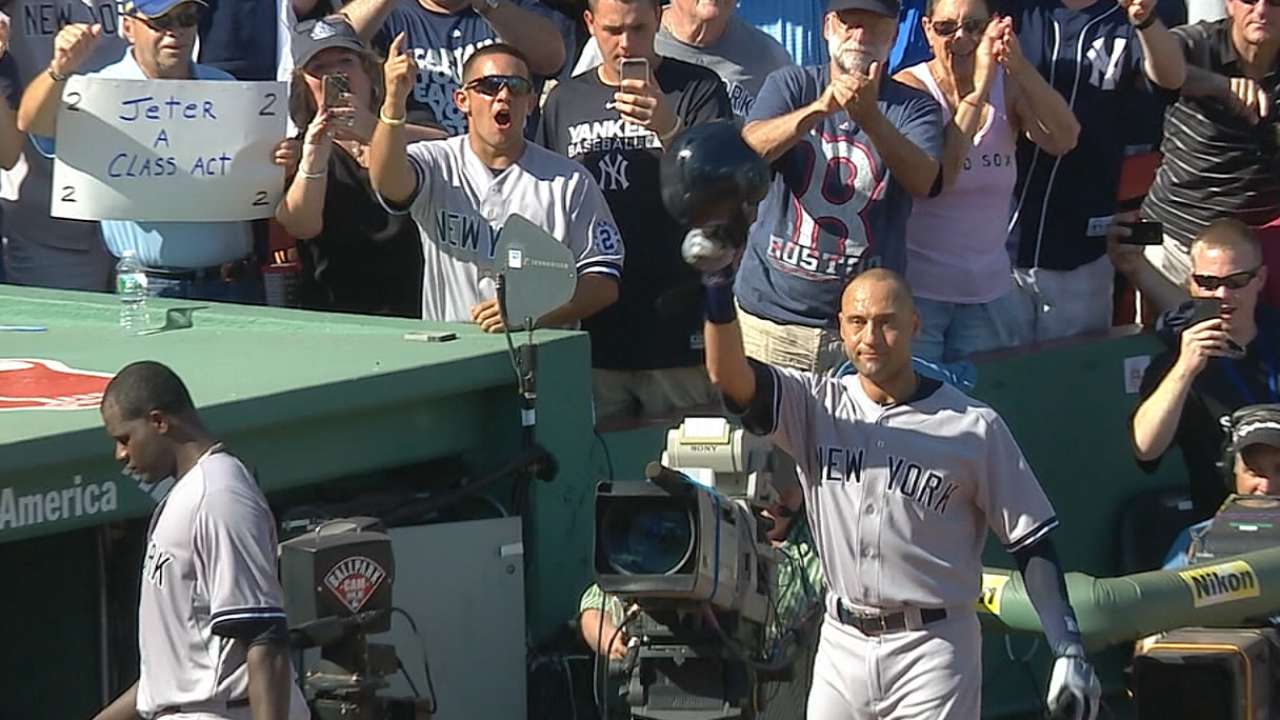 BRADENTON, Fla. -- Derek Jeter proudly served 12 seasons while holding the title of Yankees captain, and general manager Brian Cashman believes that he should be the last in franchise history.
Reiterating comments that he made at Fenway Park during Jeter's final weekend as an active player last September, Cashman said Thursday that he has no interest in issuing the title of captain to another Yankee in the foreseeable future.
"From my chair, it's not something I think we have to fill," Cashman said. "From another chair, it might be a different opinion, but I think we have leaders here now. We have a number of different people that are very strong leaders and high-quality individuals. That doesn't mean you have to put a 'C' on it."
It was George M. Steinbrenner's decision to name Jeter as the team's 16th captain in June 2003, ending a seven-year run where the Yankees did not field a captain following Don Mattingly's retirement. There have been long spaces before: 34 years passed between the captaincies of Lou Gehrig (1935-41) and Thurman Munson (1976-79).
"I think it will fill on its own, naturally," Cashman said. "Leadership steps up in different forms and fashions, whether you're on the team plane, in the clubhouse, on the field of play, in the bullpen or in the manager's office."
A team spokesman said that managing general partner Hal Steinbrenner was traveling Thursday and unavailable for comment. Yankees manager Joe Girardi said Thursday that the team does not necessarily need to name a captain to have leaders on the field.
"I think [Jeter] always led by example, the way he played the game and the way he was prepared every day. He was great at that," Girardi said. "I think it evolves in the clubhouse, no matter what. We give the freedom to our guys in the clubhouse, whoever wants to speak up, I don't care how many days you have, you can speak up."
Girardi hopes that he will see a group effort fill the void left by Jeter's absence. It has been suggested that veterans like CC Sabathia, Mark Teixeira, Brett Gardner, Carlos Beltran and Brian McCann could all play more prominent leadership roles this season, but Gardner said Thursday that Jeter's presence cannot be equaled.
"I don't think there's any one guy that's going to step up and do that," Gardner said. "That's a guy that can't be replaced. Whether it's on the field or off the field, his leadership qualities and the things that he accomplished in his career, especially at such a young age.
"We've got a lot of guys in here that might not have been with the Yankees for a long time, but have a long time in the league. They're good teammates and good leaders. I think we've got a good group of guys in here that get along really well. I think it's going to be a fun year."
Bryan Hoch is a reporter for MLB.com. Follow him on Twitter @bryanhoch and read his MLBlog, Bombers Beat. This story was not subject to the approval of Major League Baseball or its clubs.