Royals haven't yet determined Finnegan's role
Lefty could begin the year with K.C. in the bullpen or at Triple-A as a starter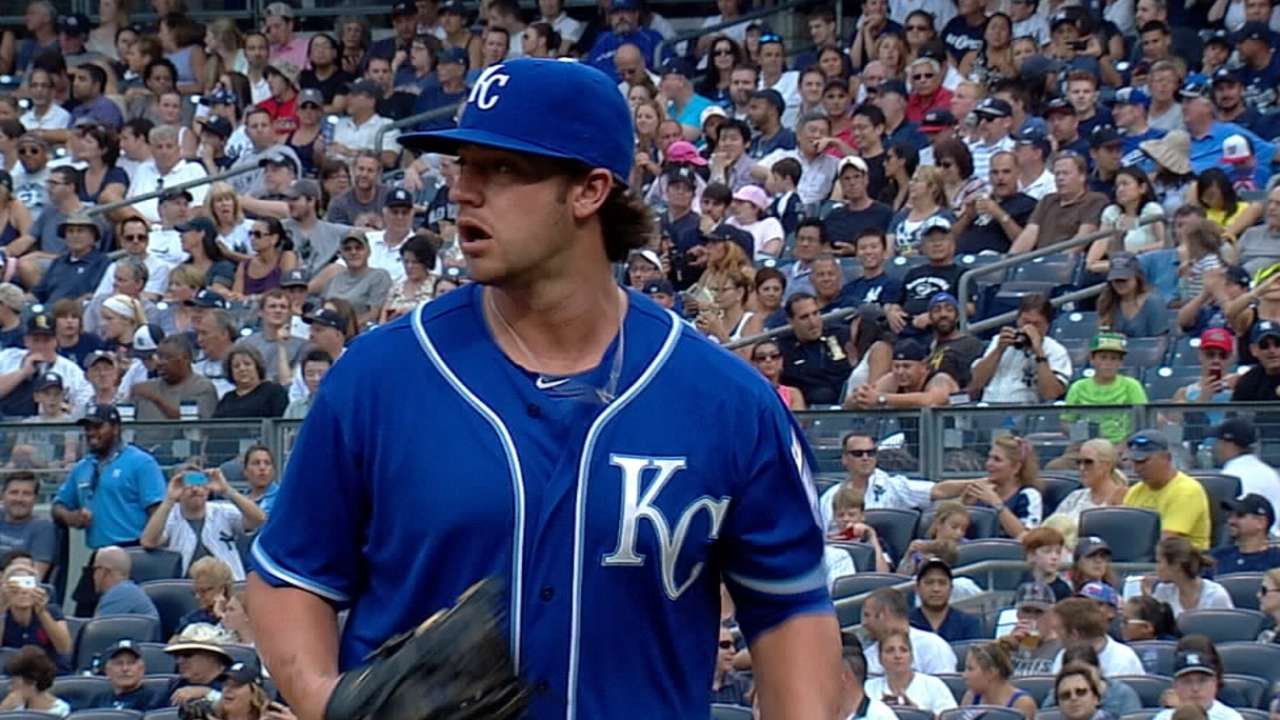 SURPRISE, Ariz. -- There is a pretty healthy discussion going on within the Royals' organization these days about what to do with rookie left-hander Brandon Finnegan.
The scouting and development folks naturally would like to see Finnegan, who was a first-round pick last June, be groomed as a starter, the position for which he was drafted.
The problem, of course, is that Finnegan, emerged as yet another weapon in the Royals' bullpen last September, posting a 1.29 ERA in seven outings. And he was almost as good in the postseason, minus one shaky outing in the World Series.
It would be hard to make the case that Finnegan isn't one of the Royals' best seven or eight relievers right now. The flip side, though, is that Finnegan's development as a starter would be slowed if he is in the Royals' bullpen.
"It's not a decision we have to make right now," general manager Dayton Moore said. "We'll just have to see how it all plays out."
Three or four years ago, the decision would have been a no-brainer, because the Royals' were in full developmental mode.
These days, however, they are in win-now mode after posting their first winning season in 10 years in 2013, then making it all the way to Game 7 of the World Series last season.
"We [have] a chance to compete," manager Ned Yost said, "and you want to take your best players when you have a chance to compete."
There is a view by some baseball observers that putting someone like Finnegan, the Royals' No. 6-ranked prospect, in the bullpen right now would essentially be "wasting" a first-round pick. Yost isn't buying that notion.
"Look, nothing matters but winning right now," he said. "That's all that matters. It's not about 'wasting' first-round picks or who pitches where. We've got an opportunity at this point in time to compete for a world championship. Nothing else matters.
"It's not about if a guy is relieving or starting, it's 'Can he help us win a world championship?' Nothing else matters. That's all I focus on."
Christian Colon is another Royals first-round pick who might benefit by playing every day at Triple-A Omaha this season. But he is a valuable commodity to Yost on the big league roster as a utility man, and he's now a virtual lock to make the 25-man roster.
"History has shown us that not every first-round pick is going to be a star," Yost said. "Not every first-round pick makes it to the big leagues -- but these guys all have."
Yost also won't base his decision on the final bullpen spots on whether or not a pitcher is left-handed or right-handed.
"I just want the best seven or eight guys we have in the organization [for the bullpen]," he said. "Guys who throw strikes and get guys out."
Jeffrey Flanagan is a reporter for MLB.com. Follow him on Twitter at @jflanagankc. This story was not subject to the approval of Major League Baseball or its clubs.