Cubs prospect Schwarber turns 22, hits grand slam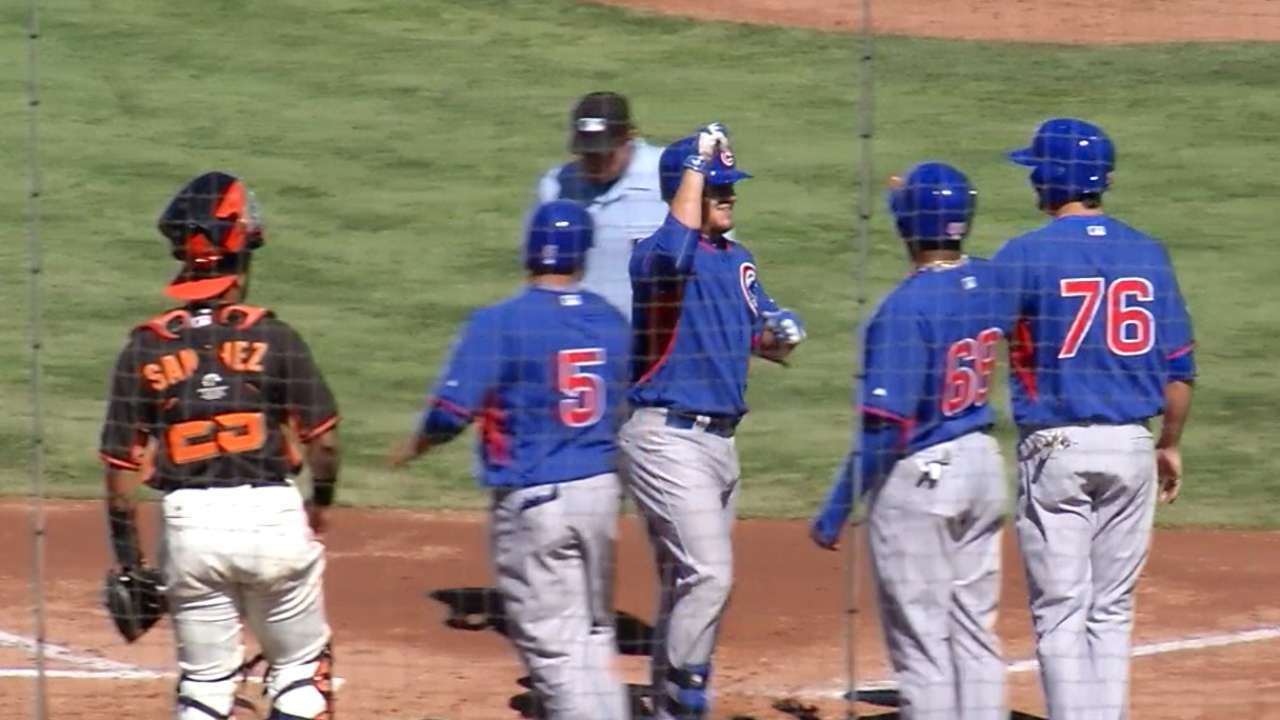 SCOTTSDALE, Ariz. -- Cubs prospect Kyle Schwarber celebrated his 22nd birthday in a grand way Thursday.
Schwarber, the 2014 No. 6 prospect in the Cubs organization according to MLB.com, hit a grand slam off Giants starter Ryan Vogelsong in the second inning of Thursday's contest.
"I was nervous the whole time up there; I don't know why," Schwarber said. "It's the first game, everyone is going to be nervous, but it's a little bit of a different situation with the bases loaded and it's your first at-bat."
Despite the nerves, Schwarber got hold of a high fastball from Vogelsong and hit it over the right-field wall. He was met with the silent treatment upon his return to the dugout.
Schwarber, the Cubs' first-round selection in the 2014 Draft, hit .344 with 18 home runs in 72 Minor League games last season.
Schwarber finished 1-for-3 on the afternoon, and although the 22-year-old enjoyed the grand slam, it was the other two at-bats -- a groundout and flyout -- that he was still thinking about.
"It was cool, [but] it's over now," Schwarber said. "You got to look onto tomorrow. You've got to look over your at-bats. I battled back and had a good at-bat once and just missed my pitch [in the other.] Overall, it's an OK day, but I'd probably like to have those other two at-bats back."
William Boor is a reporter for MLB.com. Follow him on Twitter at @wboor. This story was not subject to the approval of Major League Baseball or its clubs.