Rangers' 'Nicks' on mission to make team out of camp
Tepesch, Martinez have valuable experience, but face stiff competition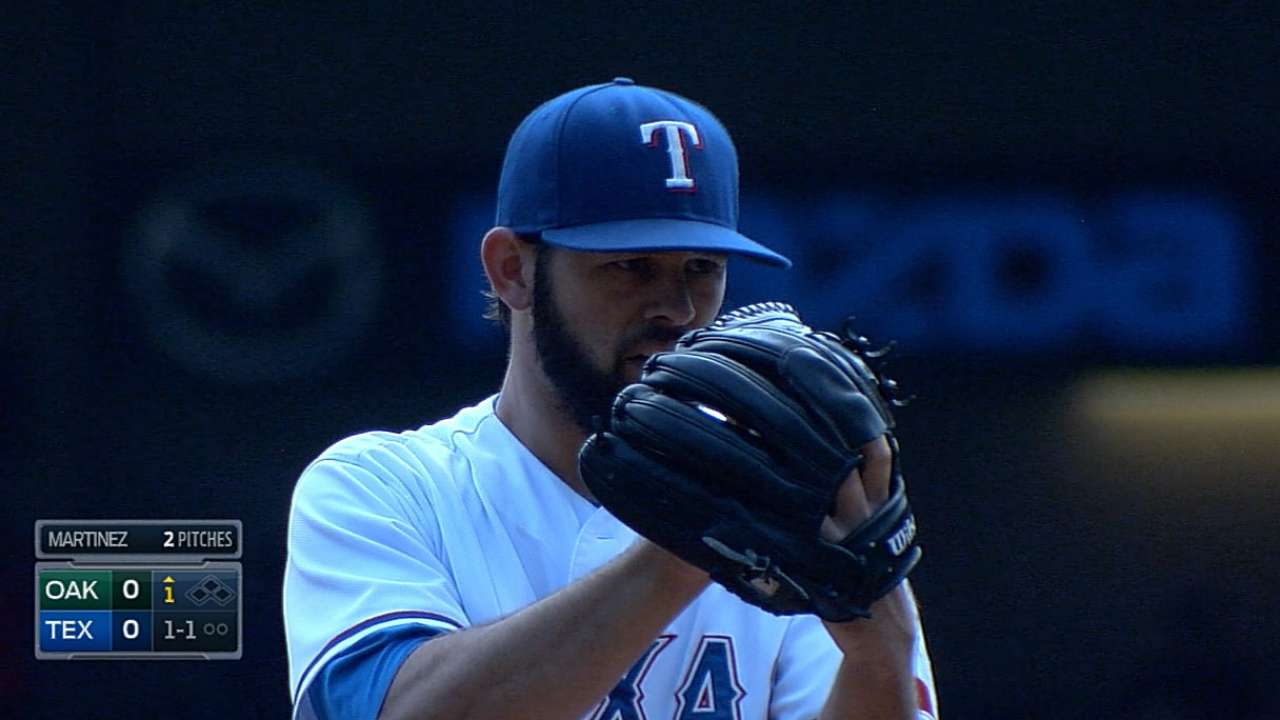 SURPRISE, Ariz. -- Rangers pitcher Nick Tepesch was blunt when assessing his mission for the spring.
"To win a spot on the team," Tepesch said. "Pretty simple mission."
Fellow pitcher Nick Martinez was also concise on the subject.
"Compete, attack hitters, throw strikes," Martinez said. "Show I retained what I learned last year."
This is a big Spring Training for both of them because baseball irony can be cruel. Both were rushed to the big leagues way before they were ready because the Rangers were short on pitching. As a consequence, they went through an often painful learning experience.
Now the Rangers appear to have an excess of starting pitching in camp and their situation is much different. Tepesch and Martinez, having gone through that difficult process and having helped prop up an understaffed rotation, now find themselves in serious competition for a spot on the staff.
Fair or not, that's the situation both find themselves in this spring.
"It's great, it brings out the best in us," Martinez said. "I think it will be fun."
Their competition is both now and the future. Tepesch and Martinez are now competing for the fifth spot in the rotation along with left-hander Ross Detwiler and right-handers Andy Ranaudo, Lisalverto Bonilla and Ross Ohlendorf.
But behind them is a potentially strong wave of young pitchers getting close. Alex Gonzalez, Luke Jackson, Jerad Eickhoff, Alec Asher and Jake Thompson could all be big league-ready within the next year. They are also getting the consideration of being developed properly rather than being rushed to the big leagues like Tepesch and Martinez.
That's why it could be crunch time for Tepesch and Martinez this spring.
"I'm not so worried about what I need to show as much as just getting better each time out as I build up my pitchers and innings," Tepesch said.
Tepesch has made 39 starts for the Rangers over the past two years, the second most on the team. Along with three relief appearances, he is 9-17 with a 4.56 ERA. He had a 1.37 WHIP, which is decent considering Justin Verlander had a 1.36 WHIP over the past two years. Justin Masterson and Mark Buehrle were both at 1.35.
Tepesch also had a 3.81 ERA and a 1.34 WHIP in his last 10 starts in 2014. But he walked 21 and struck out 19. Tepesch relies heavily on a sinking fastball and decent breaking stuff, but is trying to add a changeup to his arsenal to help him get more strikeouts. He has experimented with multiple different grips in the past and settled on one this winter. He is sticking with it.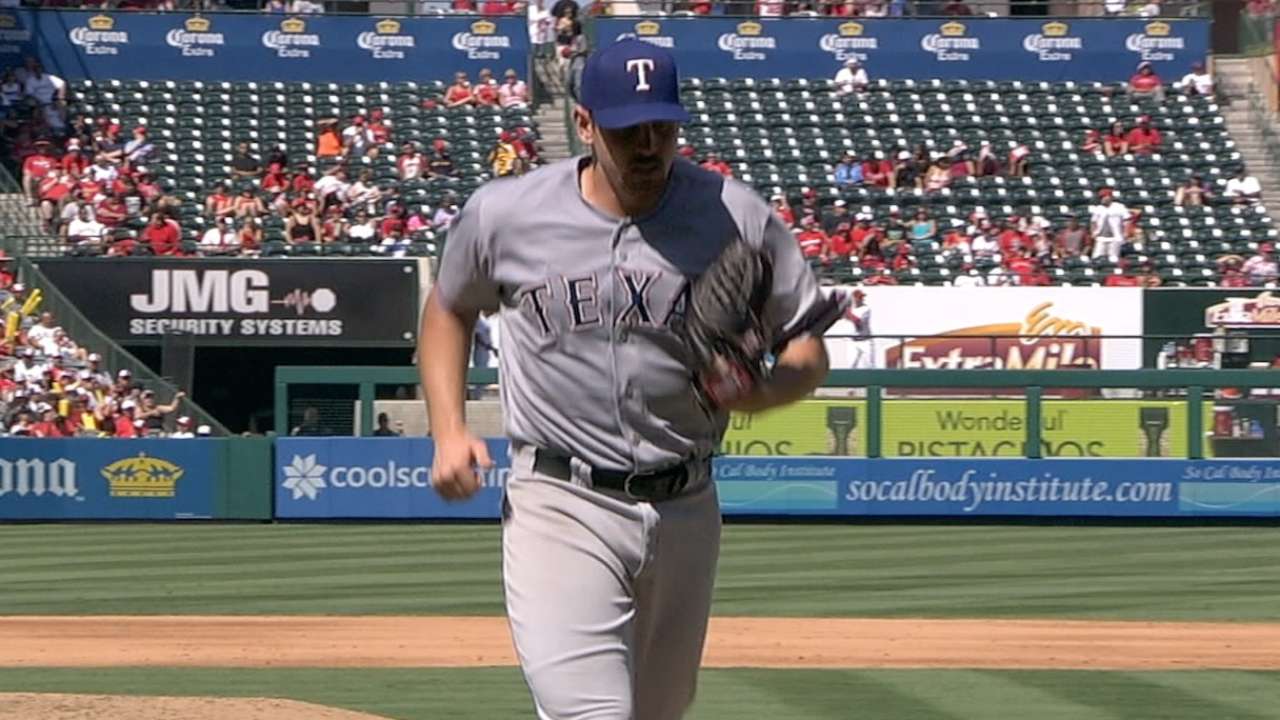 "There are so many different grips with the changeup, you might not find one you feel comfortable with right away," Tepesch said. "This winter I had just one and went with it. I've gotten more confident as the winter and spring have gone on."
Tepesch will get to test the changeup on Friday against the Giants when he makes his first start in a Cactus League game. Martinez goes Saturday against the Brewers in Phoenix.
Like Tepesch, Martinez has learned much over the past year. Under pitching coach Mike Maddux, he has learned to pitch to his strengths and learn to concentrate on every single pitch.
"You can't take one single pitch off or these guys will make you pay for it," Martinez said.
Martinez also finished strong last season, going 4-4 with a 3.45 ERA and a 1.19 WHIP in his last 10 starts. He also struck out 39 and walked 17, a reflection of the effective changeup that is a part of his arsenal. Beyond that, he and Tepesch are similar in style.
They are also in a similar situation. The Rangers love competition in Spring Training, their fifth-starter spot should be particularly fierce and Tepesch and Martinez have to earn the spot.
The past has been a good, tough learning experience under difficult circumstances but it is what they do this spring that will count.
T.R. Sullivan, a member of the Texas Baseball Hall of Fame, has been covering the Rangers since 1989, including for MLB.com since 2006.
This story was not subject to the approval of Major League Baseball or its clubs.