Garza's comfort not just reserved for robe
Ordering unique gift for rotation mates, righty feeling more at home in second year with Crew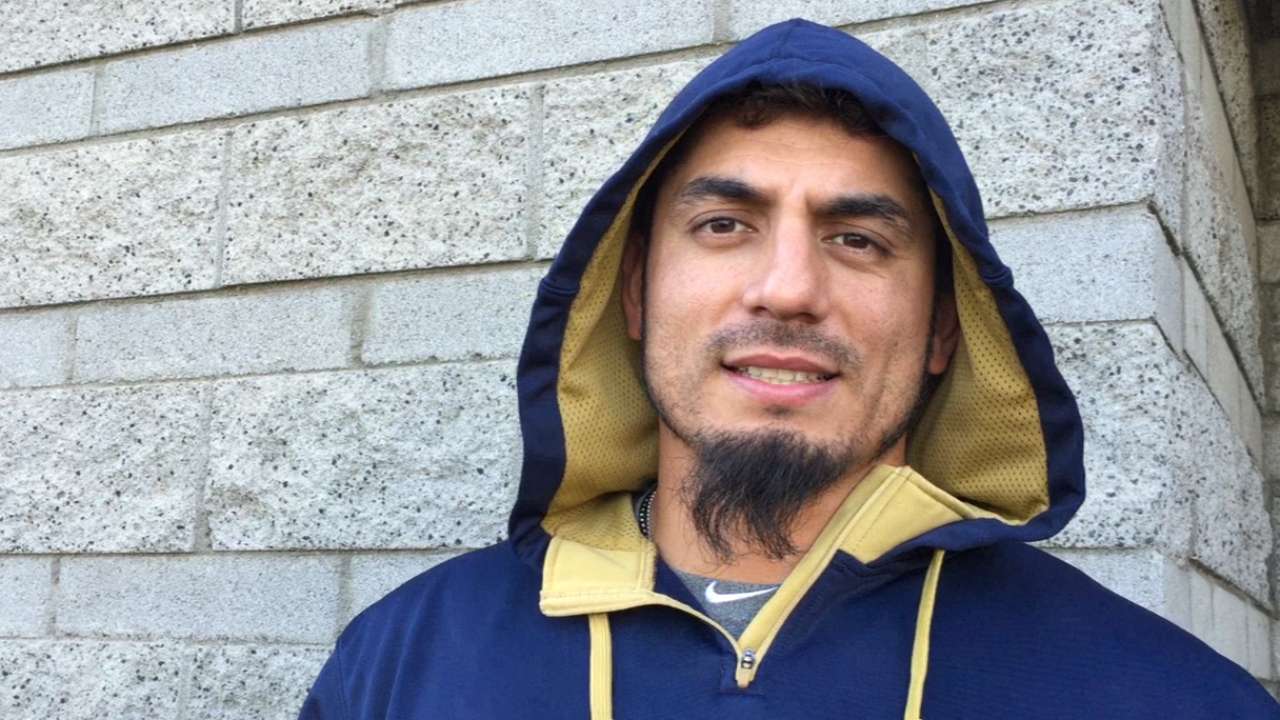 TEMPE, Ariz. -- Sadly, Matt Garza won't trot to the mound Friday wearing one of the custom robes he ordered this spring for each member of the Brewers' five-man starting rotation.
"It's not a boxing match," Garza said Thursday, on the eve of his spring debut. "I'll leave that up to [Manny] Pacquaio and [Floyd] Mayweather."
Garza's 1-2 punch will consist of fastballs and sliders when he faces the Dodgers at Maryvale Baseball Park, and if history serves as a guide, the results won't much matter. Last year, after signing the richest free agent contract in Brewers history, Garza had an 8.80 ERA in his five Cactus League starts. The year before that with the Cubs, he didn't pitch at all in Spring Training because of a rib-cage injury. The two years prior, his spring ERAs were 5.50 and 10.38.
Yet every year, Garza is good when it counts. In his Brewers debut last April, he took a no-hitter into the seventh inning against the Braves. For the seventh time in the last eight years, Garza's ERA finished below 4.00.
"I knew last year going in what my business was. I wasn't here to impress anybody," Garza said. "I was here to do my job, and that's go get ready for a big league season. I know last year they were a little confused about how I go about my things, but I always said, 'When the bell rings, I'll be ready.'"
Garza is 31 now, entering his eighth full Major League season and his second with Milwaukee. He was 8-8 with a 3.64 ERA for the Brewers in 2014, the only blemish a rib-cage injury in August that sent Garza to the disabled list for the fourth straight season, but opened a spot in the rotation for Mike Fiers to flourish.
Gone are what Garza referred to as the "growing pains" of joining a new organization, with coaches not used to his unique spring routine. And although he never cited it as a factor, faded are the immediate expectations that go along with a four-year, $50 million contract.
"I think my world is settled, and it helps a lot," Garza said. "Last year I was still in a transitional period with taking care of the family, moving them around, and we made the decision to stay home [in California]. We bought a new place back home and set up shop, and now that huge world is in place. Everything else is fine. Financial security, job security. All I have to do is go play, and it's fun.
"I had a new fire awaken in me this offseason, which I haven't had in a while. The past couple years have kind of led me down that road. It's my fault, nobody else's. But things happen for a reason, and I think I found my reason."
Can the Brewers win their division?
"Of course," Garza said. "Me and 'Gomey' [Carlos Gomez] were just talking, and our lineup is scary. Really scary. We didn't do a lot [during the offseason], but what we added was real significant. We've got a power-hitting first baseman [Adam Lind] now, something we missed big-time. More consistency in the lineup -- less platooning. I think that plays a lot into how a guy gets ready for an at-bat and a guy's not thinking, 'Am I playing today?' ... Now we've got guys set. Guys know roles. Then, having the bullpen we have, it matches anybody in the division, I'll tell you that.
"It's going to come down to these five [starters], the guys who wear the robes."
Adam McCalvy is a reporter for MLB.com. Read his blog, Brew Beat, and follow him on Twitter at @AdamMcCalvy. This story was not subject to the approval of Major League Baseball or its clubs.