Cingrani determined to win rotation job
After hurting shoulder last season, southpaw feels fine in camp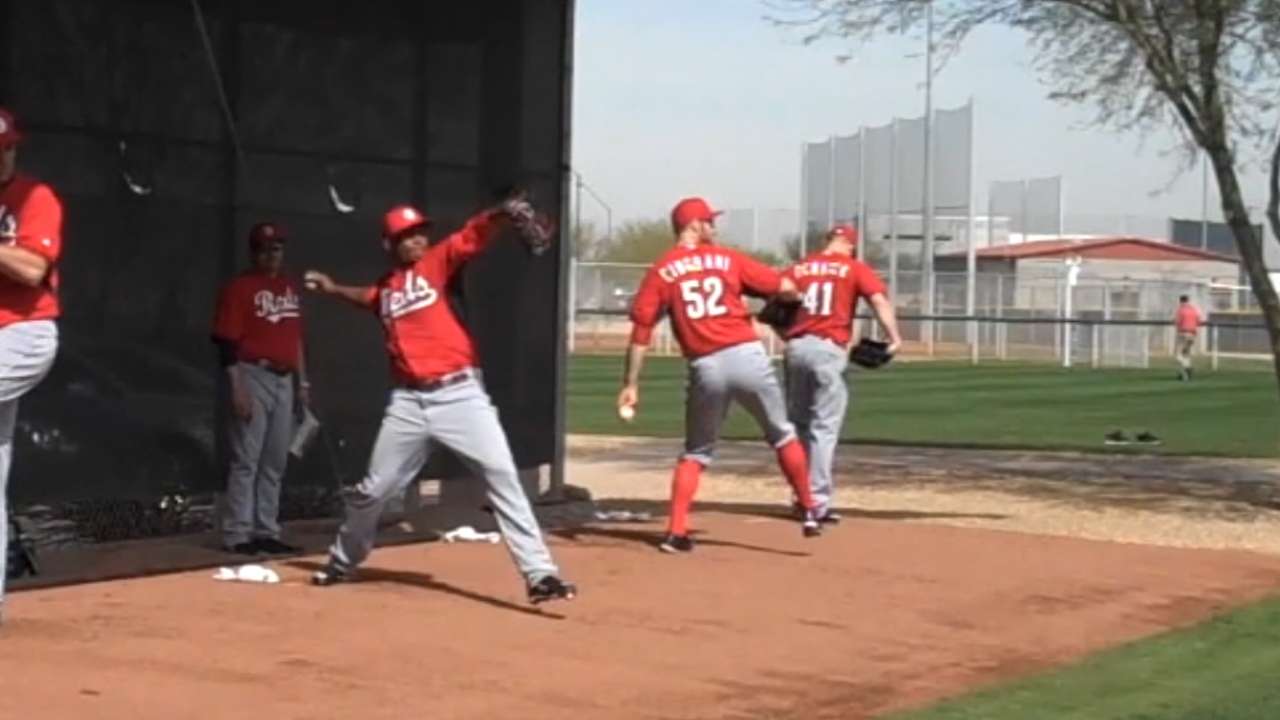 GOODYEAR, Ariz. -- Reds left-hander Tony Cingrani not only sounded determined in that he wanted a spot in the club's rotation, but also that he needed it, too.
"That's what I'm going to do the rest of my career. I'm not, not going to start," Cingrani said. "It's going to happen. If I'm not starting, then there is an issue and I will address it then. Until that point, I don't need to worry about it."
Of course, there are variables involved before Cingrani can achieve his goal of getting one of Cincinnati's two open rotation spots -- shoulder health and performance are two, and there is a competition with other candidates.
Cingrani, 25, did not pitch after June 19 last season because of shoulder issues. He spent two weeks on the disabled list in May with tendinitis. So far in camp, there have been no problems with Cingrani's arm.
"Sometimes it's hard to tell with your guys. Some guys are blow and go in their bullpen [sessions]. He looks fine to me," Reds manager Bryan Price said. "It's an important camp for him to get extended and just make sure everything is OK physically with the shoulder. We haven't had any great concerns."
Price noted that the Reds have limited Cingrani in swinging the bat in camp to this point. He has swung, but not as much as other pitchers.
"Just so we don't create any issues," said Price, who labeled Cingrani as a leading contender for a rotation spot before camp started.
Cingrani was 2-8 with a 4.55 ERA in 13 games, including 11 starts, in 2014. In part because of his shoulder, there were command problems. In his 63 1/3 innings, there were 35 walks compared to 61 strikeouts. Only one start -- his first one on April 2 vs. the Cardinals -- lasted seven innings.
Cingrani is slated to make his debut Friday vs. the Cubs in Mesa. How will Price and the club know if Cingrani's shoulder is up to the job of him being a 30-start pitcher?
"The thing is, you don't know," Price said, "but we could say that to a laundry list of guys there. The difference is Tony has been in the big leagues already. What you do is your keep your fingers crossed that he is that type of a pitcher."
Cingrani spent his extended offseason rehabbing, lifting and throwing. He has refined his mechanics to put less of a load on his shoulder during delivery.
"I learned to have a better routine in the offseason to make sure I am strong," Cingrani said. "It's impossible to throw without shoulder complications. I think every pitcher in here has problems. It's just making sure everything is strong enough to maintain it."
Mark Sheldon is a reporter for MLB.com. Read his blog, Mark My Word, and follow him on Twitter @m_sheldon. This story was not subject to the approval of Major League Baseball or its clubs.