Anderson focused in return opportunity with White Sox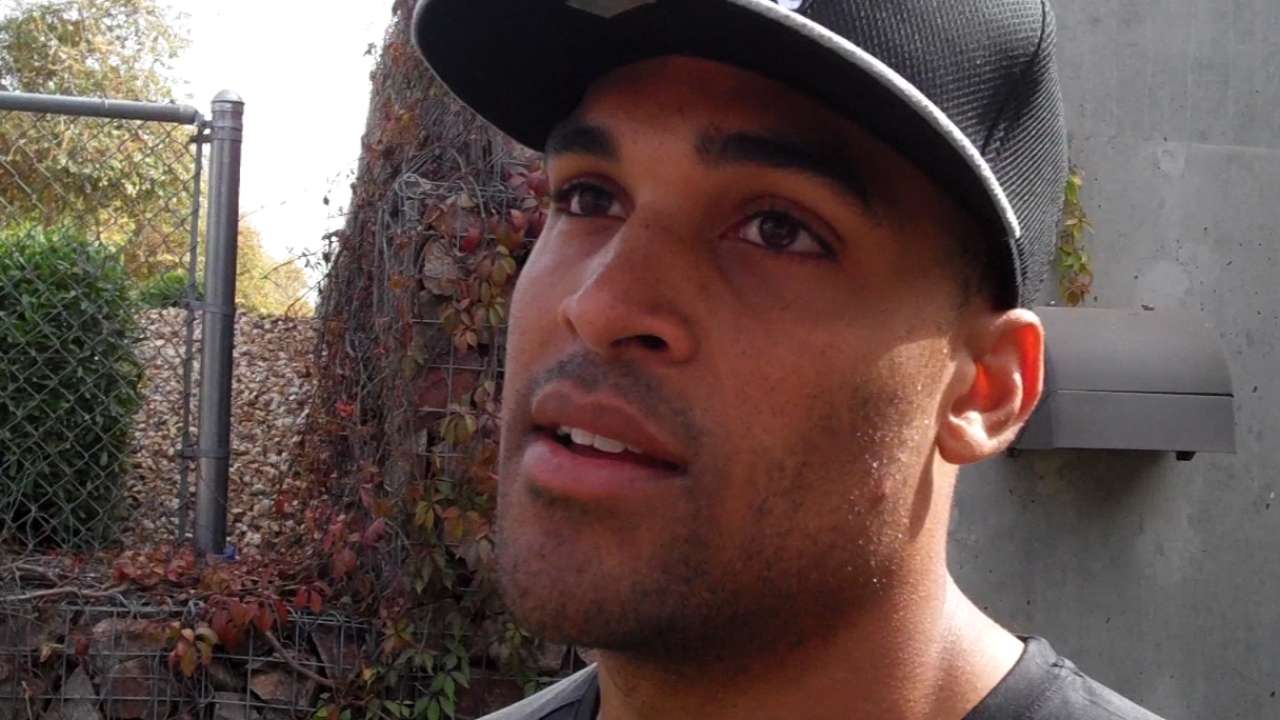 GLENDALE, Ariz. -- Brian Anderson was sitting in the White Sox Minor League clubhouse at Camelback Ranch recently, during a break from mini-camp, when one of his teammates started receiving Happy Birthday wishes. Anderson figured the somewhat mature-looking player was around 25.
He was wrong. The player in question turned 20 on that particular day, almost 13 years younger than Anderson, who turns 33 on Wednesday.
"I was like, 'Oh, my God. You were 10 when we won the World Series,'" said Anderson with a laugh. "I mean, it's just pretty funny."
Anderson doesn't view his comeback as any sort of laughing matter. He has not played the outfield or worked as a hitter in affiliated baseball since 2009, having pitched in the Royals and Yankees organizations in the interim. But Anderson fought his way back to this current Minor League chance with the organization that selected him 15th overall in the 2003 First-Year Player Draft. This week, he faced his first round of live, professional-quality pitching in over five years.
"It's weird, because it has been five years, but when I'm back out there, it seems like I haven't left," said Anderson, who praised the live young arms that he faced who were brought in and developed by the organization. "It felt pretty good.
"Obviously, offspeed pitches are going to be a little bit tough to adjust to. But just being out on the field and running bases and doing baserunning drills, first to third, being taught hitting routine, wearing the helmet with two flaps. ... That normally would drive me crazy, but I love it."
Aside from occasional Cactus League callups, Anderson won't be part of big league Spring Training. There's also a chance that Anderson won't be part of Triple-A Charlotte after Minor League camp ends, with prospects needing to be assigned those outfield slots. Scouts from other teams will get a consistent look at Anderson and maybe like what they see.
There is no Plan B for Anderson at this point. His focus is doing what he can with this White Sox-provided opportunity.
"Do I have goals? Yes. Do I have a fallback plan? No," Anderson said. "I just am trying to fly under the radar, go out and play every day and put together good at-bats.
"Our big league guys, the front office knows what I'm capable of, defensively. If I can show them I can put together good at-bats and give them an insurance plan, hopefully that is something they want to keep around."
Scott Merkin is a reporter for MLB.com. Read his blog, Merk's Works, and follow him on Twitter @scottmerkin. This story was not subject to the approval of Major League Baseball or its clubs.