Andrus on track for Cactus action next week
Shortstop's mild left knee tendinitis among Rangers' injury updates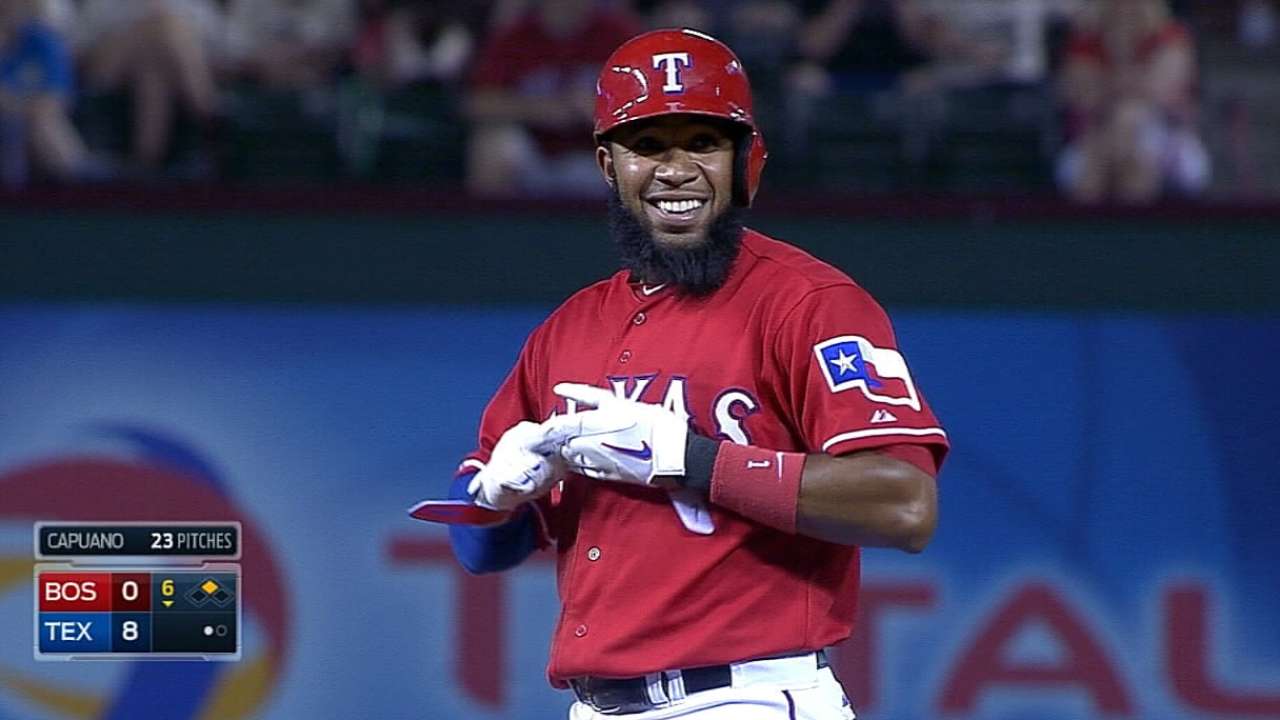 SURPRISE, Ariz. -- Rangers shortstop Elvis Andrus is full-go with his left knee, and he expects to be ready to play in a Cactus League game early next week.
Andrus has been sidelined with a mild case of tendinitis, but he's taking batting practice and going through all of his fielding drills. So far, his absence from the lineup has been referred to as a precautionary measure.
"I don't think four or five days are going to do anything bad to me," Andrus said. "I'm still doing everything."
Andrus' absence gives the Rangers an extra chance to look at their potential utility-infield candidates. Ed Lucas, who is in camp on a Minor League contract, started at shortstop on Thursday against the Royals.
Worth noting
• Manager Jeff Banister added right-hander Shawn Tolleson's name to the list of pitchers who are locks for the bullpen. The others are Neftali Feliz and Tanner Scheppers. Said Banister, "The more and more we see him, we like him, and it's based on some of the things he did last year."
• Tolleson said his decision not to agree to a contract had nothing to do with the Rangers. Tolleson was automatically renewed by Texas on Wednesday. The move of declining the Rangers' final offer was suggested by his agent because it might position Tolleson better in a potential future arbitration hearing. Said Tolleson, "It had absolutely nothing to do with the Texas Rangers and the organization, and nothing to do with me trying to squeeze a few more thousand dollars out of them."
• Outfielder Shin-Soo Choo was sent home on Thursday because he was dealing with a respiratory ailment. He wasn't scheduled to play on Thursday anyway.
• Dr. Keith Meister is expected to be in camp on Friday, and he will examine Derek Holland, who has been sidelined with left shoulder soreness. If Holland gets clearance, he will likely next throw a bullpen session and possibly be ready to pitch in a Cactus League game next week.
• Martin Perez, coming back from Tommy John elbow reconstruction surgery, has resumed his throwing program after four scheduled days off. He could start throwing off the half-mound early next week.
• Left-handed reliever Michael Kirkman, sidelined with an impingement in his left shoulder, came out of Wednesday's bullpen session with no problems. He will likely throw one more session, and then possibly live batting practice, before being game ready.
T.R. Sullivan is a reporter for MLB.com. Read his blog, Postcards from Elysian Fields, and follow him on Twitter @Sullivan_Ranger. This story was not subject to the approval of Major League Baseball or its clubs.