Cardinals not rushed by pitch clock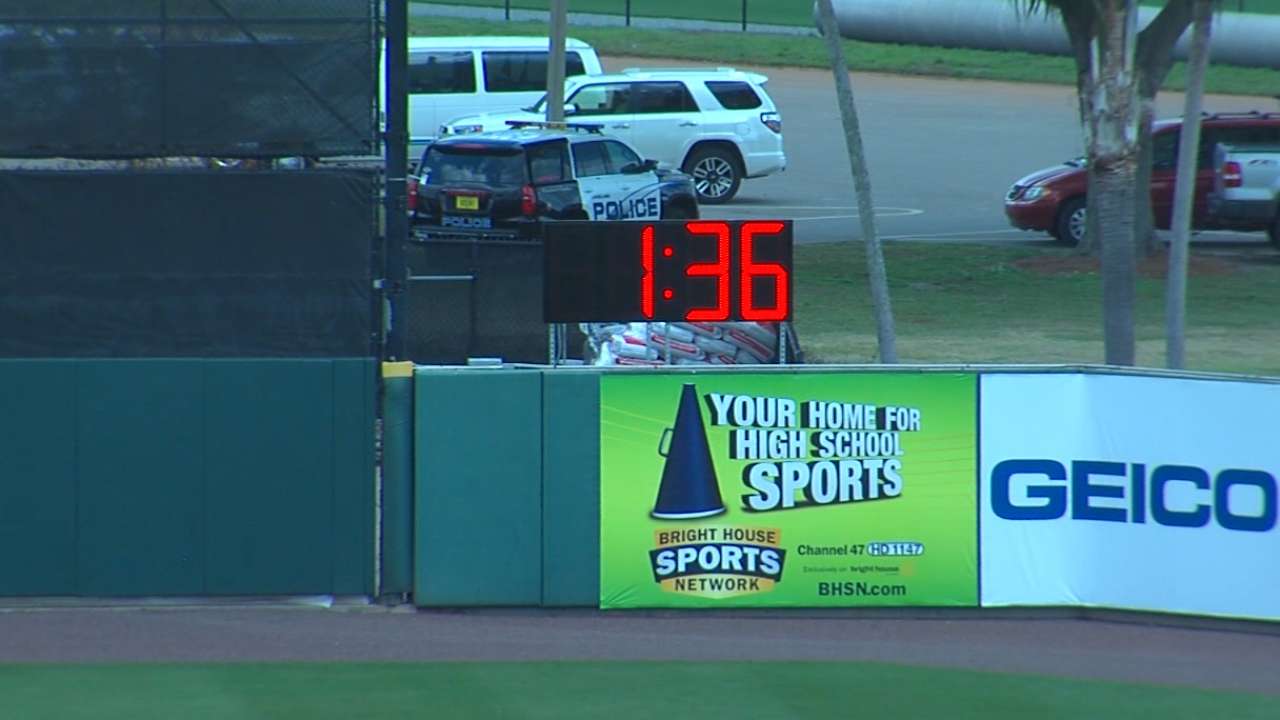 JUPITER, Fla. -- Having retreated to the clubhouse shortly after throwing a scoreless inning in relief on Thursday, Matt Belisle emerged from around the corner with a puzzled look on his face.
"Was there a pitch clock out there today?" he asked, looking in teammate Carlos Villanueva's direction. Villanueva hesitated with his answer, before someone else chimed in with confirmation.
Perhaps that anecdote best captured the Cardinals' overall feeling of the new game timer, which hung from below the outfield scoreboard and ticked down the time pitchers and hitters had between each half-inning. It's a feature in Major League Baseball's new pace-of-play initiative, but for the Cardinals, it didn't affect a thing in their 4-1 win over the Marlins at Roger Dean Stadium.
"We didn't even pay any attention," manager Mike Matheny said. "We haven't even made that big a deal of it because we haven't had many infractions. There will be some feel for it. I think at the beginning we'll let guys do their thing, check out where we have an issue before we start making everybody overly conscious of it."
The clock counted down from 2 minutes, 30 seconds at the end of each half-inning, as it will for locally televised games during the regular season. The pitcher can begin the next half inning once the timer reaches 20 seconds. There were a few instances in Thursday's game when the umpire had to delay the pitcher until the timer reached that window.
"I knew there was a clock behind me, but I didn't pay attention to it," starter Carlos Martinez said through a translator. "I was concentrating on the hitter and making my pitches."
The Cardinals, as they have in the past, will receive regular updates from the Commisioner's Office to notify them if any of their players are habitually breaking any of the pace-of-play rules. No fines will be issued until May, giving everyone time to get used to -- or in some case, simply notice -- the timer.
Jenifer Langosch is a reporter for MLB.com. Read her blog, By Gosh, It's Langosch, follow her on Twitter @LangoschMLB and like her Facebook page Jenifer Langosch for Cardinals.com. This story was not subject to the approval of Major League Baseball or its clubs.