Johnson brings value as utility player
Veteran able to play first, second, third, left field for original team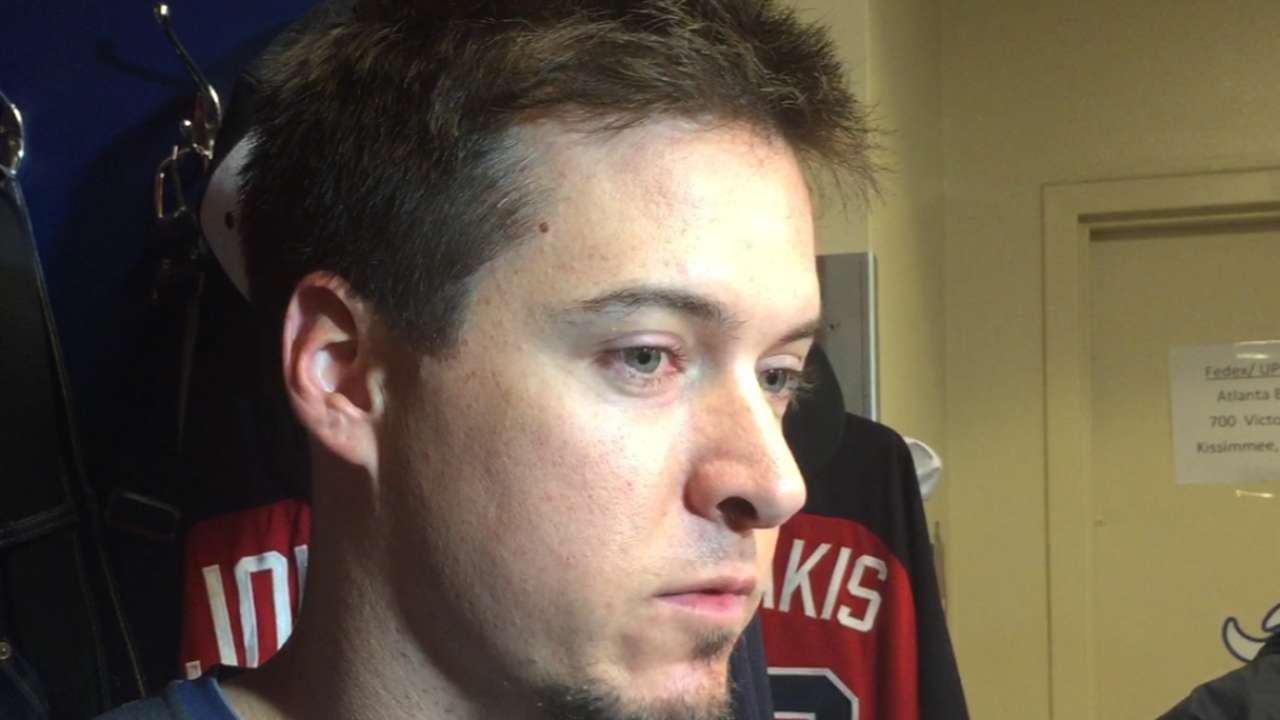 LAKE BUENA VISTA, Fla. -- Fifteen years after making his first trip to the Braves' Spring Training complex as a hot-shot shortstop who had just been drafted in the first round, Kelly Johnson has returned to his original organization hoping to prolong his Major League career as a utility player.
"As long as you had a good experience with your first team, coming back is going to feel like home," Johnson said. "Putting on a Braves uniform still means something."
Much has changed since Johnson helped the Braves win the last of their 14 consecutive division titles and then spent the first few years of his career sharing a clubhouse with both Chipper Jones and John Smoltz. Since leaving Atlanta after the 2009 season, he has played for the D-backs and each of the American League East's five clubs.
Through this journey, Johnson has remained receptive to change, much like he was when he transitioned to the outfield near the end of his Minor League days and then transitioned to second base after recovering from Tommy John surgery during the 2006 season.
During Thursday's Grapefruit League game against the Tigers, Johnson played third base, one of the three positions (left field and second base included) at which he's made at least 75 appearances during his big league career. Johnson's experience and versatility attracted the Braves, who signed the 33-year-old veteran to a Minor League contract in February.
Still, while his resume is enhanced by his capability to play second base, third base, left field and first base, if necessary, Johnson's bid to gain a roster spot might hinge on whether he can convince the Braves that he is capable of halting the offensive struggles he has encountered over the past three seasons.
Johnson produced a .813 OPS for the Braves from 2007-08 and proved even more impressive as he belted a career-high 26 homers for the '10 D-backs. But hitting .226 with a .685 OPS over the past three seasons, he has put himself in a position where he must accept any available role to extend his career.
"I still have the value because I have made so many different changes," Johnson said. "There is a lot of value there. Some teams can go without a guy like that. But if a team needs that guy, he can provide a lot of value."
Mark Bowman is a reporter for MLB.com. This story was not subject to the approval of Major League Baseball or its clubs.