Hall of Famer Ryan optimistic about Astros' young talent
Executive advisor speaks about strength of Minor League system
KISSIMMEE, Fla. -- The amount of promising talent in the Astros' farm system is music to the ears of Nolan Ryan, who was with the team when it had three underwhelming Drafts nearly a decade ago that sent the system spiraling towards the bottom of baseball.
Things are different now, with Houston having benefited from high Draft picks and a series of trades that netted prospects in exchange for veteran players. Ryan, an executive advisor, arrived at camp Thursday in time for the Astros' first Grapefruit League game against the Phillies and spoke about the quality of talent.
"My observation last year throughout the Minor Leagues was very strong," Ryan said. "Now we obviously have traded a lot of pitching over the last year and a half, so it'll be interesting to see what type of arms that we have in the system that came in from the amateur Draft last year. And then also from the Dominican."
Ryan spent some time Thursday with pitching coach Brent Strom and Minor League pitching coordinator Dyar Miller. He rejoined the organization last year to follow his son, Reid, who's the president of business operations and has an important voice with the Astros.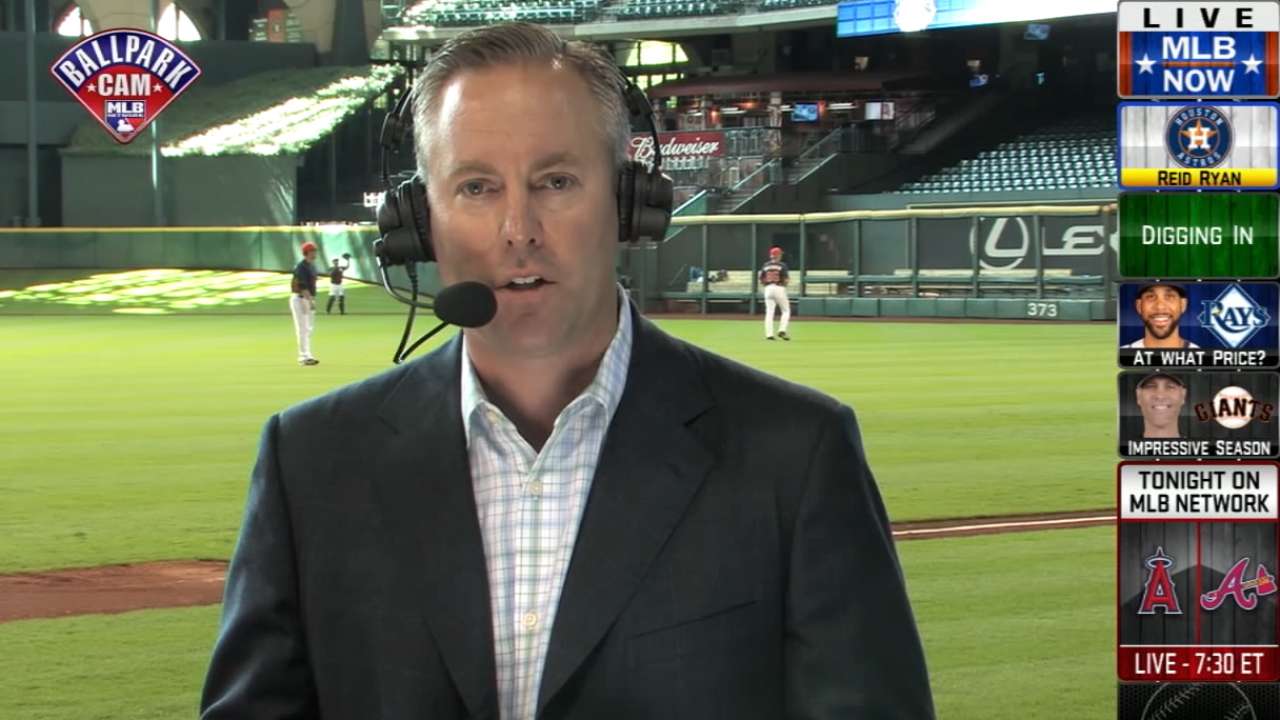 "When you come into Spring Training, it's kind of to see where the players are as far as their development and their conditioning, and how you can kind of start projecting the roster to play out," Ryan said. "It's always interesting, because it's different every spring."
Ryan, who said he stayed in communication with general manager Jeff Luhnow this winter when it came to roster moves, expects the Astros to improve this year following last season's 70-92 campaign.
"I really believe that with some moves that were made this winter and the experience some of the young players have gotten, they're headed in the right direction," Ryan said. "To make a prediction, it would be anybody's guess. You don't know how some of those younger players are going to continue to progress. Some of them could do considerably better than they did last year after the experience they got."
Brian McTaggart is a reporter for MLB.com and writes an MLBlog, Tag's Lines. Follow @brianmctaggart on Twitter. This story was not subject to the approval of Major League Baseball or its clubs.