MLB.com Columnist
Barry M. Bloom
Ichiro in hot pursuit of 3,000 hits
Veteran Marlins outfielder stands 156 short of milestone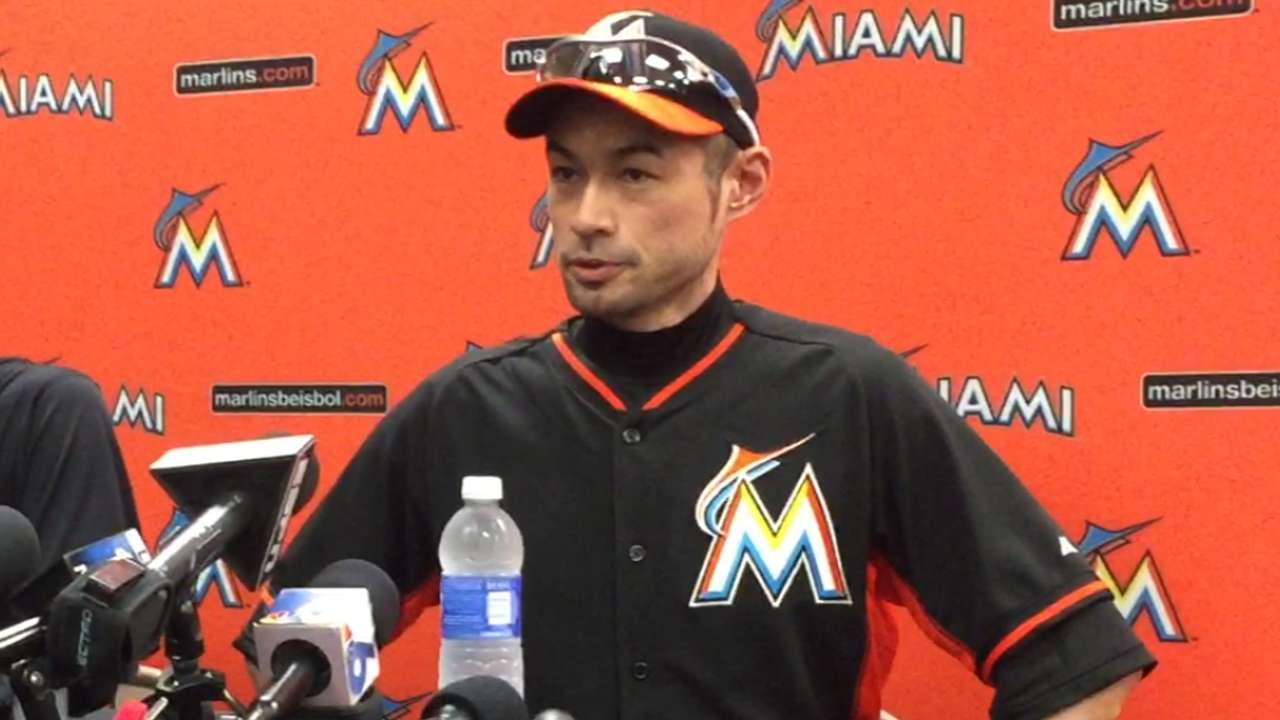 JUPITER, Fla. -- Make no mistake about it, for Ichiro Suzuki, the foreseeable future is all about 3,000 hits. The Magic Number is 156 and the Marlins have gladly given him the platform to pursue that goal.
There's no reason to look back. His days with the Mariners and Yankees are well behind him. So are the years in Japan with the Orix Blue Wave, with whom he accumulated 1,278 of his 4,122 hits on two continents. He has 2,844 playing 14 seasons in Major League Baseball.
Anyone who knows Ichiro is well aware of how proud he is about his place in baseball history. He has visited the National Baseball Hall of Fame surreptitiously at least a half-dozen times, the last time in 2013, touring the archives in the bowels of the museum.
Alex Rodriguez at 2,939 could be the 29th MLB player to reach 3,000. If that happens, Ichiro might be the 30th, and, of course, the first from Japan.
"There's no question this is all about getting those 156 hits," said his San Diego-based agent, John Boggs, who picked the Marlins like a needle out of a haystack when Ichiro was a free agent this past offseason.
"It's very significant, but even when you try to isolate that, he says, 'That's not the only reason I play.' It's part of the process. The longer you play, good things happen and records are accumulated. But there's no doubt it's important to him. He's a student of the game."
Boggs knows from what he speaks. He was the late Tony Gwynn's agent and was around for just about all of Gwynn's eight National League batting titles and 3,141 hits.
For his part, Ichiro downplays the pursuit. But that's the way he is. He's always been a difficult interview, but that's the fun and the challenge of it. He's cordial, outgoing and speaks perfect English. When you ask him a question in English he almost always completely understands it and then turns to his interpreter -- for the past two years the always-affable Allen Turner -- and answers in Japanese.
Once, during a lengthy interview in the clubhouse at Yankee Stadium, Ichiro sat there clipping his nails. You could hear the clicking on the digital audio. Funny.
In his waning days with the Mariners, he reached the 2,500-hit plateau during a game in Arizona. He was asked if 3,000 was the next big milestone. He didn't need any translation.
"Stupid question," he barked, not pulling any punches.
The reporter turned to his interpreter and mused: "Well, I guess he didn't like that question." They both laughed.
The years and places change, but sometimes attitudes don't. Seated in his new environs in the Marlins clubhouse, Ichiro is asked how important it is to quickly pile up those 156 hits. After all, he's on a one-year contract worth $2 million and has averaged 119 hits a year during the past two seasons despite 940 total plate appearances. The days of those record 10 consecutive seasons of 200-plus hits are long behind him. Beyond this season, there are no guarantees.
"Obviously, it's not something I want to talk about right now or am thinking about," he said, giggling as he said this in Japanese to Turner. "A lot of people may think that's the most important thing to me. I don't look at it that way. I just go about doing what I need to do. Other people might think that's where I'm headed, but I really am not thinking about it like that."
The goal for Gwynn, he is told, was 3,000 hits from the day of his first hit, and that's the way he played his career, eventually landing in the Hall of Fame.
"You know, I think you have your long-term goals and your short-term goals," Ichiro said. "It just differs by player. You might have that as a long goal. Some guys might not. That's where we differ, I think."
Asked about his short-term goals, Ichiro responds: "No more interviews."
Again, everybody laughs. "Besides the interview part, obviously I'm new here," he adds. "One of my goals is to have the guys around me see what kind of player I am and get to know who I am."
Ichiro, at 41, is now the elder statesman. He's in the National League for the first time, is the designated fourth outfielder, left-handed pinch-hitter and late-inning defensive replacement. His job is much like it was the last few years with the Yankees, but now he seems comfortable in that endeavor. There was some pursuit in the offseason from the Orioles and Blue Jays, but it was the Marlins in the end who came in and closed the deal, Boggs said.
"They were the club that wanted him, gave him a good offer and were willing to work with him on everything," Boggs said. "They made it easier for him by having his physical done in Japan. They had the press conference in Japan, which was just incredible to be a part of. So who do you go with, somebody who really wants you or somebody who is still trying to figure out what the fit would be?"
It was, as they say, a "no-brainer." Hijo ni kantanmasen in Japanese.
"When you come to a new place, it's always fun," Ichiro said. "For me, I'm here. I'm happy to be here. There's no reason to discuss what could have happened and what didn't happen. I'm here."
Ichiro, will always be part icon and part iconoclast. One of a kind. And 3,000 hits or not, five years after he retires, a "no-brainer" to join Gwynn in the Hall of Fame.
Barry M. Bloom is a national reporter for MLB.com and writes an MLBlog, Boomskie on Baseball. Follow @boomskie on Twitter. This story was not subject to the approval of Major League Baseball or its clubs.