Stanton comeback 'right on track'
Reigning NL home run champ plays first game since getting hit by pitch last September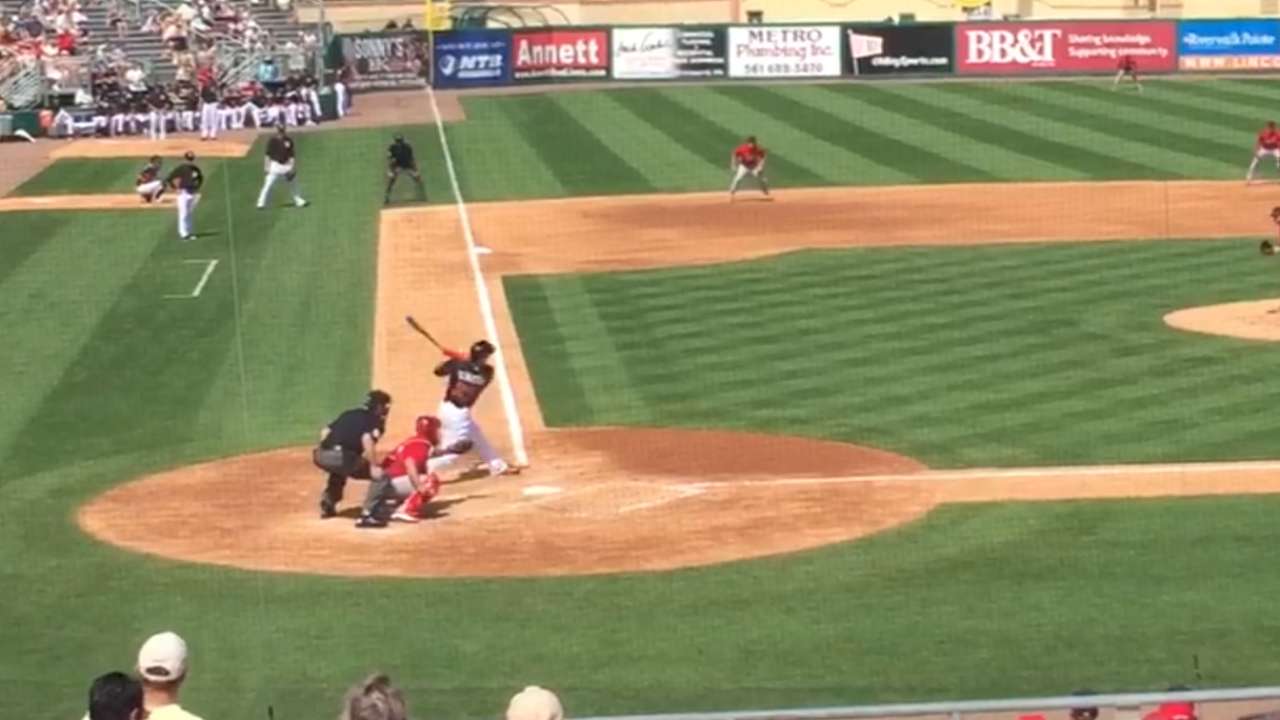 JUPITER, Fla. -- Fill in another check box on Giancarlo Stanton's comeback list. On Thursday, the two-time All-Star played four innings and had two at-bats in his first game action since being struck by a pitch in the face last September.
Stanton flied out twice, and made a few nice plays to run balls down in right field in Miami's 4-1 loss to the Cardinals at Roger Dean Stadium.
"It felt great," the slugger said. "I felt good in the box. We're right on track. But it was good to be in a game setting again."
Any concerns about hesitation at the plate were quickly answered in the first inning. St. Louis right-hander Carlos Martinez was bringing heat early.
In his sequence with Stanton, Martinez's velocity was clocked at 95-96 mph. The at-bat ended with a fly ball to left field.
Stanton's second at-bat was in the fourth inning, and he lifted a soft fly ball to right.
Assessing the afternoon, it was like old times for Stanton, especially since it was a summer-hot 82-degree South Florida day.
"It's the same as any spring," Stanton said. "It's good for a Spring Training at-bat, and to get your timing to 95-plus is always good."
For the Marlins, having Stanton in the lineup is a welcome sight.
"It's great to see him," manager Mike Redmond said. "The way his season ended, I know it's got to feel good for him to be back and playing, and feeling good, and strong. And it's great for us to see him roaming in right field, for sure."
The slugger, who led the National League with 37 homers last year, is being treated like any other player on the squad. He's building back into game shape, and is in the process of getting his timing down.
Stanton will not be traveling to Fort Myers, Fla., on Friday to face the Red Sox, but he is expected to play on Saturday against the Mets in Jupiter.
Mentally and physically, Stanton feels ready. But as a precaution, to protect the left side of his face, he is wearing a wire face attachment on his helmet.
With a hard-thrower like Martinez on the mound, the Cardinals also weren't taking chances by throwing in on Stanton. Martinez said catcher Yadier Molina was setting up away.
"I thought he might be a little tentative," Martinez said. "I was working the outer side of the plate with Yadi."
Along with getting his timing back, Stanton also is getting used to wearing his customized helmet.
Asked how it felt wearing the mask, Stanton responded: "Fine."
Joe Frisaro is a reporter for MLB.com. He writes a blog, called The Fish Pond. Follow him on Twitter @JoeFrisaro. This story was not subject to the approval of Major League Baseball or its clubs.