Simon ready to show off complete arsenal
Tigers starter is looking forward to pitching in a bigger ballpark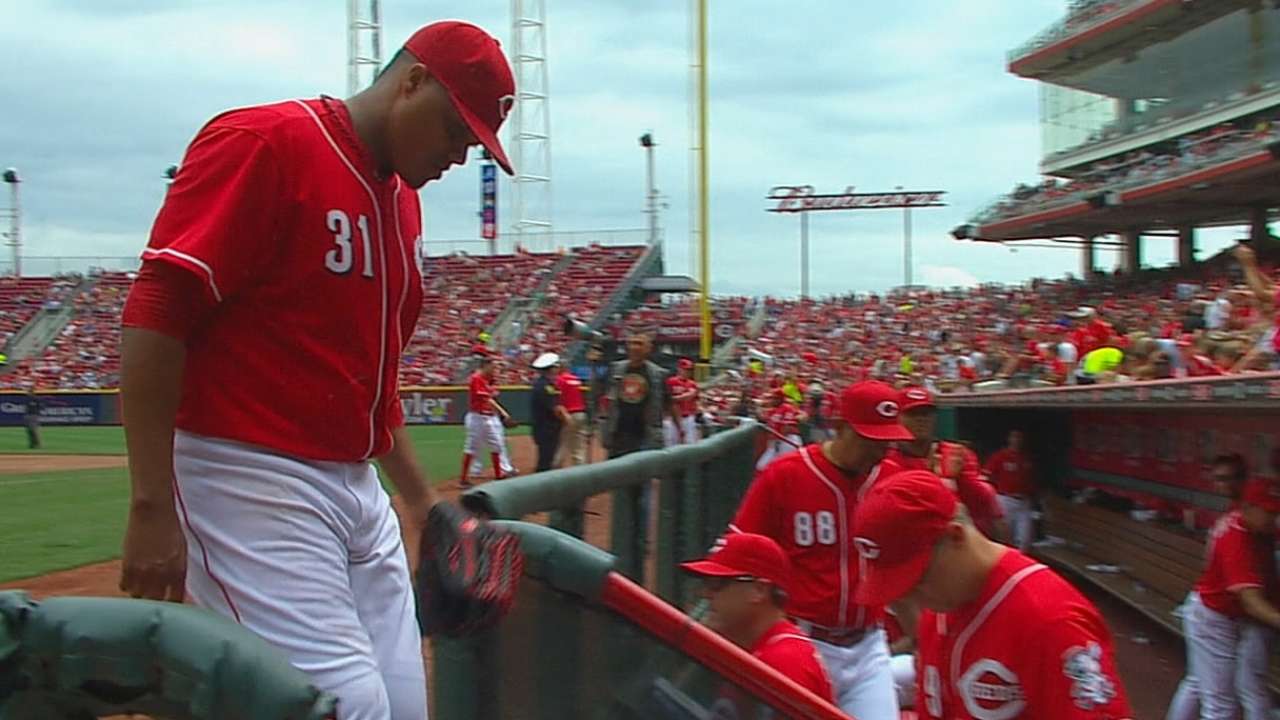 LAKELAND, Fla. -- Alfredo Simon makes a loud entrance every time he pulls into Joker Marchant Stadium. His silver Mercedes is shiny enough to produce a punishing glare on a sunny day.
"Chrome," Simon said.
That's the color of the entire car, not just bumpers and rims. Yes, it was special-ordered.
His approach on the field is less flashy.
For his first outing in a Tigers uniform, he was effective over two innings in Detroit's 6-4 loss to the Braves on Thursday at Joker Marchant Stadium. He mixed sinking fastballs and breaking balls, retired six of the seven Braves he faced, hit the other one with a 72 mph curveball, and called it a day.
It was actually an easy afternoon compared with the mound work he has been posting so far in this camp. He has thrown up to 60 pitches in side sessions and live batting practice. He threw just 27 pitches in Thursday's game.
"I just try to loosen my arm and throw the ball well," he said. "The last two BPs I [threw] like 60 pitches. I [didn't] throw a lot of pitches today. I just feel real comfortable with my cutter and my two-seamer, and that's what I throw a lot."
He also mixed in a 56 mph breaking ball he calls a slow split, even though it seems to work like an eephus pitch.
"I use that in the game sometimes," he said. "I just try to have the hitter see a slow split and then come with [a] fastball in. It's going to be difficult to catch up with the ball."
It's a slightly different look from the high-powered arsenal. He averaged over 95 mph on his fastball and nearly 87 mph on his splitter when he saved 17 games for the Orioles in 2010.
His average fastball dropped to 94.5 mph in 2013, then 94.0 mph last year. In turn, he began mixing in cutters, breaking balls and a splitter that had been relegated to the back shelf in recent years.
The goal was to keep the ball on the ground as much as possible when he was with the Reds in hitter-friendly Great American Ball Park. He largely did to a 1.38 groundout/flyout ratio last year despite 22 home runs allowed. He'll have more room to allow the ball in the air at Comerica Park.
"It's going to help me a lot," he said. "I can throw my [sinker] no matter what count. I can throw my cutter. I think I'm going to be fine this year. I'm going to pitch in a big park and it's going to help me."
His ground-ball rate last year reflected his split season in general -- 1.05 before the All-Star break, 1.00 after. His 4.52 ERA was well over his 2.70 first-half rate.
"When my sinker was down, everything worked good," he said.
Jason Beck is a reporter for MLB.com. Read Beck's Blog and follow him on Twitter @beckjason. This story was not subject to the approval of Major League Baseball or its clubs.